Sustainable Travel Guide: Portugal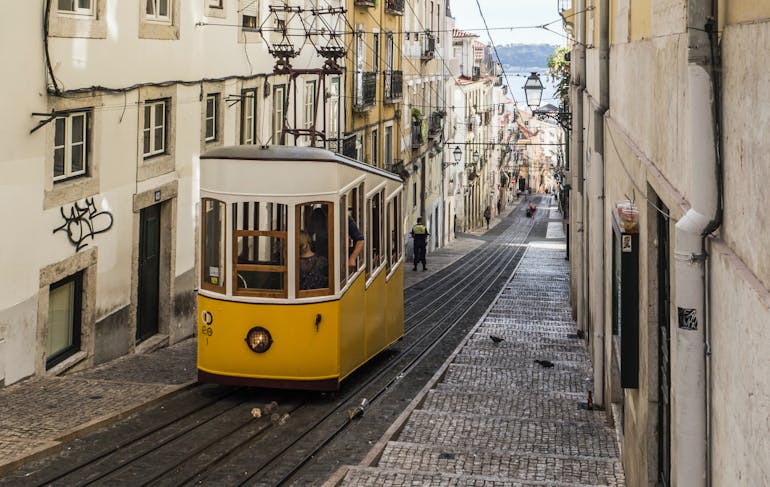 Sustainable Travel Guide: Portugal
General Overview
Our Sustainable Travel Guide – Portugal covers a general overview, seasonal notes, what to do (including sustainable, low-carbon impact ideas), what not to do, biggest areas of impact, notes about Portugal as a sustainable destination, other article references, and a related trip – all through the lens of sustainability.
Environmental
Portugal sits on the Iberian Peninsula in Western Europe. National parks and protected reserves make up about a 5th of Portugal's territory – many of which can be enjoyed via sustainable tours such as hiking, trekking, or cycling.
There are over two million kilometers (>1.2 million miles) of mapped routes that are bike-accessible in Portugal and a ubiquitous variety of hiking in every region of the country. Almost a third of the country's landmass is dedicated to cultivating grapes – many of which become Portugal's famous vinho verde!
Other major tourist draws are the beaches of Portugal (there are 943 kilometers / 586 miles of coastline on Portugal's mainland). Portugal's sweeping scenic landscapes cater to outdoor enthusiasts, wine tourism, and the rich history and culture of its cities like Porto, Lisbon, Sintra, and more.
Economic
In 2018, nearly 13 million foreign tourists visited Portugal. Tourism has grown from 10 to nearly 20% of Portugal's national GDP in the last 20 years, as tourism continues to bolster the economy at the local and national levels.
About 65% of the country's labor force is service-based (working in hotels, restaurants, etc.), and about 10% of the country's labor force is agricultural, which includes farming the 2,400 square kilometers (~927 square miles) of vineyards. In 2019, about 19% of total employment in Portugal came from the tourism sector alone.
Sociocultural
Almost 60% of Portuguese have at least some English proficiency – but you should still learn a few key phrases before going. Portuguese shares similarities to other Romance languages and is most closely related to Spanish ("hello" in Portuguese is olá, for example.)
Most Portuguese are Roman Catholics (>80%), which has informed local culture and traditions for centuries, leaving behind famous religious traditions and historical artifacts.
The Sanctuary of Fatima in the Ourém municipality is a popular destination for travelers seeking a spiritual journey. There's also the Portuguese Camino de Santiago (or, "the Portuguese Way"), which attracts religious tourists looking to either hike or bike the ancient pilgrimage route to its final endpoint, the Santiago de Compostela in Spain.
Everything Else
Healthcare
Everyone in Portugal has access to healthcare, including tourists.
Travelers can apply for the EHIC, European Health Insurance Card, online for free if they are residents of the EU.
Other travelers should also consider purchasing travel insurance to cover potential costs.
Safety
Portugal is rated very well for safety overall. The one thing to look out for would-be pickpockets, mostly in well-trafficked cities. Keep your valuables at home and be careful about where you store your essential documents and money.
While legally represented and celebrated in Portugal, members of the LGBT+ community should know that Portugal is still largely conservative and religious. Discretion may be recommended outside of major cities given the current political climate.
It's best to plan trips in nature with a travel companion, or a few, for safety (and for the memories!)
Seasonal Notes:
The high season for tourism is during the summer (June through August) and national holidays when most Europeans are off work.
The off-season is generally between October and February (late fall into winter) when temperatures are a bit too cold for the beaches, but beautiful for travel without major congestion.
The shoulder season is through the month of September into October, and from March through the beginning of June.
Holidays and Festivals
Seeing how a country celebrates national holidays can be a great way to see another layer of their culture and heritage. Here are some notable festivals, or festas, that could be fun to celebrate in Portugal:
The Feast Days of Popular Saints (Festas dos Santos Populares) occur throughout June in Lisbon – with Saint Anthony's celebration on June 12th being one of the biggest
The Madeira Flower Festival in the island's city center, Funchal, in April or May
The Midsummer Festival of St John of Porto (Festa de São João do Porto)  on June 23rd in Porto
The musical Festival of Sintra is available in Sintra, Estoril, and Cascais in July (all three towns are nearby to one another)
The National Agriculture Festival in Santarém around late October
 What to do:
Use bom dia and boa tarde to greet locals in the morning or afternoon, as you will hear them commonly; use boa noite at night. Also, remember to say "thank you" (obrigado for men, obrigada for women)!
Eat pastéis de nata, at every opportunity, from any local bakery or restaurant. Traditional foods are one of the best (and tastiest) ways to connect with the culture.
Visit the Peneda-Gerês national park, protected natural regions, and UNESCO World Heritage sites. There's a healthy amount of all three, so take your pick of the jaw-dropping cliff views from the (Sintra-Cascais region), to the colorful wine fields of the (Douro) region in the north, or the beautiful island landscapes of Madeira.
Be open to making genuine and spontaneous human connections, with or without the aid of a shared language. Perhaps a generic rule of traveling is that speaking the native language opens doors. When you make an effort to communicate, specifically in the local language, your experience may become more connected and gratifying.
Sustainable Activities
These activities are all sustainable because they don't require emitting much carbon and they connect you with the natural beauty and culture of Portugal. They can also help you explore off-the-beaten-path locations, which can spread out where tourism money is going throughout the country.
Bird Watching
There is a unique host of diverse species to see in their natural habitats due to the various climates Portugal has to offer. Read more here.
Cycling
Enjoy coastal bike paths, forest trails, and bike-friendly routes through natural parks.
Walking Trails
Explore the lush forests, natural parks, steep mountain walkways, and biodiverse ecosystems in Portugal's refreshingly mild climate.
Festas dos Santos
There are many different festivals all year long in different villages and regions of Portugal, usually celebrating a particular saint. These are colorful and musical affairs, where neighborhood streets are filled with people, parades, food, and dancing.
Famous Religious Sites
Connect with the rich, ancient history having survived the test of time in the form of sanctuaries, cathedrals, and monasteries that all still stand in many Portuguese cities.
World Heritage Sites
There are several world-renowned regions of Portugal home to man-made marvels such as the levadas of the Madeiran mountains, the meticulously-grown wine fields of the Douro region, and the stunning Sanctuary of Bom Jesus de Monte in Braga, pictured below.
Wine Tourism
What better way to enjoy the natural riches and landscapes of Northern Portugal than to tour the vineyards and to taste the many wines cultivated there?
What not to do:
Don't take photos of locals, or their property/home, without their consent.
Tipping is not an obligatory or expected practice. If you do tip, small tips of just a few euros are very appreciated, especially in service-related industries, like at restaurants, hotels, taxis, or local guides.
Do not offer gifts involving the number 13 or thirteen items of something as it is considered unlucky.
Don't point excessively within public or mixed spaces. It's considered rude.
Don't crowd others' personal space. Be mindful of your body language and respectful of the fact that Portugal is relatively socially conservative.
Do not wander off the trails in protected natural areas! Hold on to any litter until you can dispose of it appropriately. Help maintain and protect these natural sites and ecosystems.
Biggest Areas of Impact:
Environmental
We are responsible for the conservation of natural areas anywhere we travel. By sticking to walking paths, biking trails, and other pathways created for human travel – such as levadas – we can slow down the erosion of these environmental landmarks and homes to many varieties of animals and plants. (Levadas are man-made irrigation channels, primarily on the island of Madeira, that have footpaths alongside them that are popular for hikers.)
Economic  
Tourism in Portugal serves first and foremost to support local economies.
Planning a trip for the off-season can help spread out the inflow of revenue from tourism throughout the year.
The livelihood of local communities sometimes depends on their ability to grow crops, partner with local businesses, or on wine tourism. Consider wine tourism to help Portugal's small, regional wine farmers.
The aging workforce in Portugal leaves many to fend for themselves in a field like agriculture without the support of tourism and partnership with local businesses.
Sociocultural
Learning the inherent value of other ways of life from our own–how we eat differently, behave and operate on different belief systems, and how we like to have fun—requires hands-on experience and participation in those cultures. We support these cultures with our respect and appreciation and by exchanging goods.
Look for opportunities to appreciate Portuguese culture by exploring their food, familial traditional styles, philosophies of life, and dancing (often late into the morning!)
 Sustainable Destination:
In 2020, Portugal was awarded the Sustainable Destination award from ITB Berlin, featuring the Azores (an island archipelago west of the mainland) for "Best in Nature."
25% of Portugal's gross energy consumption was powered by renewable energy this year.
Portugal has proven its commitment to raising energy-efficiency standards in car and motorcycle production and has outperformed the energy-efficiency gains for the average country in the EU for nearly 10 years.
Portuguese reliance on oil-fueled energy has been on the decline since 2006.
Portugal plans to have 10% of gross energy consumption in public transportation powered by renewable energy by this year.
The Portuguese government has been using tax deductions for companies and for individual consumers to incentivize purchasing electric vehicles including priority lanes and preferential parking.
 Other Helpful Articles: