Sustainable Travel Guide: Nepal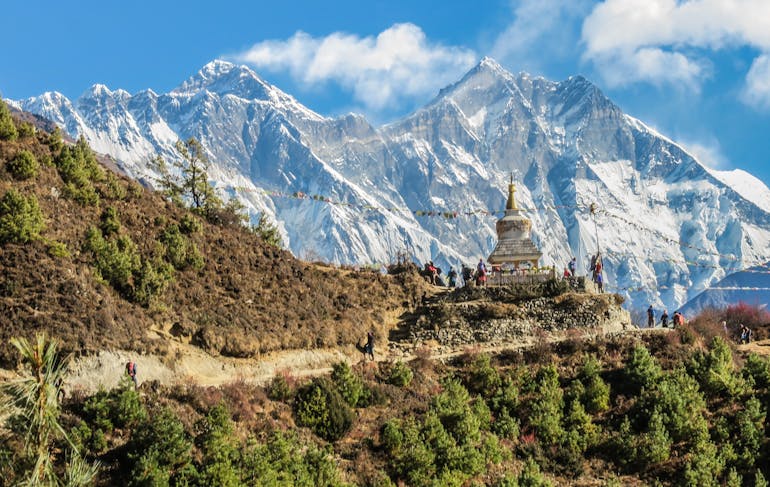 Sustainable Travel Guide: Nepal
Our Sustainable Travel Guide – Nepal is a general overview of this magnificent mountain kingdom. We start with a summary of Nepal's environment and economy, then discuss the best things to do and activities you should avoid. We also touch on the biggest areas of impact tourism has on the environment, the local communities, and the economy. Along the way, we'll suggest some relevant trips and further reading to help you make the most of your trip.
Environmental 
Nepal is a tiny, mountainous, landlocked country in Southern Asia. Sandwiched between India and China, Nepal sits on the edge of the tectonic plates that formed the Himalayas. It contains some of the world's highest mountains, including Mount Everest, which we prefer to call by the native name of Chomolungma. The mountains in the north and jungles in the south give this little country incredible biodiversity.
The kingdom contains twenty protected areas, consisting of ten national parks, three wildlife reserves, six conservation areas, and one reserve. Here you'll find some of the best hiking trails and mountaineering locations in the world, great for those looking for sustainable and low-impact ways to explore. There are also ample opportunities for wildlife watching and ethical safari tours.
Our Impact: Nepal's natural beauty is one of its most enticing attractions. As tourists, we are responsible for upholding this beauty and encouraging conservation practices in the places we visit. We can minimize our impact by utilizing designated trekking trails and pathways and staying in local tea houses instead of wild camping.
We suggest that travelers stay in tea houses when they trek in Nepal for a few reasons:
1. They are cozy accommodations that provide basic lodging and meals.
2. Staying in tea houses means that your tourist dollars are supporting the local economy.
3. It will afford you the opportunity to interact with locals and meet fellow travelers.
On the other hand, we discourage wild camping along the trails because it can erode popular sites and damage native flora and fauna. In addition, wild campers often avoid supporting local businesses and learning about local life.
Another important thing to remember is to bring all your litter with you until you reach a city (mountain villages usually don't have the infrastructure to properly dispose of it). Travelers should also be mindful of where they 'go' when nature calls – and think of using biodegradable waste bags. There are more tips for eco-friendly and sustainable hiking here.
Economic 
Nepal's economy is heavily dependent on agriculture and tourism. However, the country saw a 32% decline in visitors in 2015 following a catastrophic earthquake. The allure of the Himalayas helped tourism quickly rebound to pre-earthquake levels: in 2016 tourist arrivals increased by 40%, while in 2017 and 2018, each ushered in 25% growth. By 2019, Nepal was welcoming nearly 1.2 million tourist arrivals – and then Covid caused a decline in 2020 tourist arrivals of more than 80%, a level not seen since the mid-1980s.
The growth of the tourism sector after the earthquake is demonstrative of Nepal's increasing popularity with travelers. It's likely that tourism will bounce back yet again once travel in general safely resumes. By developing this fast-growing sector in Nepal, the country can benefit from foreign income and employment opportunities. This can develop the nation's economy and be put into education, health, and social care for citizens, as well as infrastructure to better accommodate the growing number of tourists.
Our Impact: Spending your tourist dollar in Nepal is a great way to support local economies. Nepal is a beautiful country no matter when you plan your trip, so visiting in the monsoon or off-season can distribute the impact of tourism throughout the year.  
Sociocultural 
The cultural heritage of Nepal is rich and unique, having evolved over centuries. This multi-dimensional heritage manifests in music, craft, folklore, religion, and festivals. Attending these can be a great way to embrace the culture of this former mountain kingdom (it was ruled by a monarchy until 2008).
Approximately 83% of the Nepali population practices Hinduism, with another 9% practicing some form of Buddhism. This means this is a great country for vegetarian and vegan travelers thanks to its variety of sustainable culinary options.
About 35.8% of Nepali people speak some English. If you're joining a tour or guided activity you will likely not encounter much of a language barrier. Nevertheless, it's still polite to brush up on your Nepali with some basic phrases, such as Namaste (hello), Dhanyabād (thank you), and Maaph garnuhos (excuse me/sorry).
Our Impact: Nepal's rich culture is there to be enjoyed — respectfully! Dress appropriately, particularly for visits to cultural and religious sites. Proper attire can vary depending on where you are in Nepal as cities tend to be less conservative than villages and rural areas. Typically you should wear clothes that cover your shoulders and knees at a minimum. If you're not sure, take cues from what locals are wearing. Another tip to help you get the most out of your time in Nepal is to learn a few basic words and phrases in the local language. This will help you build relationships with local people and, ultimately, give you a better experience.
Everything Else
Healthcare
Healthcare services in Nepal are provided by both public and private sectors, however, they are generally regarded as failing to meet international standards.
Nepal has a high prevalence of disease and many people in rural areas do not have access to high-quality healthcare. Nepal has been especially hard hit by Covid, and is grappling with a total caseload nearing 700 thousand at the time of writing.
All travelers should see their doctor to discuss travel immunizations before travel and purchase comprehensive travel insurance to cover healthcare costs in-country. For those planning on trekking, it is particularly important to ensure that your insurance covers helicopter evacuation in case of altitude sickness.
Safety
There's a low rate of serious crime in Nepal. However, you should take sensible precautions as petty crime does exist. Watch out for pick-pockets and bag-snatching, particularly in airports, on buses, and in areas popular with foreign nationals. Be especially mindful in areas like Thamel, Sanepa, and Kupondol in Kathmandu. Keep your valuables in a hotel safe and be careful about where you store your important documents and money. Remember to also have digital copies of all your essential travel documents!
Harassment
Harassment of tourists is common and occurs frequently in popular areas. Dress modestly; Nepal is a conservative country. Everyone should cover their knees and shoulders, and women in particular should heed this guidance. 
LGBTQ Travelers
Lesbian, gay, bisexual, transgender, and queer (LGBTQ) rights in Nepal are among the most progressive in Asia. Same-sex relationships have been legal since 2007, a third gender is legally recognized, and discrimination is prohibited. LGBT travelers should have very few problems, however, it's important to note that Nepal remains a very conservative nation and public displays of affection between all genders are frowned upon. 
Seasonal Notes
Nepal has so much to offer all year round. The best time to visit will depend on the activities you're hoping to do. Nepal is well-known not only for its trekking, but also for its wildlife reserves, pilgrimage sites, and more.
Monsoon Season:
Nepal is broadly temperate, with four main seasons centered around the summer monsoon (June to September). The monsoon is stiflingly hot until the afternoon rain arrives, but the country is lush and green. If you can handle the humidity, 
Also known as the rainy season or off-season, the monsoon season can be a great time to visit. Cities and towns will be quieter and you'll have the trekking trails to yourself. If you can handle the humidity, visiting during this season can also help combat overtourism and spread tourist income more evenly throughout the year. Read more about trekking in the monsoon season here!
To be mindful of: Getting around can be difficult in the monsoon season. Expect landslides and long delays when traveling overland. Tour operators won't risk your safety, and neither should you; so carefully monitor the weather if traveling in the rainy season.
High Season:
The high season for trekking is autumn or spring when clear skies and pleasant temperatures create the ideal conditions for mountain adventures. 
To be mindful of: High season in Nepal, like anywhere, means a greater chance of optimal weather and therefore a greater chance in the number of tourists. This could result in higher prices, crowded tea houses, and busy trails.
Winter: 
Winter in Nepal is cold and mountain passes may be inaccessible to all but the most experienced mountaineers. However, this is balanced by brilliant sunshine and clear blue skies perfect for photographers.
To be mindful of: Winter in Nepal may make it difficult for trekking, but Nepal has so much more to offer! Considering traveling in this season for a wildlife, cultural, or pilgrimage tour to see other beautiful sides of this wonderful country.
Holidays and Festivals
Timing your trip to coincide with a national holiday or festivity is a wonderful way to experience culture and traditions. Many of the major festivals of Nepal are religious and include Dashain, Tihar, Maghe Sankranti, Lhosar, Maha Shivaratri, Fagu Poornima (Holi), Buddha Jayanti, and Teej. Festivals are happening all year round – check out this calendar for details.
Sustainable Activities 
Trekking
Trekking is a great activity for the sustainable traveler – it produces minimal emissions and can spread your tourist dollar to less populous areas. However, it's important to be mindful of when and where you hike.
As visitor numbers continually increase, particularly in the Everest and Annapurna regions, so too do the problems that accompany them. Littering and pollution are on the rise and trails are becoming increasingly crowded. If not careful, hiking can also lead to exploitation of local porters and guides, and environmental and cultural degradation.
You can minimize your impact by booking with an ethical and sustainable tour operator. You can also trek less popular trails, or trek in the off-season. 
Wildlife spotting
The Nepalese jungle can be a rewarding place to spot rhinos, tigers, elephants, and other wild animals. As usual, be a responsible and ethical wildlife tourist. All wildlife encounters should be exactly that – wild. 
If you're absolutely determined to get up close to a wild animal, do thorough research to ensure it's ethical. Getting up close to, petting, riding, or stroking animals is usually bad practice.
There are two ethical options for seeing elephants in particular in Chitwan Jungle National Park: Stand Up 4 Elephants 'Happy Hour' and Tiger Tops Elephant Camp. A full guide to ethical Elephant tourism in Nepal can be found here.
Eating vegetarian
Eating less meat is one of the best things you can do in your personal life back home, and when you travel, to reduce your personal carbon footprint. Nepal is an exceptionally easy place to eat vegetarian since many Nepalese people do not eat meat for religious reasons.
Even if you are normally a meat eater, consider challenging yourself to eat a more vegetarian diet in Nepal. Take advantage of the abundance of treasured local dishes that are meat-free, while lessening the environmental impact of your trip.
Embrace Nepalese Culture
Nepal has a rich culture, and the country is dotted with UNESCO World Heritage sites and medieval towns. You'll also find remote countryside backed by the mighty Himalayas. Exploring Nepal's cultural sites, towns, and landscapes is incredibly enjoyable, and will give you a deeper understanding and respect for the Nepalese culture and people. Visit monasteries, buy souvenirs from a local artisan, and learn from the locals to enhance your trip and change your mindset.
What to do in Nepal: 
Greet local people by pressing your palms together in a 'Namaste.' Nepali culture is more conservative and people don't usually shake hands. 
Cover up! It is never acceptable to wear revealing clothing no matter how hot you get. While swimming, stick to a one-piece and leave the bikini at home. Respect the culture you're visiting. 
Shop, stay, and eat locally. Avoid large corporations and funnel your money into the local economy and social enterprises instead. 
Bring your own eco-friendly products. Don't be part of the plastic problem, bring your own filtered water bottle to refill safely from taps and streams.
When visiting religious sites, walk around Stupas (a sacred monument containing relics or burials) clockwise, so that the outer walls are always on your right.
If you encounter a stone wall covered with Tibetan Buddhist inscriptions, do the same and walk past it with the wall on your right. These walls are made of stone plates called mani stones. They are inscribed with a Sanskrit mantra or hymn and are intentionally placed on roadsides as an offering to spirits. We hope this last part goes without saying, but please do not take any of the stones!
What not to do in Nepal:
Don't take pictures of the local people or their homes and jobs without their consent.
Many Nepali dishes are eaten with hands instead of cutlery. Culturally, the left hand is used for toilet-related activities. So, never use your left hand to eat, give money, shake hands, or point. 
Tipping is expected, particularly with trekking guides, and it's a nice way to show your appreciation. The recommended rate for guides is $10 to $15 USD per day; for porters and drivers the recommended tip is $5 to $10 USD per day.
While tipping is common and appreciated, you can go one step further and ask your trekking company if their guides are paid a monthly base salary regardless if they accompany a tour or not. A base salary is an indicator that the company is investing in its employees that make your trek possible.
When hiking, do not wander off the trails, and remember to pack up any rubbish to dispose of it properly. Nepal does not have the best waste disposal infrastructure so it's important to be eco-friendly travelers by helping to maintain and protect areas of natural beauty. 
Nepal is a great place to see wildlife, but also remember to be a responsible and ethical tourist. No elephant rides or bathing, and no tiger petting. Additionally, don't buy ivory or fur from endangered species. This encourages poaching, and cannot be taken home anyway.
Avoid giving money, sweets, or gifts to street children – successful begging leads young children to drop out of school. Seeing children in the street can be heartbreaking, so if you want to help, consider donating to schools or reputable organizations/social enterprises instead. Please read more about this in our blog post here. 

Sustainable Destination
Nepal is taking action toward sustainable tourism and development, but the progress is slower than in other nations.
There remains a huge plastic pollution problem and Nepal doesn't have the infrastructure to support such an influx of tourists. You can do your part by avoiding single-use items and opting for reusable ones.
Eco-tourism is beginning to thrive in Nepal, with eco-friendly and sustainable operators continuing to pop up. You can contribute by putting your money into eco-resorts, ethical activities, and sustainable tourism. Vote with your wallet for a better world.

Other Helpful Articles:  
This post contains affiliate links. This means that if you buy a product after clicking our link we may earn a small commission at no extra cost to you.