Walking Tour: Heart & Soul of Douro Valley
From 1,090 € pp
Bookable From

March - October
Overview
Enjoy a self-guided walking tour through the heart and soul of Douro Valley, one of Portugal's famous wine regions and a picturesque UNESCO World Heritage Site.
Walk at your own pace and do wine tasting along the way, while your luggage is transported for you between accommodations. Our route takes you through astonishingly beautiful landscapes and postcard-worthy traditional villages. The Douro Valley's demarcated wine region is one of the most scenically impressive in the world; as evidenced by its status as a UNESCO World Heritage Site. It is the fourth most visited destination in Portugal, thanks to its natural beauty, cultural heritage, and historic landmarks.
Highlights
Soak in the breathtaking beauty of the Douro Valley, a world-renowned UNESCO heritage site
Explore the heart of the famous Douro wine region and witness year-round vineyard activity
Walk from village to village along unpaved roads and footpaths
Enjoy al fresco lunches and taste award-winning table wines and other varieties
Stay in local boutique accommodations with warm hospitality
Visit historical sites and port wine cellars in Porto
Make your way from Porto into the very heart of the Douro region before exploring the picturesque, patterned slopes and valleys of this World Heritage landscape on foot.
Follow unpaved roads and footpaths as you walk through the different villages, pausing for picnic lunches and visits to local wine estates where you can sample not only award-winning table wines but also port and muscatel wines. Museums such as the Bread and Wine Museum in Favaios will give you a greater appreciation of local traditions and wine production. Favaios is famous for producing Moscatel wine, a sweet, fortified wine made from Muscat grapes. Visiting the town's wineries and vineyards will allow you to taste and learn about this unique wine while witnessing some of the year-round activities involved in tending the vines and terraces.
Relax after each day's walk at carefully selected country houses and hotels. You will receive a warm welcome, comfortable accommodation, and delicious meals.
End your self-guided Douro Valley walking tour back in the fascinating historical city of Porto. You can visit the famous port wine cellars in Vila Nova de Gaia as well as explore Porto's many sights and views.
With this trip through the Alto Douro region, you will gain an understanding of the local traditions and unique landscapes. Feel transported back in time by walking close to the Douro River, the once treacherous main route for transporting goods, especially barrels of wine from the vineyards to the port wine cellars in Vila Nova de Gaia.

Like what you but it is not quite a perfect fit?
Simply tell us what you're looking for. We'll happily adapt this itinerary to suit your personal interests, needs, and schedule to create your ideal trip.
Seasonal Notes
You can book this itinerary from March 1st through October 31st each year.
The low season is from March 1st to April 30th & from October 16th to 31st.
The high season is from May 1st to October 15th.
Spring, early summer, and fall are ideal for walking holidays in northern Portugal. Days are generally warm and sunny but can be chilly and possibly windy, especially on the coast. There is always a chance of experiencing some rain, so please come prepared for changeable conditions. May, June, and September tend to be warmer with less chance of rain.
July and August are usually the hottest months, with temperatures regularly exceeding 30 degrees Celsius (86 degrees Fahrenheit).
If the trip coincides with the grape harvest, which is usually in September, you will have the opportunity to experience the hustle and bustle of grape picking and transportation to the wineries. With a bit of luck, you can even participate in grape treading or harvest celebrations.
Traveling during the low season is generally considered a sustainable tourism practice as it helps with tourism dispersal: spreading out where tourists go and how their money supports locals throughout the year.
Itinerary
Day 1

Porto [Portugal] (arrival day)
Your private transfer will be waiting for you at Porto airport to take you to your city-center hotel.
Your Welcome Pack, with all the information you need to fully enjoy this self-guided walking holiday, will be waiting for you at the reception of your hotel in Porto.
If you have free time in Porto, you may wish to explore the city's historical monuments and revitalized areas such as Rua das Flores and the riverside Ribeira district. If you have time, cross the river and visit at least one of the port wine cellars in Vila Nova de Gaia to see and smell where the barrels of aging wine are stored.
Accommodation: 4-star hotel
Day 2

Travel to Douro Valley: Porto - Pinhão
Today you travel to the heart of the Douro Valley and you can choose between taking the train (approx. 2.5 hours) or spending most of the day on a river cruise all the way from Porto.
If traveling by train, we'll pick you up at your hotel and take you to the station. Enjoy the river views all the way to the small riverside village of Pinhão, where the train station is decorated with painted tile panels depicting Douro wine production. Once there, you can take a boat upstream (optional, paid locally) for a different perspective of the valley.
Should you decide to travel by boat, as well as the views, you'll have the experience of going through two locks that are a feat of engineering that has transformed the Douro River and enabled boats to travel safely between Porto and the wine region.
Accommodation: 3-star hotel
Meals: Breakfast
Day 3

Pinhão - Vilarinho de São Romão (9.4 km | 5.8 miles | +587 meter elevation gain)
Linear walk.
Explore the western slopes of the Pinhão Valley today as you climb to the hillside villages of São Cristovão do Douro and Provesende. The views of surrounding vineyards more than compensate for your efforts. End this journey with a warm welcome and home-cooked meal at a historical country house. If weather permits, take a refreshing dip in the outdoor pool or simply relax in the comfortable guest lounge.
Accommodation: Country hotel
Meals: Breakfast, packed lunch, and dinner
Day 4

River Pinhão (12.8 km | 7.9 miles | +512m)
Circular walk.
With Vilarinho de São Romão as your base, today's circular route winds down to the Pinhão River via a couple of small villages and wine estates and along the opposite hillsides, through the vineyards, with varied landscapes and splendid views throughout.
Relax at a riverside picnic spot before making your way uphill to the village of Celeirós where you can stop to taste the wines at Quinta do Portal or Quinta do Beijo before returning to your delightful accommodation. Take a taxi up the hill if you'd prefer an easier day.

Shorter option: Linear walk | 8.8 km | 5.4 miles | +141m
Accommodation: Country hotel
Meals: Breakfast, packed lunch, and dinner
Day 5

Vilarinho de São Romão - Alijó (16.4 km | 10.2 miles | +626m)
Linear walk.
Enjoy views across the valley on your way toward the pretty village of Sabrosa. Follow an ancient road between here and Favaios as you head down through the vineyard terraces to the river. Wend your way uphill again between grape vines and olive groves towards a distinctly different landscape.
Taste traditional wood oven-baked bread and Moscatel wine in Favaios then continue to the small, historical town of Alijó. Settle into your comfortable accommodation for the next two nights. Explore the town or relax by the pool before having dinner at the onsite restaurant or in a nearby restaurant.
Shorter option: Linear walk | 9 km (5.6 miles) | +315m
Accommodation: 4-star hotel
Meals: Breakfast and packed lunch
Day 6

São Mamede da Ribatua (15.0 km | 9.3 miles | +369m)
Circular walk.
Today's walk is a circular route from Alijó that undulates through an ever-changing patchwork of vineyards and fields towards the ancient village of São Mamede da Ribatua with spectacular views of the surrounding rock-strewn mountains and the glittering lake below. Leave the village via a different route to return to Alijó or take a taxi back for a more relaxing afternoon.
Shorter option: Linear walk | 8 km | 4.9 miles | +110m
Accommodation in a 4-star hotel
Meals: Breakfast and packed lunch
Day 7

Alijó - Casal de Loivos (13.9 km | 8.6 miles | +223m)
Linear walk.
Spend the day walking in Douro Valley through vineyards, perhaps calling in at a wine estate or two for a tour and tasting session before reaching the ridge at the top of the eastern slopes of the Pinhão Valley. Look back at the terraced slopes opposite to identify the villages you walked to earlier in the week. You'll have magnificent views of the Douro River before reaching the last village of the day.
Spend the night in a 17th-century country house with amazing views and a pool.
Accommodation in a Country hotel
Meals: Breakfast and packed lunch
Day 8

Casal de Loivos - Pinhão (6.1km | 3.7 miles | +59m), Porto (departure day)
Linear walk.
Today's short but glorious walk down to Pinhão leaves you with time for a final winery tour and tasting session (optional, paid locally) overlooking the River Douro. You could have lunch in the village or a picnic in the vineyards before taking the train back to Porto for your onward journey.
Alternatively, is to take a river cruise downstream from Régua to Porto as above, with a private transfer from Pinhão in the morning to catch the boat in Régua and lunch on board.
If you would like to add extra nights in Porto so that you can explore the city in more depth, just let us know.
Meals: Breakfast
Option 1: Instead of returning to Porto by train after walking to Pinhão on day 8, you could spend an extra night in Pinhão and take the train the following day.
Option 2: Alternatively, you could spend an extra night in Pinhão and take the river cruise the following day.
If you would like us to add one or more nights in a Pinhão or Porto hotel, just let us know.
Route Map
Inclusions & Exclusions
Detailed route notes & welcome kit

App with trail information for use on a smartphone

7 Nights' hand-picked accommodation with breakfast

5 Packed lunches during the walks (day 3 to day 7)

2 Dinners with drinks (days 2 and 3)

Private transfer from Porto airport to Porto hotel (day 1)

Private transfer from Porto hotel to Porto train station (day 2)

Luggage transfer between accommodations from days 3 to 7 and to Pinhão train station on day 8

24-hour emergency contact number (English-speaking)
Flights to and from the destination

Meals not mentioned above

Train transfer (round trip) between Porto train station and Pinhão train station

Transfer from Porto to the airport

Anything not mentioned in the "Included" section above
Pricing
Prices exclude flights to/from the destination.
Prices are for double room occupancy unless indicated otherwise.
Price varies between high and low seasons.
Low Season: March 1st - April 30th & October 16th - October 31st
High Season: May 1st - October 15th
Deposit per person

30% of the trip price

Private Room - sleeps 1 - price per person

Low Season: 1,480 € pp High Season: 1,640 € pp

Shared Room - sleeps 2 - price per person

Low Season: 1,090 € pp High Season: 1,190 € pp
Optional Add-ons
Instead of traveling by train, you can opt to spend the day on the water and take a river cruise upstream to Régua. This will involve the fascinating machinations of the Carrapatelo Dam (35 meters) and the Crestuma-Lever Dam (14 meters). The boat journey takes around 6 hours to reach Régua, with lunch on board, followed by a private transfer to your accommodation in Pinhão.
Day 2: River Cruise from Porto to Régua, lunch included. 120 € pp
Day 8: River Cruise from Régua to Porto, lunch included. 120 € pp
Private transfer from Porto to Pinhão: 240 € for 1-3 people, 320 € for 4-7 people
Extra night at Porto Hotel: 90 € pp in a shared double room, 165 € pp in a private single room
Extra night at Pinhão Hotel: 80 € pp in a shared double room, 135 € pp in a private single room
Pinhão Winery Visit & Tasting: 30 € pp (paid locally)
Payment & Cancellation Policy
More than 30 days before the expected arrival date: no costs
From 29 to 15 days before the expected arrival date: we retain 50% of the total cost
Less than 14 days before the expected arrival date: we retain 100% of the total cost
Sustainability
We firmly believe that travel should be a safe and rewarding experience for all concerned, including the destinations that you visit and the people you meet. This walking tour was crafted using extensive local knowledge and designed to respect both the way of life of local populations as well as the natural environment.

Environmental Initiatives
You will see this UNESCO World Heritage landscape up close through scenic routes and rural backroads with river and vineyard views. You will see man-made wine terraces, and have the chance to enjoy the local flora and fauna with negligible environmental impact, especially since you will receive a full briefing from us on how to respect the local wildlife and landscape. We focus on green transportation by taking the train out to the valley and then beginning the walking tour. We use some accommodations for multiple nights in order to reduce the need for luggage transfers. When necessary (to avoid some luggage transfers), we'll use local taxi drivers to reduce carbon emissions and support the local economy. Since the quality of tap water is excellent in Portugal, we supply a refillable bottle that clients can use during their walking holiday and beyond.

Sociocultural Initiatives
To make sure that money stays within the small local communities that our clients spend time in, the accommodation for this program is in a combination of small, unique hotels and family-run rural lodgings, which give clients an insight into local history and culture. Some accommodations produce their own wine, olive oil, and fruit, from which they make products that can also be purchased as gifts/souvenirs.
The daily lunch pack contains fresh local produce and we encourage guests to have dinner at hospitable local restaurants where they can enjoy traditional regional dishes, engage with the owners, chef, or servers, and, of course, sample Douro wines and port.
Most of the walking days involve passing through small hillside villages where clients are welcome to stop at local cafés, bakeries, and grocery or craft stores in order to get a sense of what local life is like and interact with the residents.
This is particularly relevant in the village of Favaios, which is famous for its artisanal bread. We strongly recommend visiting one of the local bakers to see how they use the wood-fired ovens and buy still-warm rolls. The formidable baker, Manuela, will also slice and butter the bread on request. Favaios is also one of only two places in Portugal that produce muscatel wine so a glass of Moscatel de Favaios is a must for those who enjoy fortified wines. Clients can learn more about the history of both these tasty treats in the village's Bread and Wine Museum.
This trail is in the heart of the renowned Douro wine region so as well as observing the manual labor that goes into tending the endless grape vines, both for small-scale independent production and for the major players, there are plenty of opportunities to visit local wine producers to taste and buy their wines and learn about the unique family histories of these quintas (wine estates).
If the trip coincides with the grape harvest, which is usually in September, clients have a wonderful opportunity to experience the hustle and bustle of grape picking and transportation to the wineries and, with a bit of luck, even participate in grape treading or harvest celebrations.
Economic Initiatives
By booking this trip, you'll directly support the local economy. Your tourism money will stay with these communities as you support older generations reliant on subsistence agriculture.
FAQs
What does the Physical Rating of "Average" mean?
With potentially longer walking days and/or several steep climbs and descents, these tours are designed for experienced, regular walkers and can be enjoyed by anyone in good health who has prepared sufficiently in advance.
Distance: Max 25 km (15.5 miles) per day
Elevation gain: Max 700 m per day
What are the accommodations like?
A combination of restored manor houses, village cottages, farmhouses and charm hotels. All rooms have their own bathrooms. We've chosen these accommodations for their hospitality, comfort, and location.
What is a self-guided tour?
On a self-guided tour, you navigate the route yourself with the aid of our Roadbook and GPS with all the tracks. We provide all the information you need including suggestions, maps, instructions, directions, and things to see. Our self-guided tours are a complete and affordable holiday, tailored specifically for independent travelers. They offer the same quality, style, service, and comforts of typical guided trips with the freedom and flexibility of making your own decisions about how you spend your time. Read more about self-guided tours here.
How many days are walking days, and what's the total distance covered?
There are 6 walking days on this itinerary. Total distance covered is 76.4 km (47.5 miles).
How do I prepare for a walking tour?
We recommend that before starting you should adapt your body for long walks. The fitter you are, after all, the more enjoyable you will find the experience. You should be comfortable with walking for 4 to 6 hours for consecutive days with some ups and downs on varied terrain, from tarmac roads to dirt paths and rocky or muddy tracks. Hill walking, with a reasonable amount of ascent and descent, is the best training for a walking holiday.
What do I need to bring?
Most of this walking holiday is off-road on rugged terrain so you will need:
Proper walking shoes with cushioning and support.
Weather protection (there is little shade so adequate weather protection is vital).
Walking poles are recommended.
How will it work visiting the wineries?
Travelers will need to book the tastings, but we will help facilitate this by providing a list of the wineries, their locations, and contact information. Most wineries are around Pinhão, where you will be on the first and last days. Tastings cost anywhere from 10 € and up.
Reviews
Joanna R.
Walking Holidays in Portugal
We had a great hike in Douro valley, all the accommodations were perfect, and the people we met were so nice. In every place we stopped we had great hotel rooms and a pool to rest after a day hiking (mostly up). Especially Quinta do Portal was really excellent and had the best chef and meals we have ever had in Portugal. Thank you!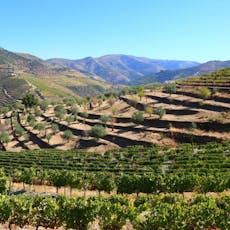 Walking in the Douro Valley, Portugal
Douro Valley Portugal. It was great !!!!