5 Ways to Support Us
If you love what we're building at Yugen Earthside, there are several ways you can support us.
1. Book a Trip
The number one way you can support us as a small business is to book a trip. If you don't see the destination you're looking for or if you have a specific trip in mind, reach out. We'll help you find the most sustainable options for your adventure. Be sure to read traveler testimonials!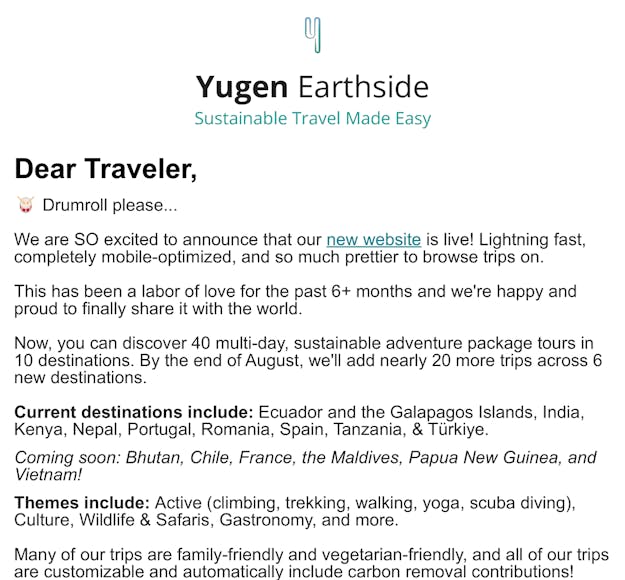 2. Join our Newsletter
Subscribing to our newsletter is a great way to stay in touch, especially if you're not quite ready to book a trip yet. We don't spam - au contraire ! - we send 1-2 emails per month. Expect to see:
Bite-sized sustainable travel info

Occasional company updates
Subscribe Now
3. Share Yugen Earthside
The highest accolade is earning word-of-mouth referrals. If you have friends, family members, or colleagues who would enjoy our trips, please send them our way! Or, spread the word on social media to reach a broader audience. Tag @yugenearthside so we can boost your post!
4. Use our Affiliate Links for Trip Basics
If you love the part of trip planning that involves researching, scouring ideas, and pouring over ratings, or if you simply like the flexibility that comes with booking each trip component on your own, you can still support us by using our affiliate links. Affiliate links do not change the price you pay, and using the links will generate a small amount of commission revenue for Yugen Earthside.
Accommodations: Booking.com
Book accommodations including hotels, apartments, guesthouses, and more on Booking.com.
🌱Sustainability Tip: After your initial search, use the "Travel Sustainable Properties" filter on the left-hand side. Properties can earn one to three leaves, with three leaves representing the most sustainable properties.
⚠️Greenwashing risk! Booking's identification of 'sustainable properties' is relatively new, having launched in November 2021. Since then, Booking rolled out the three-leaf system, and more detailed explanations of what is behind each 'leaf'. Companies with only one leaf may not be doing much more than declaring an intention to be more sustainable. Two leaves represent more robust actions, and three leaves generally represent a third-party sustainability certification. The system is not perfect and there is still a lot of room for improvement.
See our popular blog post on alternate sites for booking eco-friendly and sustainable accommodations.
Car Rental: Auto Europe
Driving tours can be a great way to get off the beaten track, travel independently and at your own speed, and visit more rural and remote areas. This can be a great way to help with 'tourism dispersal' (visiting places outside of tourist hotspots, where your tourism dollar might be more appreciated by locals), and give you a more unique travel experience.
Auto Europe has about 24,000 locations in over 180 countries and has a Better Business Bureau rating of A+.
🌱Sustainability Tip: We recommend renting an electric or hybrid vehicle if possible!
Activities: Viator (a TripAdvisor Company)
Viator offers things to do, tickets, tours, and attractions. Viator is a subsidiary of TripAdvisor, meaning they share inventory. A great option for museum visits, day trips, city tours, show tickets, and more.
🌱Sustainability Tip: Check the details of guided excursions and tours and look for how many guests the activity can accommodate. Smaller group activities (i.e. one small van with 8 guests) can feel more intimate and give you a better experience than a big bus experience with 40+ travelers.
Activities: GetYourGuide
GetYourGuide offers sightseeing tours, attractions, excursions, and things to do. A direct competitor to Viator, you can find cooking classes, tourist attractions, and all kinds of sports, cultural, food, and nature activities.
🌱Sustainability Tip: Check the details of guided excursions and tours and look for how many guests the activity can accommodate. Smaller group activities (i.e. one small van with 8 guests) can feel more intimate and give you a better experience than a big bus experience with 40+ travelers.
Travel Documents: iVisa
Get all types of travel documents and visas approved online. Travelers love and trust iVisa for their speed, simplicity, expert staff, account security, and awesome customer support.
🌱Sustainability Tip: This is a great way to have digital travel documents, saving you the need to print out paper.
Insurance: Wanderwell
To protect your trip, we always recommend purchasing travel insurance. Get a free quote from our sustainable travel insurance partner, wanderwell. Read more about the importance of travel insurance here.
🌱Sustainability Tip: If you're going to book trip insurance (which you should!), supporting this B-Corp Certified and 1% for the Planet member company is the way to go.
5. Use our Affiliate Links for Sustainable Travel Products
Amazon
We know... we know! While hesitant, here's why we opted to include these links. As a completely digital company, Yugen Earthside does not have a storefront nor do we hold physical inventory. But, we're still constantly discovering, using, and testing sustainable travel products. This is an easy way to share our curated selection with you.
Bookshop
A digital bookshop housing all kinds of travel reads. Bookshop is a B-Corp certified company, a climate-neutral certified, and every purchase supports independent bookstores. Our virtual storefront includes book lists for:
Sustainable Travel
Travel Inspiration
Travel Classics
Dame Travelers
Special Interest
Lonely Planet
Keepsie Kits
Keepsie Kits offers convenient sets of sustainable travel products. Their thoughtfully designed bundles allow you to save over 30% compared to buying each individual product. Plus, their shipments are carbon neutral, and they donate 5% of profits to an environmental cause. Build your own kit, or purchase a popular pre-made kit, including the:
Starter Sustainable Travel Kit
(E)Co-Explorers Sustainable Travel Kit (for 2 travelers)
Day at the Beach Sustainable Travel Kit
Eco Festival Kit
Sustainable Business Travel Kit
OneNine5
OneNine5 designs eco-conscious travel goods that help you pack smart. Find eco-friendly wash kits (in UK terminology)/toiletry bags or dop kits (in US vernacular), pouches, laptop bags, and more. Boasting 100% recycled plastic linings, vegan-friendly materials, and an innovative 'return to recycle' scheme, they transparently share their efforts around products, materials, packaging, partnerships, and operations.
Water-to-Go
Water-to-Go is the company behind water bottles with high-tech (designed for NASA) filtration systems. One 25oz/75cl filter, found in their Active and Classic bottles, filters about 200 liters/53 gallons. This is the equivalent of refilling the bottle 2-3 times a day for 3 months and replaces approximately 400 plastic water bottles. Water-to-Go bottles are especially great for:
Travels to destinations with harder access to clean water
Camping, biking, backpacking, trekking, walking, and other outdoor trips
Emergency preparedness