Walking Tour: Douro & the Côa Valley
From 1,020 € pp
Bookable From

Feb. 1st - Jun. 30th Sep. 15th - Nov. 15th
Overview
Journey through prehistoric lands and witness dramatic rock formations, endangered wildlife, historical villages, and ancient cultures on this walking tour through the Douro International Natural Park and the Côa Valley Archaeological Park.
Begin your trip in the UNESCO World Heritage city of Porto, Portugal, where you'll be met by a private local driver and taken to your hotel. On your walking route, you will venture along the Douro River to the Spanish border by train. You'll be surrounded by mesmerizing scenery, including the amazing Douro Valley and its renowned wine region, and Paleolithic rock art near the Douro and Côa Rivers.
Along the way, you'll visit medieval villages, learn about local culture and traditions, and feel welcomed at cozy guesthouses throughout northeast Portugal.
Highlights
Enjoy a scenic train ride through the Alto Douro wine region
Experience a night visit by moonlight to an incredible prehistoric rock art site
Visit a cheese producer, stay in a shepherding village, and stay on a farm
Pass by 3 UNESCO World Heritage Sites and the Côa Museum
Spot endangered birds of prey
About as far as you can get from the madding crowds, you'll be staying on a working wine estate and olive farm for the first few days while you explore the Douro International Natural Park. In this wild, rocky landscape, endangered bird species such as the Egyptian vulture and the griffon vulture are protected, so keep your eyes peeled for these birds.
The wonders of this area include prehistoric human activity. Your walk will take you past a 10,000-year-old rock engraving of a horse! To make your stay at the Douro International Natural Park even more memorable, you will rest at a beautifully converted stone farmhouse, where your host will prepare delicious meals from local produce.
In the Côa Valley Archaeological Park area, you'll be staying in a quaint and charming shepherding village and get to visit a local cheese producer. The highlight of your journey will undoubtedly be the spectacular night visit to the Palaeolithic rock art site on the banks of the Côa River. Under the moonlight, your eyes will witness the ancient, breathtaking art that has survived for thousands of years.
Walking through the medieval village of Freixo de Espada à Cinta, you can marvel at the surprising amount of Manueline (Portuguese Gothic) architecture. You'll pass through other smaller villages too as you make your way along trails that are over a thousand years old.
Walk through old paths to immerse into the Portuguese serene country life. As you hike, notice how the main crops of grapes, almonds, and olives are cultivated in this remote part of Portugal and learn about some traditional agricultural practices. Through the rocky plains local sheep graze, so, you may see local shepherds taking their flocks there.
Are you ready to take the plunge and embark on this once-in-a-lifetime adventure? Book this incredible trip with a partner or a small group of walking buddies and leisurely walk through scenic landscapes where the magic of Portugal is vibrantly alive.
Like what you see but it is not quite a perfect fit?
Simply tell us what you're looking for. We'll happily adapt this itinerary to suit your personal interests, needs, and schedule to create your ideal trip.
Seasonal Notes
You can book this itinerary from February 1st - June 30th, and from September 15th - November 15th each year.
The end of winter through spring (late February through May) is a great time to do this trip if you enjoy cooler weather and blossoming landscapes.
If you're lucky enough to do this walking tour of the Douro International Natural Park and the Côa Valley in late February or early March, you will see the countryside transformed by the pink and white puffs of almond trees in blossom. You may even catch a festival dedicated to the almond blossoms in Vila Nova de Foz Côa towards the end of your adventure. Wait a little later in the year and you'll be surrounded by colorful spring wildflowers and lush greenery during your walks. Days can be warm and sunny, and rainfall can be frequent during this season. So, come prepared for changeable conditions.
Summers in Portugal can be hot and dry, which might be challenging for long walks during the day. Summer coincides with the high season, meaning it is also likely to be the most crowded with tourists. We don't recommend doing this Douro walking holiday in July and August, as temperatures regularly exceed 30°C (86°F). June can be a good balance of warmer weather and fewer visitors than in July and August.
Early fall (September and October) is also a very pleasant time to do this walking trip. Similar to the spring, days can be sunny and warm with chances of wind and rain. If your trip aligns with the grape harvest, which is usually in September, you will have the opportunity to experience the hustle and bustle of grape picking and transportation to the wineries. With a bit of luck, you can even participate in grape treading or harvest celebrations.
Traveling during the low or shoulder seasons is generally considered a sustainable tourism practice as it helps with tourism dispersal: spreading out where tourists go and how their money supports locals throughout the year.
Itinerary
Day 1

Porto [Portugal] (Arrival day)
A private driver will meet you at Porto International Airport and take you to your hotel in Porto.
Your Welcome Pack, with all the information you need to fully enjoy this self-guided walking holiday, including your train tickets to the Côa Valley Archaeological Park, will be waiting for you at the reception of your hotel in Porto.
Depending on your arrival time, you can wander and explore this wonderful UNESCO World Heritage city, full of history, charm, a vibrant food scene, and dynamic nightlife. We recommend exploring the eclectic architectural highlights or popping across the river to Vila Nova de Gaia to visit one of the port wine cellars. (We can add a guided tour of Porto to your program if you like, for an additional cost.)
Accommodation: Charm Hotel in Porto city center
Take a scenic train ride from Porto along the Douro River, all the way to the end of the line at Pocinho. At times, the train passes so close to the Douro River, you could almost reach out and touch it.
About a third of the way into the journey, you will pass through the remarkable UNESCO World Heritage Landscape of the Alto Douro wine region. After that, the countryside becomes wilder and more rugged. The train ride will bring you to the Spanish border, near the departure point for your walking tour.
Spend the night in a beautifully converted stone farmhouse in the Douro International Natural Park where, as well as grapes, they grow olives and almonds. Your host will prepare delicious meals from local produce during your stay.
Accommodation: Country farmhouse
Meals: Breakfast and dinner
Day 3

Mazouco - Freixo de Espada à Cinta (16.8 km | 10.4 | +268 meter elevation gain)
Today, you'll go from prehistoric lands to a Manueline town in the Douro International Natural Park. Hike a linear trail through the open countryside around Mazouco village and on to Freixo de Espada a Cinta. You'll have fabulous views of the Douro River, with Spain on the other side of it, and the steep cliffs of the Douro International Natural Park known as the "Grand Canyon" of the Iberian Peninsular.
This wild, rocky landscape is a sanctuary for endangered bird species such as the Egyptian vulture and the griffon vulture.
There is evidence of prehistoric human activity in this area in the form of a 10,000-year-old rock engraving of a horse, located near the river. You will get up close and personal with similar rock art later in the week.
Towards the end of the walk, you will enter the medieval village of Freixo de Espada à Cinta, where you can marvel at the surprising amount of Manueline (Portuguese Gothic) architecture, especially around the entrance to the parish church.
Return to your farmhouse accommodation via Margarida's vineyards and olive groves.
Accommodation: Country farmhouse
Meals: Breakfast, packed lunch, and dinner
Day 4

Ribeira do Mosteiro - Freixo da Espada à Cinta (15.8 km | 9.8 miles | +611m, -239m)
Highlights today include seeing an ancient Roman road and geological treasures, followed by learning about local culture and practices.
A scenic drive takes you through a dramatic landscape of impressive rock formations that were created over 500 million years ago. You'll get even closer to these wonders of geology as you follow what's left of the Calçada de Alpajares Roman road.
This ancient path zig-zags up the dramatic cliffs that are home to endangered birds of prey including Egyptian and griffon vultures.
Then wind your way through the countryside and the village of Poiares, noticing the typical crops of the region and learning about some traditional agricultural practices.
Return to the farmhouse for one more night.
Accommodation: Country farmhouse
Meals: Breakfast, packed lunch, and dinner
Day 5

Barca D'Alva - Vilar de Amargo (15.2km | 9.4 miles | +635m, -153m)
Stop on the drive to Barca D'Alva to witness the incredible views of the International Douro and Arribes del Duero Natural Parks with the peneplains of Castelo e Leon and the impressive Saucelle dam.
From Barca D'Alva, you will explore the landscape to the south of the Douro River on foot, following a route that was frequently used by day laborers (called jornaleiros) who worked for the local farms as and when needed. In Portuguese, this route is called the Rota do Jornaleiro.
During the day, the landscape changes from vineyards to olive groves then wheat fields before you reach the magical rocky landscape nearer the village of Vilar de Amargo, your base for the next 2 nights.
Accommodation: Village cottage
Meals: Breakfast and packed lunch
Day 6

Vilar de Amargo - Castelo Melhor (16.1km | 10 miles | +147m, -386m)
This day is dedicated to medieval villages, captivating views, cheese, and rock art!
Leave the village to walk through the rocky plains where the local sheep graze – you may see local shepherds taking their flocks there at the start and end of the day.
Walk through the village of Algodres, which dates back to pre-Roman times, and on to Almendra. This village originated with an Iron Age settlement in the 1st century BC and was clearly an important place in the 15th and 16th centuries and up to the mid-19th century, as you can tell from the impressive buildings and monuments throughout.
After Almendra, continue walking through the highlands and you'll see the village of Castelo Melhor nestled in the hillside ahead, surrounded by olive orchards and some vineyards. After your walk, go back to your country cottage to freshen up before the rest of the day's activities.
Visit a local cheese producer and taste regional produce before going on a journey through time to the Upper Paleolithic era, approximately 25 thousand years ago, to see prehistoric rock art in situ on the banks of the Côa River.
Accommodation: Village cottage
Meals: Breakfast and packed lunch
Day 7

Castelo Melhor - the Côa Museum (12.5km | 7.7 miles | +381m, -423m)
Feel transported from medieval to Paleolithic times.
Start your final walking day from Castelo Melhor and hike through the largely uncultivated countryside, noticing the transition from granite stones to the schist that was the 'canvas' for the Paleolithic rock art all those years ago.
Admire the fabulous views back across the landscape and ahead to the Côa Valley. You'll descend to the confluence of the Côa and Douro Rivers through beautiful vineyards then hike up the opposite hill to the Côa Museum.
Celebrate with lunch at the museum restaurant. The menu is extensive and includes traditional Portuguese fare as well as more contemporary dishes.
Give yourself time to visit the museum and see more engravings while learning about the people who made them.
End the day in the medieval town of Torre do Moncorvo, your base for the night.
Accommodation: Boutique guest house
Meals: Breakfast
Day 8

Return to Porto (departure day)
After your immersion in the lands of the Douro International and Côa Valley Parks, it's time to return to Porto.
A short transfer takes you back to Pocinho train station from where you will take the scenic train in the opposite direction, savoring the views that are now more familiar to you.
Meals: Breakfast
When you arrive in Porto, you can make your way to your next destination or ask us to add an extra night or two in the city center to your walking tour package (additional costs apply).
Route Map
Inclusions & Exclusions
Detailed route notes & welcome kit

App with trail information for use on a smartphone

7 nights' hand-picked accommodation with breakfast

Dinner with drinks on days 2, 3 and 4

Private transfer from Porto airport to Porto hotel on day 1

Private transfer from Porto Hotel to Porto Campanhã train station on day 2

Train tickets from Porto to Pocinho on day 2

Transfers to/from trails on days 3-7

Transfers to/from the Pocinho train station

Visit to a cheese producer and tasting of regional products

Guided visit to Penascosa rock art site

24-hour emergency contact number (English-speaking)
Flights to and from the destination

Meals not mentioned above

Train ticket from Pocinho to Porto

Côa Museum entrance fees and other optional expenses

Anything not mentioned in the "Included" section above
Pricing
Prices exclude flights to/from the destination.
Prices are for double room occupancy unless indicated otherwise.
Prices are the same regardless of when you travel.
Deposit per person

30% of the trip price

Group of 2 Travelers - price per person

1,240 € pp

Group of 4 Travelers - price per person

1,020 € pp
Optional Add-ons
Extra night at Porto Hotel: 90 € pp in a shared double room, 165 € pp in a private single room
Single room supplement: 385 €
Payment & Cancellation Policy
More than 30 days before the expected arrival date: no costs
From 29 to 15 days before the expected arrival date: we retain 50% of the total cost
Less than 14 days before the expected arrival date: we retain 100% of the total cost
Sustainability
This walking tour was crafted using extensive local knowledge and designed to respect both the way of life of local populations as well as the natural environment. We firmly believe that travel should be a safe and rewarding experience for all concerned, including the destinations that you visit and the people you meet.
Environmental Initiatives
Rural Tourism:
Our self-guided hikes follow rural backroads and paths through a fascinating landscape with the undulating countryside, vineyards, valleys, and villages, offering you the chance to enjoy the local flora and fauna with negligible environmental impact.
Green Transportation:
We focus on green transportation by taking the train out to the valley and then beginning the walking tour. We use some accommodations for multiple nights in order to reduce the need for luggage transfers. When necessary (to avoid some luggage transfers), we'll use local taxi drivers to reduce carbon emissions and support the local economy.
Water:
Since the quality of tap water is excellent in Portugal, we supply a refillable bottle that clients can use during their walking holiday and beyond.
Sociocultural and Economic Initiatives
Preventing Economic Leakage:
To make sure that money stays within the small local communities that our clients spend time in, the accommodation for this program is in a combination of small, unique hotels and family-run rural lodgings, which give clients an insight into local history and culture. Some accommodations produce their own wine, olive oil, and fruit, from which they make products that can also be purchased as gifts/souvenirs.
Food:
The daily lunch pack contains fresh local produce and we encourage guests to have dinner at hospitable local restaurants where they can enjoy traditional regional dishes, engage with the owners, chef, or servers, and, of course, sample Douro wines and port.
Local Life:
Most of the walking days involve passing through small hillside villages where you are welcome to stop at local cafés, bakeries, and grocery or craft stores in order to get a sense of what local life is like and interact with the residents. You will also get to see cheese production in action.
Natural Parks:
This trail is in two very special parks near the border with Spain, where rural traditions and agricultural practices are still evident. You'll probably see shepherds with their flocks in Vilar de Amargo and you'll be staying at a farmhouse for a few nights where Margarida will be happy to share her local knowledge. Marco, your host in Vilar de Amargo, is also a font of information about the local history, culture, flora, and fauna and he'll be taking you to the cheese factory and the rock art site.
FAQs
What does the Physical Rating of "Average" mean?
With potentially longer walking days, this tour is designed for experienced, regular walkers and can be enjoyed by anyone in good health who has prepared sufficiently in advance.
Distance: Max 16.8 km (10.4 miles) per day
Elevation gain: Max 635 m per day.
What are the accommodations like?
The accommodations include a combination of restored manor houses, village cottages, farmhouses, and charming hotels. All rooms have their own bathrooms. We've chosen these accommodations for their hospitality, comfort, and location.
In the Douro International Natural Park, you'll stay on a working wine estate and olive farm. In the Côa Valley Archaeological Park, you'll stay in a shepherding village (this is where you'll also visit a local cheese producer).
What is a self-guided tour?
On a self-guided tour, you navigate the route yourself with the aid of our Roadbook and GPS with all the tracks. We provide all the information you need including suggestions, maps, instructions, directions, and things to see. Our self-guided tours are a complete and affordable holiday, tailored specifically for independent travelers. They offer the same quality, style, service, and comforts of typical guided trips with the freedom and flexibility of making your own decisions about how you spend your time. Read more about self-guided tours here.
How many days are walking days, and what's the total distance covered?
There are 5 walking days on this itinerary. Total distance covered is 76.4 km (47.5 miles).
How do I prepare for a walking tour?
We recommend that before starting you should adapt your body for long walks. The fitter you are, after all, the more enjoyable you will find the experience. You should be comfortable with walking for 4 to 6 hours for consecutive days with some ups and downs on varied terrain, from tarmac roads to dirt paths and rocky or muddy tracks. Hill walking, with a reasonable amount of ascent and descent, is the best training for a walking holiday.
What do I need to bring?
Most of this walking holiday is off-road on rugged terrain so you will need:
Proper walking shoes with cushioning and support.
Weather protection (there is little shade so adequate weather protection is vital).
Walking poles are recommended.
Reviews
Joanna R.
Walking Holidays in Portugal
We had a great hike in Douro valley, all the accommodations were perfect, and the people we met were so nice. In every place we stopped we had great hotel rooms and a pool to rest after a day hiking (mostly up). Especially Quinta do Portal was really excellent and had the best chef and meals we have ever had in Portugal. Thank you!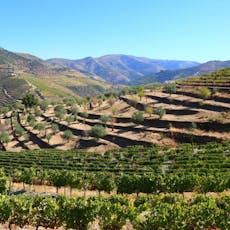 Walking in the Douro Valley, Portugal
Douro Valley Portugal. It was great !!!!