Sustainable Yoga Retreats in Portugal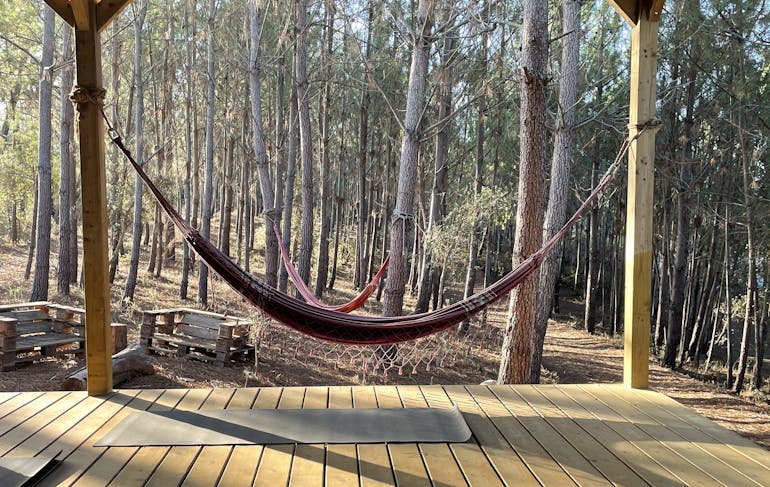 Sustainable Yoga Retreats in Portugal
Inhale. Gates open onto a secluded property and bright yellow trim – the classic color associated with southern Portugal – peeks over lush greenery. You've arrived. Deep in the rural Alentejo region, thoughtfully curated sustainable retreats await. They draw yogis of all levels, curious surfers, lovers of wine, and those generally looking for an active holiday inclusive of great food and wine.
The oasis away from the bustle of city life includes a pool surrounded by sun chairs, an open-air, covered common area, and a dining room enclosed by glass windows and wood ceilings slanted methodically to optimize morning and evening light. Hammocks dot the property, a small gym is available, and two adorable dogs offer their furry protection.
Which sustainable retreats are available?
At this eco-friendly retreat center, there are four sustainable yoga retreat experiences available:
The programs are similar in that they each include daily yoga sessions, a glass of wine with dinner, and ample downtime to disconnect and unwind. The 7-day programs are nearly identical - some even running on the exact same dates - with the differentiation being the additional daily activities of either surf lessons, photography classes, or stone-sculpting workshops. Depending on which program you choose, you may also enjoy a market visit, hikes, a winery tour, or even an included on-site massage.
It is a fantastic set-up with a well-struck balance between structured activities and leisure time: it feels almost like a 'choose your own adventure' adult summer camp.
Free activities include lounging by the sparkling blue pool, sinking into a hammock with a good book, or going for short hikes (both hikes we did were around three miles – one was a coastal hike alongside stunning cliffs; the other was an inland hike past a large herd of roaming goats en route to a favorite swimming hole).
Paid activities include horseback riding, kayak tours, stand-up paddle board (SUP) tours, or getting a massage (only included in the Surf, Yoga, & Wine Retreat).
Once there, your time is yours to spend as you wish. Even the included activities are optional; you are not forced to participate in anything that does not serve you. This allows you to craft the perfect experience for you.
How are the yoga sessions?
Nina, an experienced Hatha instructor, leads the daily 75-minute yoga sessions. The classes accommodate all levels, so don't be afraid to join if you're new to a yoga mat – the instructor will assist with modifications and explanations! For more experienced yogis, expect to play around safely with inversions and try familiar poses in new sequences.
The sessions will occur either in the morning, early afternoon, or late afternoon. This provides a nice opportunity to enjoy the outdoor Shala, lovingly called "the Grounds", at different times of the day. Nature sounds and light seeping through the trees create a slightly different environment with every session.
Classes begin and end with several minutes of mindfulness and meditation exercises. Sometimes, you'll be treated to the smell of incense or essential oils dotted on your forehead during savasana.
How is the surfing?
The surfing is suitable for complete beginners all the way up to experienced surfers. Your classes will take place on several beaches that have consistent waves that are good to learn on. It's not uncommon for first-timers to stand up on their board during the first lesson, or at least by the end of the surf retreat!
Surfing is a great way to try a new activity and get outside of your comfort zone. Surfing and yoga are also known to complement each other quite well as you stretch and strengthen new sets of muscles.
Surfing conditions are better in the off-season rather than in the high season. Therefore, doing the surf retreat outside of the peak summer months might be favorable, especially if you're new to surfing.
What about the photography classes and stone-sculpting workshops?
These unique variations of our sustainable yoga retreat are perfect for creatives! For the photography classes, you'll need to bring your own (real) camera - not your phone - and you'll be instructed by a pro on taking shots of landscapes, animals, and people. For the stone-sculpting workshops, you'll be provided with all of the materials on site. As a fun souvenir, you'll get to get home your creation at the end of the week.
The photography and stone-sculpting retreats often have overlapping dates, so you could come with a friend and each choose the activity most appealing to you!
What makes these sustainable yoga retreats different?
Yoga retreats exist in multitudes, with yoga and surf retreats being only slightly more niche. Active adventurers looking for a sporty vacation know that Portugal is a hot spot for these types of holidays. With so many to choose from, how is a yogi or surfer to decide?
Four components blend together to set this experience solidly apart from similar getaways.
1. The Wine
A glass with dinner is included in every package. These are not generic, mass-produced glasses of wine. Rather, they are from small, family-owned vineyards within the region – many of whose vintners are now personal friends of the retreat center. Part of the retreat experience also involves going to one of these wineries to meet the local producer, see the vines in person, and do on-site tastings alongside mouth-watering homemade tapas.
The winery tour is a highlight. A 5th-generation owner will delve into the myriad sustainable methods employed to keep their wine as natural as possible. Utilizing everything from sheep and chickens to protect against pests, to planting certain trees to help protect their vineyard from frost and fires, this responsible wine tour will be as unique as it is delicious. View Instagram Reel to see more about the sustainable wine tour.
2. The Sustainability
Most, if not all, yoga retreats boast themes of wellness, health, and detox. Some overlap between these and sustainability comfortably exist: for example, eating a plant-forward diet is generally considered to be both better for your body and the planet. This retreat center kicks the principles of sustainability into high gear.
The vast majority of the furniture on site is reclaimed and repurposed, solar panels top the casitas, and water is served in glass carafes via reusable cups. Guests receive locally made, organic bar soap that can be used for body and hair, and refillable hand soap is on-site, too. Each guest house has a compost bucket, and there are clear sorting bins throughout. The property's bountiful on-site garden makes seasonal cameos in nearly every meal. View TikTok to see sustainability initiatives in action.
3. The Food
Speaking of meals – after experiencing the Yoga & Wine Retreat firsthand, it is debatable if that is the best name for it or if a "Foodie Retreat with a Side of Yoga" might be more deserving. It's hard to say. Meals are thoughtfully prepared and proudly presented as hyper-local and fresh – and the ingredients are most often organic and vegetarian as well. Vegan, dairy-free, and other dietary restrictions can be accommodated.
The one exception I recall not being locally sourced is parmesan cheese which came from Italy, because "artisanal parmesan cheese just cannot be replicated," noted one of our hosts.
Between nutritious brunches and three-course dinners each night, your tastebuds will be delighted with every bite. View TikTok to see more food.
4. The People
Last but certainly not least, the people truly do make the place. This applies to the gracious local hosts running the retreat center as well as the type of clientele attracted.
The hosts – a couple comprised of a Portuguese woman and an American man – are warm and kind and designed these sustainable retreats as if they were imagining sharing all their favorite regional experiences with their best friends. It's a new operation, a silver lining stemming from Covid, and it maintains a "non-corporate, more personal, genuine feel," noted Del, an in-house legal counsel who joined from the UK. From the winery, market, and artisan visits to the surfing classes, yoga sessions, and short hikes, every activity stems from a desire to share their love of the region with guests.
This retreat is open to guests of all ages and genders and tends to draw those who truly appreciate the sustainable aspects. This fostered unplanned yet deeply thoughtful and thought-provoking conversations about how to be a responsible tourist and what challenges face the region. (For example, the prolific eucalyptus trees are not native to the area, are very dry, and thus burn easily. Although they pose a serious fire risk, the trees grow quickly and support the paper industry.)
The way [the hosts] talk about the land, artisans, and community is really refreshing.

Aub, a small-business owner who joined from the Netherlands along with her Court, her US-based business partner
Why should you book one of these unique, sustainable yoga retreats?
Selling points in addition to the fantastic food, yoga, and wine included with each retreat:
The small group experience
The beautiful outdoor yoga Shala
The laid-back 'retreat' vibe
The personalized, family-run feel
The ample free time to relax as you want (or even get a few hours of work done if needed)
The fact that all activities are suitable for everyone from complete beginners to pros
Bonus: The Surf, Yoga, & Wine Retreat includes an on-site massage during the rest day!
All else equal, the sustainability practices tipped the balance.

Tash, a product manager at a tech startup in London
We couldn't have known just how exceptional the food would be in advance, but that proved to be the singular most undersold aspect of the entire trip! Also, unlike other retreats, these sustainable retreats are not 'dry' (the local wine is an important component of the experience), nor is it a pure digital detox. While the latter might be a turnoff for some, it was a point in favor amongst this group. Attendees included solo entrepreneurs and business partners who were able to knock out time-sensitive tasks guilt-free.
I was preparing to sneak off and do some work… I should have known that this would be the group to do power hours with!

Erika, 'solopreneur' of a sustainable marketing agency based in San Diego
How to get there?
Arriving at the retreat center is a bit of a trek. This comes with the territory of supporting rural tourism and you'll appreciate the countryside destination!
Most guests will fly into Lisbon (though Faro is another possibility). From there, several modes of transportation are available:
Public Transportation – Combinations of the metro, airport shuttles, buses, taxis, or trains offer a slower, cheaper, and more sustainable option. The metro, shuttle, or bus from the airport to the main bus station will be a couple of euros, and the bus to the town of the retreat center will cost 16-18 euros one-way (pro tip: take some Dramamine if you're sensitive to windy roads). Then, you'll be picked up in town and driven the rest of the way to the retreat center.
Train – Another option is to take the train to the nearest town and then pay a 65 euro pick-up fee to be driven the rest of the way to the retreat center. This can be a good in-between option if you don't want to sit on a bus and also don't want to rent a car.
Rental Car – Fastest, most direct, and most expensive; this can be a great choice if you're coming with friends, or if you're planning to explore more of Portugal on your own before or after the retreat. The drive from the airport to the retreat center is about 1h45m, and there is free parking on site.
Uber – This usually costs around 130 euros from the Lisbon airport to the retreat center. Pros: you don't need to pay for a rental car, and it's cheaper than a private transfer. Cons: it depends on Uber's availability and we can't vouch for the driver you will get.
Private Transfer – We can coordinate a private taxi to pick you up from the airport with a trusted driver and deliver you straight to the retreat center. This costs 200 euros one-way. As the departure date nears, we can help see if other participants want to share the ride/cost.
The hosts will be on-hand to help ensure your arrival is smooth, including coming to pick you up in the town center if needed.
Once at the retreat center, your travel day will fade into the background, and the serenity that awaits will quickly come into focus. You'll be welcomed with artisanal snacks, and it won't be long until the first bottle of local wine is cracked open. Before you know it, you'll find yourself lost in conversation with new friends. (Our group wasted no time in peppering the airwaves with everything from career advice to hilarious travel stories.)
The final word on our sustainable yoga retreats
What leaves a lasting impression is how many components of this trip exceeded expectations. On these sustainable retreats, everything was top-notch: the venue, food, wine, yoga, yogis, hosts, soul-filling moments, and sustainability initiatives. The perfectly warm, but not too hot, weather of early fall didn't hurt, either.
Being swept up in this sea of relaxing wonderfulness is exactly what attendees crave from a retreat like this. Your body will feel nourished and your mind rejuvenated. If you need any further convincing, just watch this TikTok of video testimonials.
Time feels warped here: Without feeling rushed, it will somehow pass by all too quickly! (By day 3 of the retreat, I had forgotten what day of the week it was.) By the end of your stay, your muscles will feel pleasantly sore – slightly less so after a massage, your cheeks will hurt from smiling so much, and you will leave with new friends or with deeper connections to old friends.
And so, I leave you with this very good news: the search is over, you've found it. Your perfect, wholesome, active, sustainable getaway awaits in sunny southwest Portugal. Exhale.