15 Destinations for Autumn Travel: The Best Places for Fall Foliage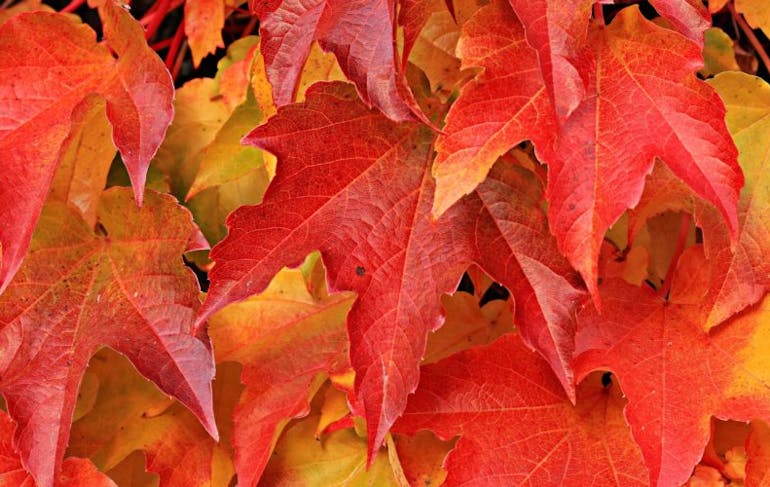 15 Destinations for Autumn Travel: The Best Places for Fall Foliage
Is fall the best season? It just might be. Perfect weather, stunning autumn foliage, and a number of holiday festivities are just a few things to love about this time of the year. It's also a period of rejuvenation and, ironically, represents new beginnings. As summer ends, people return from vacation and the back-to-school season is in full swing. The mild temperature and colorful foliage also make it one of the prettiest seasons. 
Of course, growing up in New England I may be a little biased. New England has some of the most gorgeous foliage around. It never ceases to amaze me how the trees transform into vivacious watercolor paintings. From warm reds to bright yellows, it's always mesmerizing to see the image of perfection that nature conjures up every year. 
That's why I was a little disappointed when I moved to Paris. 
Living in the 'City of Love' of course has its perks. There is plenty of great wine, an international population, and excitement waiting around every corner. Yet, the cityscape definitely cannot compete with the breathtaking scenery of miles and miles of multi-colored natural art. Don't get me wrong, Paris is beautiful and has many nice parks where you can get a glimpse of fall foliage. For instance, Buttes-Chaumont Park in the 19th arrondissement (a personal favorite) and the Tuileries Gardens in the 1st. But, to have the full fall experience, you need to get out of the city. 
If you're a fall enthusiast or are simply in search of some great autumn travel destinations, keep reading to discover 15 locations for gorgeous fall foliage.
Why is Autumn a Great Time to Travel?
There are several reasons why you should take a vacation in the fall, some of which support sustainable travel. Here are just a few of them: 
Avoid the peak season:
Peak or high season is the time of year when most people decide to take their vacation, which results in crowded destinations. This season varies for each destination, but in general, summer is the peak time to travel in Europe and North America as travelers take advantage of the warm weather and vacation time. When you travel in the off-peak season you can avoid overtourism, which negatively impacts the local environment and communities. You can also enjoy your trip at a calmer pace. 
Travel is more affordable:
Prices are the most expensive during the peak season. For destinations that usually have a peak season in the summertime, the low or shoulder season often occurs in the autumn or winter. With fewer tourists, airfare and hotel prices usually become cheaper as well. For instance, a round-trip flight to Paris from JFK between June to August can range from $800 to $1000+. However, from October to December ticket prices may vary between $600 to $800. 
Comfortable weather:
Fall is a great time to enjoy moderate weather conditions. It is often said that summer is the best season because it's idyllically warm and sunny. But in many places, such as Japan, summer is hot, humid, and rainy. In autumn, the temperature is neither too hot nor too cold. You can comfortably explore on foot and participate in outdoor activities while avoiding the sweltering heat of summer and the bitter cold of winter. 
Harvest season and autumn festivals:
Autumn is the harvest season for a reason. In the US, there is even an entire holiday dedicated to being grateful for the bountiful harvest. Numerous other countries also host celebrations around seasonal foods as well as many interesting autumn festivals. Think of Oktoberfest and Erntedankfest in Germany and the Kookeet Food Festival in Bruges. There are also some pretty cool festivals that occur in autumn that have nothing to do with food. Take for instance Diwali in India and the Dia de Los Muertos (Day of the Dead) in Mexico. These are all opportunities to immerse yourself deeper into the local culture and learn more about the origin of the local traditions and customs. 
The Best Destinations for Autumn Foliage
Asia
Japanese Alps, Japan
"The roof of Japan," or the Japanese Alps, is a great location to enjoy the autumn season and to take an adventurous hike. The mountain range is popular amongst outdoor sports enthusiasts and mountain lovers due to its variety of slopes and hiking trails. But it is also encompassed by historical towns and villages that are worth a visit. For instance, Oshika which hosts a kabuki festival (a traditional Japanese theatrical show) in the fall and spring, and Nagano – home to the 1998 Olympic Games.
Although a popular winter region, we recommend you venture to this mountainous region from September to October. Autumn is a wonderful occasion to take in the diverse vegetation, cultural heritage, and hiking trails.
Kyoto, Japan 
As the former capital of Japan, history roams through the streets of Kyoto. Renowned for its many temples, gardens, palaces, and shrines, it's no wonder why today it is regarded as the Japanese cultural capital. In Kyoto, you can appreciate the traditional way of life that is very much still present. Visit the Gion district to catch a glimpse of the highly-skilled female entertainers (known as geikos or geishas), who train for years to host and entertain guests.
A wonderful way to appreciate the city's natural beauty and culture is by visiting one of its many temples. Founded in 1175, Komyo-ji Temple is a great place to admire Buddhist artwork as well as Koyo (autumn foliage in Japanese). The best time to visit is between October and November as the leaves start changing in mid-October and reach their peak around mid-November. The weather is also optimal at this time as the rainy season is usually over and temperatures average around 64° F (18° C). 
Fragrant Hills Park, Beijing, China
Fragrant Hills Park (or Xiangshan Park) is a former imperial garden located in the northwestern region of Beijing. The park is a favorite among locals who visit annually to watch the maple leaves turn a stunning bright red. The park is 400 acres so there are several routes you can take to discover its history and landscape. 
Similar to Kyoto, the leaves change color from October to November and the highest average temperature is 66° F (19° C). For the best view of the maple trees, take the cable car to Censer Peak –  the highest point of the park. You can also start from the Northern Gate and walk or bike uphill to see many of the park's attractions. Join in on the cultural festivities and don't miss the Fragrant Hills Red Leaves Festival which takes place from mid-October until mid-November.
Mount Naejangsan, South Korea
Hike up Mount Naejangsan for full immersion into maple-leafed paradise. This magnificent mountain is located in Naejangsan National Park and is a 3-hour car ride from the capital, Seoul. Nature lovers are bound to fall head over heels for this park. It boasts fiery red foliage, 760 different local plant species (including 600-year-old nutmeg trees), and waterfalls.
October and November are perfect times to visit and enjoy the serene atmosphere and cool weather. There are also several hiking trails with varying difficulties. If you're looking for a casual stroll through the park, we recommend the Nature Observatory Trail for beginners. The Ridge Hiking Trail is more suited for active adventurers with a distance of about 7 miles (11 km). 
Ala Archa National Park, Tian Shan Mountains, Kyrgyzstan
With just a 30-minute drive away from the capital of Bishkek, you can be transported to a world of breathtaking natural landscapes. Ala Archa National Park, in the Tian Shan mountains, is known for its magnificent gorge and juniper trees. The juniper trees are special to the locals who believe they ward off evil spirits and protect homes. 
Traveling to the Tian Shan Mountains (also known as the Mountains of Heaven) in autumn permits visitors to view the beautiful variety of fall colors. You can also get a great hike in. As you'll be hiking in the mountains, be sure to bundle up as it can get quite chilly (lows of 42° F or 5.5° C).
Europe
Plitvice Lakes, Croatia
In 1949, the Plitvice Lakes became Croatia's first national park – and rightfully so. The natural beauty of this region is otherworldly and it has gained recognition as a UNESCO World Heritage Site. Its 16 terraced lakes and waterfalls make it feel like a magical realm out of a fairytale.
As the most popular tourist attraction in Croatia, visitors clamor to the region in the summer. However, the area is also quite beautiful amidst the amber maple and beech trees. You can expect rainy weather if you visit in autumn, but this doesn't take away from the area's beauty. In fact, it makes the colors even more vibrant as the trees become saturated by the rain. 
Loire Valley, France
In the center of France, you will find the Loire Valley – a region renowned for white wines and glorious castles (called chateaux in French). Visit vineyards, sip wine, and explore the chateaux in the region during the most colorful time of the year. 
A range of festive activities is often available on November 1 for All Saints Day. For example, every year, the Chateau of Chaumont-sur-Loire has a special event called the "Splendours of Autumn" to admire the richness of the seasonal colors in the gardens. It's the perfect opportunity to cozy up with some locals and form new friendships.
Douro Valley, Portugal
Not too far from France lies the Douro Valley – a demarcated wine region and UNESCO World Heritage Site in Portugal. This region is truly spectacular in the fall as you can see miles of vineyards change to crimson and speckled gold. Travel here in September when the harvest season is in full swing and the weather is a comfortable 75° F (24° C). 
Taste the port wine special to this region, leisurely explore the Portuguese countryside, and enjoy panoramic views of the vineyards on an 8-day self-guided walking tour through the Heart & Soul of Douro Valley.
Lake Bled, Slovenia
In the eastern part of Europe, discover Lake Bled. Located in the Julian Alps, it is one of the most visited destinations in Slovenia and it's easy to see why. The mesmerizing blue of the lake surrounded by the rugged mountainscape makes it a picturesque, natural haven. Bled is also a green tourism destination and it has been recognized for its sustainable development efforts.
Take a walk around the lake to examine all the colors of autumn. Or better yet, take a romantic boat ride. Row or rent a boat and visit the island of Bled, the only natural island in Slovenia. While on the island, seize the opportunity to take in all the natural splendor. Look around and behold the grandeur of the mountains painted with radiant foliage mirrored in the lake's reflection. 
Don't forget to visit the town of Bled, which surrounds the lake. Learn about local village life and try their regional dishes, most notably, the famous Bled cream cake.
Visit Bled in September or October to experience the magic of this location in vivid color. The temperature is usually mild and pleasant and there will be fewer visitors so you can enjoy the lively fall colors in tranquility. 
Transylvania, Romania
Transylvania is well-known for its medieval towns, gothic architecture, and most of all… Dracula! But did you know this region has astonishing natural beauty and rich cultural heritage, too? 
The Saxons once ruled this land and built several fortresses to defend it from the Ottomans and the Tatars. This is only the tip of the iceberg in terms of cultural history. Nature enthusiasts will also be drawn to the variety of plant species and wildlife in the region. Transylvania is surrounded by the Carpathian Mountains which possess one-third of Europe's plant species. They are also home to the largest population of brown bears, wolves, and lynxes in Europe. It's the perfect destination to go hiking or mountain biking to see the heavily wooded areas change color. 
Visit Romania in early October to Discover Transylvania's Heritage by bike on a week-long tour that will lead you through historic villages and small nature reserves. Walking tours can also be arranged. You can have the ultimate flexibility to choose between biking or walking, and whether the tour is self-guided or led by a local expert.
North America
Ozark Mountains, Arkansas, USA
You're probably familiar with the Ozark Mountains from the popular series Ozarks on Netflix. Although the show is fictional, it does a great job of portraying the peaceful, undisturbed beauty of this mountainous region. The Ozark Mountains (or simply the Ozarks) are known for their multitude of sparkling springs, waterfalls, caves, and several other geographic wonders. The mountain range stretches across five states with most of the area located in Missouri and Northern Arkansas.
Fun Fact: The mountain range received its name from French explorers who called it "Aux Arc" which roughly translates to the arch or bend. This was in reference to the bend of the Arkansas River. Eventually, the name was simplified to Ozark.
It's hard to decide where to go in the Ozarks for the best views of autumn foliage because it's beautiful from every angle. If you're looking for a little bit of everything – outdoor adventure, cozy accommodations, and festivities – visit the town of Eureka Springs. You'll find historic Victorian buildings, a bathhouse built around the city's natural springs, mom & pop shops, and several activities taking place year-round. An escape into the great outdoors is never far away. You can hike in the mountains, go canoeing, or horseback riding. All of these outdoor activities are the perfect chance to take things slow and embrace the autumn atmosphere. 
The trees change color at the beginning of October and usually reach their peak in late October to early November. You should prepare for some rain during this time, but enjoy the warm temperatures and affordable off-peak season prices. 
Yellowstone National Park, Wyoming, USA
September to November is a great time to explore Yellowstone's natural wonders. From hot springs to geysers, you won't be disappointed taking a trip to the oldest national park in the US – and the US's first UNESCO World Heritage Site.
Hike or bike through Yellowstone National Park to enjoy the scenery and catch a glimpse of unique species. Autumn is the perfect opportunity for wildlife watching (particularly elks, bears, and bison) as these animals mate and migrate in preparation for winter hibernation. 
Temperatures typically fall between 20° F (-7° C) and 65° F (18° C) so make sure to wear layers on your visit. The best time to see the grass, trees, and shrubs colorfully transform is from the end of September to mid-October. Some of the best places to view the park ablaze with color include Mammoth Hot Springs and Blacktail Plateau Drive. 
Kennebunkport, Maine, USA
Kennebunkport is a small coastal town known for its long sandy beaches, whale-watching excursions, and ship-building history. In Kennebunkport, there is something to enjoy in every season. In the summertime, you can hang out by the pier and visit the Cape Porpoise historic lighthouse. Come winter, enjoy strolling through the streets to do some Christmas shopping while admiring the lights and holiday festivities. This New England gem has it all.
Take a boat tour along the coastline or kayak down the Kennebunk River to view the leaves from a different perspective. Apple and pumpkin picking are also great fall activities, especially for young families. Enjoy fresh apple cider and the sound of leaves crunching under your feet as you spend the day looking for the best produce.
The Autumn weather in Kennebunkport is fairly moderate but can become quite chilly, especially after the sun sets. Consider taking your trip between mid-September and mid-October to avoid crowds of tourists and elevated prices. You'll also enjoy this seaside town in a calmer setting and experience the brilliant fall leaves in their full glory. 
Niagara Parkway, Ontario, Canada
Take a scenic drive along the Niagara Parkway which starts from Niagara-on-the-Lake in the north all the way south to Lake Eerie. Gather some family and/or friends and buckle up for a road trip through a variety of beautiful towns and landscapes.
Some interesting places you can visit on your road trip include Fort George, a military fortification and historic site, and Niagara Glen, a nature reserve located near the Niagara Whirlpool. Niagara-on-the-Lake is also worth exploring for a few days as there are many things to do in the town and surrounding area. Visit one of the wineries in Niagara wine country or attend one of the theatrical productions at the Shaw Festival. 
Embrace all the fall colors as you make your way to Lake Eerie, and don't forget to make a few stops along the way to really soak in the incredible nature. 
Butchart Gardens, Victoria, Vancouver Island, Canada
The Butchart Gardens were founded in 1904 by the couple Jennie and Robert Butchart. Today, the Gardens have blossomed into a National Historic Site of Canada with a variety of 900 plants. The Gardens are dedicated to sustainability and have incorporated several environmental initiatives to minimize harmful impacts. Some of the initiatives include repurposing wood waste and composting all food waste. 
There are five gardens to explore for every season. In the fall, the Japanese garden is absolutely worth a visit. You can leisurely stroll through the park and gaze at the red and gold maple and beech trees.  With 74 Japanese maples, 500 azaleas, and one acre of land to explore, you won't get bored wandering through the garden. 
Visit in early October when all the colors have ripened and are at their prime as well as to avoid the rainy season (mid-October to November). Plan on dressing warmly as temperatures are usually around 53° F (12° C).
Which Autumn Travel Destination is on Your Bucket List?
Asia, Europe, or North America: no matter where you go, you can't go wrong visiting one of the locations above. Which of these destinations will you visit this fall?