Walking Tour: On the Other Side of Douro
From 970 € pp
Bookable From

March - October
Overview
Take the road less traveled with this walking tour on the other side of Douro, Portugal's famous wine region replete with orchards, vineyards, and typical villages.
This weeklong, self-guided stroll takes you through the unexplored, rural side of the Douro at your own pace. Slow down and rejuvenate as you explore a side of Douro where few tourists venture. Discover a new layer to this UNESCO region by hiking through awe-inspiring landscapes, and stopping in small villages along the way. Visiting the Douro region wouldn't be complete without savoring delicious wines in serene settings, away from the hustle and bustle of tourist hot spots.
Highlights
Visit the Alto Douro wine region, the oldest wine region in the world, and a UNESCO World Heritage Site
Soak in stunning views as you walk through terraced vineyards
Meet with small wine producers and participate in port and wine tastings
Discover charming local villages, historical monuments, and Portugal's rural life
On this walking trip through the other side of Douro, you'll start in Porto and make your way down to the riverside town of Peso de Régua. As you explore the area south of the Douro River, you'll walk through beautiful natural landscapes past fruit trees and orchards, and through terraced vineyards.
You'll have the chance to admire the UNESCO World Heritage landscapes of the Alto Douro wine region from multiple vantage points. Our different hikes to Pinhão, Vacalar, and Adorigo, to name a few, offer the chance to overlook gorgeous rolling vineyards, terraced slopes, and the mighty Douro River.
Throughout your hike, you can sample delicious local specialties, and savor the unique flavors of the region's wines. The wine production here is mostly thanks to smaller producers, which means a greater variety of vineyard patterns and a very local feel to the experience.
As well as its wine industry, the Douro region is well known for its fruit production. Strolling through Armamar, a charming town in northern Portugal, you'll see orchards full of cherries, apples, elderberries, and figs. Depending on the time of year, the fruit trees may be in blossom or in fruit, adding extra color and flavor to your time in the Douro Valley.
This Douro walking tour also offers the possibility to immerse yourself in Portuguese history and culture. In Salzedas and Barcos, located in northern Portugal, their historical monuments, including a Romanesque church and a Cistercian monastery, will impress you. For example, the monastery of Santa Maria de Salzedas, which dates from the 12th century, has been recognized as one of the most important and beautiful in Portugal.
You'll also experience the region's laid-back rural rhythm. In small towns, notice how locals manage their vegetable plots, vineyards, and fruit trees. There will be time, too, to hang out in a cafe and watch life unfold around you.
The final walking day starts in a hillside village on the north side of the Douro River, which gives you an opportunity to see where you've already walked from a different perspective. This is a lovely way to end your Douro vacation!
Like what you but it is not quite a perfect fit?
Simply tell us what you're looking for. We'll happily adapt this itinerary to suit your personal interests, needs, and schedule to create your ideal trip.
Seasonal Notes
You can book this itinerary from March 1st through October 31st each year.
The low season is from March 1st to April 30th & from October 16th to 31st.
The high season is from May 1st to October 15th.
Spring, early summer, and fall are ideal for walking holidays in northern Portugal. Days are generally warm and sunny but can be chilly and possibly windy, especially on the coast. There is always a chance of experiencing some rain, so please come prepared for changeable conditions. May, June, and September tend to be warmer with less chance of rain.
July and August are usually the hottest months, with temperatures regularly exceeding 30 degrees Celsius (86 degrees Fahrenheit).
If the trip coincides with the grape harvest, which is usually in September, you will have the opportunity to experience the hustle and bustle of grape picking and transportation to the wineries. With a bit of luck, you can even participate in grape treading or harvest celebrations.
Traveling during the low season is generally considered a sustainable tourism practice as it helps with tourism dispersal: spreading out where tourists go and how their money supports locals throughout the year.
Itinerary
Day 1

 Porto [Portugal] (arrival day)
A private driver will meet you at Porto International Airport and take you to your hotel in Porto.
Your Welcome Pack, with all the information and necessary documents you need to fully enjoy this self-guided walking holiday, will be waiting for you at the reception of your hotel in Porto.
If you would like us to include a cultural or food tour of the city today and/or tomorrow, just let us know (additional costs apply).
Accommodation: 4-star hotel in Porto city center
Day 2 

Train Ride: Porto - Peso da Régua
The scenic train journey takes you along the Douro River to the town of Peso da Régua. There is a wide array of bars and restaurants and nearby wineries that you can arrange to visit if you have time, as well as the Douro Museum (optional, paid locally).
Settle into your boutique hotel and rest well for the week ahead or stretch your legs on a riverside stroll.
Accommodation: Boutique hotel
Meals: Breakfast
Day 3

Peso da Régua - Aldeia de Baixo (15.9 km | 9.9 miles | +706 meter elevation gain, -226m)
Once you leave the bustle of Peso da Régua and the traffic behind, you'll enter into a landscape filled with birdsong and vineyards. You'll pass through several villages where tourists seldom venture and life goes on as normal and you can stop at a local café to interact with local people.
As well as offering remarkable views, the landscape is an interesting mix of rugged, untouched hillsides and those that have been cultivated for growing grapes, olive trees, cherry, and apple trees. In early spring, the fruit tree blossoms add color and joy to the landscape while the spring flowers that follow are an endless source of delight, as are the fruits once they are ripe for picking.
Accommodation: Country house
Meals: Breakfast and packed lunch
Day 4

Salzedas - Aldeia de Baixo (14.6 km | 9 miles | +348m, -322m)
A short, scenic drive takes you to a magnificent Cistercian monastery in the village of Salzedas which dates back to the 12th century. Take the opportunity to look around the church and village before starting your walk.
You'll spend the day walking between apple and cherry orchards, olive groves, and small vineyards, punctuated by villages. Depending on the time of year, you might enjoy an abundance of fruit blossoms, a myriad of wildflowers, ripening fruit, or a harvest in progress.
As well as the endless orchards, there are mountains in the near and far distance, including the undulating hillsides of the Alto Douro wine region and the majestic Alvão Natural Park.
Accommodation: Country House
Meals: Breakfast and packed lunch
Day 5

Armamar - Quinta do Tedo (14.2 km | 8.8 miles | +356m, -814m)
After a short taxi ride to the nearby small town of Armamar, you will start your day with fabulous views but the best views are yet to come! The first part of the day takes you through typically rural landscapes with plenty of olive and fruit trees as well as small vineyards.
The journey to the village of Vacalar offers marvelous views – a taste of what's to come later. As you progress through gorgeous vineyards, the expanse of the UNESCO World Heritage Landscape of the Douro Valley, with its endless terraced slopes and the mighty Douro River, comes into view.
End the day's walk with a wine-tasting session at Quinta do Tedo before transferring to the small town of Tabuaço.
Accommodation: Boutique guest house
Meals: Breakfast and packed lunch
Day 6

Tabuaço Circular Walk via Adorigo (16.5 km | 10 miles | +417m, -431m)
Today's walk offers a variety of scenery, from the boulder-strewn hills that overlook Tabuaço to the Douro Valley and its undulating slopes, as well as flatter areas at around 500 meters altitude.
You will pass through the centre of one of the Douro's 6 official Wine Producing Villages, namely Barcos. Around and beyond Barcos, you'll see lots of vegetable plots and flat vineyards that belong to smaller producers than the vast estates nearer the Douro River.
The route is tranquil and allows plenty of opportunities to enjoy a peaceful time in the countryside surrounded by birdsong and the various scents of flowers and trees. At the halfway point, you will have fabulous views of the Douro River and the UNESCO landscape as you make your way to the village of Adorigo and back to Tabuaço.
You also have the option of visiting a family-owned winery that's over 100 years old (additional cost).
Accommodation: Boutique guest house
Meals: Breakfast and packed lunch
Day 7

Valença do Douro - Pinhão (15.4 km | 9.6 miles | +325m, -635m)
Today's walk starts in the village of Valença do Douro, which overlooks the hilltop building of the Quinta das Carvalhas estate. You'll walk through the heart of the village and then out into the vineyards and countryside.
This is the landscape of small producers and the patterns of the grape rows are interesting and varied on the way to the next village. Head uphill through a wine estate and be prepared for some extra special views as you wend your way down the hill to Pinhão.
Zig-zag your way downhill through the grape vines to reach the tasting rooms of Real Companhia Velha where a port wine tasting awaits you.
Accommodation: 3-star hotel
Meals: Breakfast and packed lunch
Day 8

Vilarinho de Cotas - Pinhão (8.9 km | 5.5 miles | +131m, -482m); Porto (departure day)
Experience the views from the north side of the Douro River today on this mostly downhill walk. You'll start in a small village high in the hills and views of the Pinhão Valley. As you start your descent, you'll have views of the Douro Valley to your left.
As you round the hillside towards Casal de Loivos, your views of the Douro Valley arrive and will accompany you all the way down to the river through the vineyards of Quinta da Roeda and Quinta do Bomfim back to Pinhão.
Catch the afternoon train back to the captivating city of Porto.
Meals: Breakfast
Option 1: Instead of returning to Porto by train after walking to Pinhão on day 8, you could spend an extra night in Pinhão and take the train the following day.
Option 2: Alternatively, you could spend an extra night in Pinhão and take the river cruise the following day.
If you would like us to add one or more nights in a Pinhão or Porto hotel, just let us know.
Route Map
Inclusions & Exclusions
Detailed route notes & welcome kit with pre-departure information

App with trail information for use on a smartphone

7 Nights of accommodation with breakfast included

5 Packed lunches (day 3 to day 7)

Private transfer from Porto airport to Porto hotel (day 1)

Private transfers between accommodation and the start or end of daily walks, where relevant

Luggage transfer between accommodations (days 3, 5, and 7)

Tour and tasting session at Quinta do Tedo winery (day 5)

Port wine tasting at Quinta das Carvalhas (day 7)

24-hour emergency contact number (English-speaking)
Flights to and from the destination

Lunches and dinners (except for the packed lunch between day 3 and day 7)

Transfer from Porto hotel to Porto train station

Anything not mentioned in the "Included" section above
Pricing
Prices exclude flights to/from the destination.
Prices are for double room occupancy unless indicated otherwise.
Price varies between high and low seasons.
Low Season: March 1st - April 30th & October 16th - October 31st
High Season: May 1st - October 15th
Deposit per person

30% of the trip price

Private Room - sleeps 1 - price per person

Low Season: 1,330 € pp High Season: 1,410 € pp

Shared Room - sleeps 2 - price per person

Low Season: 970 € pp High Season: 1,030 € pp
Optional Add-ons
Instead of traveling by train, you can opt to spend the day on the water and take a river cruise upstream to Régua. This will involve the fascinating machinations of the Carrapatelo Dam (35 meters) and the Crestuma-Lever Dam (14 meters). The boat journey takes around 6 hours to reach Régua, with lunch on board, followed by a private transfer to your accommodation in Pinhão.
Day 2: River Cruise from Porto to Régua, lunch included. 120 € pp
Day 8: River Cruise from Régua to Porto, lunch included. 120 € pp
Private transfer from Porto to Pinhão: 240 € for 1-3 people, 320 € for 4-7 people
Extra night at Porto Hotel: 90 € pp in a shared double room, 165 € pp in a private single room
Extra night at Pinhão Hotel: 80 € pp in a shared double room, 135 € pp in a private single room
Pinhão Winery Visit & Tasting: 30 € pp (paid locally)
Payment & Cancellation Policy
More than 30 days before the expected arrival date: no costs
From 29 to 15 days before the expected arrival date: we retain 50% of the total cost
Less than 14 days before the expected arrival date: we retain 100% of the total cost
Sustainability
We firmly believe that travel should be a safe and rewarding experience for all concerned, including the destinations that you visit and the people you meet. This walking tour was crafted using extensive local knowledge and designed to respect both the way of life of local populations as well as the natural environment.
Environment: You will see this UNESCO World Heritage region up close through scenic routes and rural backroads with river and vineyard views. You will see man-made wine terraces, and have the chance to enjoy the local flora and fauna with negligible environmental impact, especially since you will receive a full briefing from us on how to respect the local wildlife and landscape.
Since the quality of tap water is excellent in Portugal, we supply a refillable bottle that clients can use during their walking holiday and beyond.
Community: To make sure that money stays within the small local communities that our clients spend time in, the accommodation for this program is in a combination of small, unique hotels and family-run rural lodgings, which give clients an insight into local history and culture. Some accommodations produce their own wine, olive oil, and fruit, from which they make products that can also be purchased as gifts/souvenirs.
Local food:
The daily lunch pack contains fresh local produce and we encourage guests to have dinner at hospitable local restaurants where they can enjoy traditional regional dishes, engage with the owners, chef, or servers, and, of course, sample Douro wines and port.
Most of the walking days involve passing through small hillside villages where you are welcome to stop at local cafés, bakeries, and grocery or craft stores in order to get a sense of what local life is like and interact with the residents.
Wine producers:
This trail is in the heart of the renowned Douro wine region so as well as observing the manual labor that goes into tending the endless grape vines, there are plenty of opportunities to visit local wine producers to taste and buy their wines and learn about the unique family histories of these quintas (wine estates).
Economy: Your tourism money will stay with these communities and you will support older generations reliant on subsistence agriculture. By booking this trip, you'll directly support the local economy.
FAQs
What does the Physical Rating of "Average" mean?
With potentially longer walking days, this trip is ideal for regular walkers and can be enjoyed by anyone in good health who has prepared sufficiently in advance.
Distance: Max 16.5 km (10.25 miles) per day
Elevation gain: Max 700 m per day
What are the accommodations like?
The accommodations include a combination of restored manor houses, village cottages, farmhouses, and charming hotels. All rooms have their own bathrooms. We've chosen these accommodations for their hospitality, comfort, and location.
What is a self-guided tour?
On a self-guided tour, you navigate the route yourself with the aid of our Roadbook and GPS with all the tracks. We provide all the information you need including suggestions, maps, instructions, directions, and things to see. Our self-guided tours are a complete and affordable holiday, tailored specifically for independent travelers. They offer the same quality, style, service, and comforts of typical guided trips with the freedom and flexibility of making your own decisions about how you spend your time. Read more about self-guided tours here.
How many days are walking days, and what's the total distance covered?
There are 6 walking days on this itinerary. Total distance covered is 85.5 km (53.1 miles).
How do I prepare for a walking tour?
We recommend that before starting you should adapt your body for long walks. The fitter you are, after all, the more enjoyable you will find the experience. You should be comfortable with walking for 4 to 6 hours for consecutive days with some ups and downs on varied terrain, from tarmac roads to dirt paths and rocky or muddy tracks. Hill walking, with a reasonable amount of ascent and descent, is the best training for a walking holiday.
What do I need to bring?
Most of this walking holiday is off-road on rugged terrain so you will need:
Proper walking shoes with cushioning and support.
Weather protection (there is little shade so adequate weather protection is vital).
Walking poles are recommended.
Reviews
Joanna R.
Walking Holidays in Portugal
We had a great hike in Douro valley, all the accommodations were perfect, and the people we met were so nice. In every place we stopped we had great hotel rooms and a pool to rest after a day hiking (mostly up). Especially Quinta do Portal was really excellent and had the best chef and meals we have ever had in Portugal. Thank you!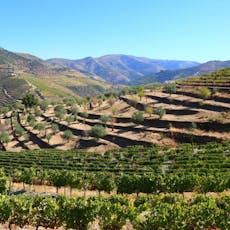 Walking in the Douro Valley, Portugal
Douro Valley Portugal. It was great !!!!