Self-Guided Tours: What are they? Why book one?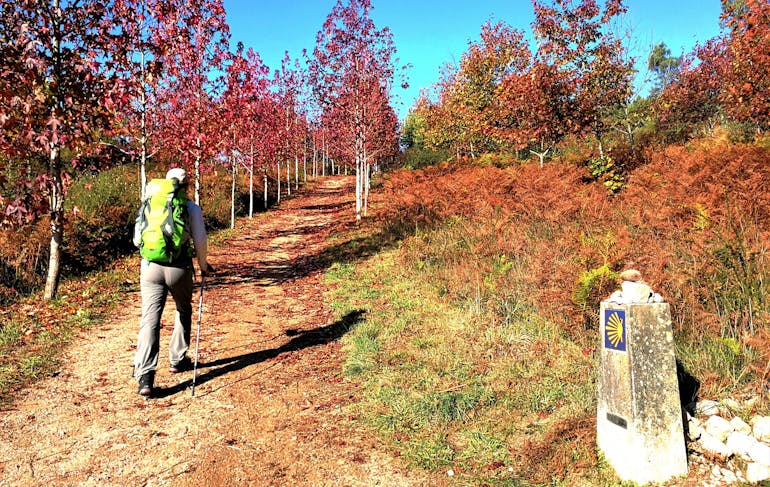 Self-Guided Tours: What are they? Why book one?
Travel is an exciting experience, but the research and planning that goes into organizing a trip can be daunting for many. Browsing for eco-friendly accommodations, delicious local places to eat, and activities that align with your values can quickly become exhausting. Organized tours are a great option to alleviate some of the stress associated with booking your vacation. But with so many different choices of organized travel – from private tours, to small-group tours, to self-guided tours – how do you decide what is right for you?
What is a Self-Guided Tour?
To start off, let's clarify what we mean by a self-guided tour. Self-guided tours are trips in which an expert handles all of the pre-departure organization and booking. Once travelers arrive, they enjoy their trip independently, without a third-party guide physically present. Whilst travelers are responsible for making their way to their accommodation each night they have complete autonomy regarding their pace throughout each day.
Self-guided tours are well-suited for walking, cycling, and driving holidays where the daily route is thoughtfully planned out for you, and your luggage is transported between pre-booked accommodations. This tour type is an ideal choice for travelers who would like assistance with organizing and booking their trip, but don't need an escort on the actual journey. That said, self-guided trips include a GPS and 24/7 on-call support to ensure guests' safety.
What is Included in a Self-Guided Tour?
The level of support provided before and during the trip is very similar to what travelers would experience on a privately guided tour, minus the guide themself. Self-guided tours typically include the following:
Airport transfers at the beginning and end of the trip
A day-to-day route indicating the miles or kilometers to be traveled each day
Luggage transfers between points A and B each day (for walking and cycling tours) – this means that travelers only need to carry a small day pack with them as they walk or bike
Pre-arranged and booked activities along the way
Eco-friendly accommodations are booked for each night
Some or most meals
A GPS and a roadbook/map
24/7 on-call support
24/7 roadside assistance (for driving tours)
Why Book a Self-Guided Tour?
Saving time on research, flexibility, and affordability without compromising on experiences are some of the reasons people opt for a self-guided tour. Many travelers also report a higher degree of self-satisfaction at the end of their trip; they truly feel a sense of accomplishment after navigating their own way across a new destination.
So what makes self-guided tours so much fun? Here are our top six reasons travelers love self-guided tours.
Timesaving and Stress-Free
Flexible Departure Dates
Customizable Itinerary
Affordability
Independence and Freedom
Covid-friendly
Keep reading to discover why so many travelers prefer this type of travel.
1. Self-guided tours save you the time and stress of researching and planning a vacation
Most of us lead busy lives. Deciding on a destination can be exciting, but the research and planning needed to organize a vacation are time-consuming. It's hard to truly capture how long the average person spends planning a trip. Different reports estimate travelers spend anywhere from 10 hours to 30 hours or more planning a single holiday. Time spent researching and coordinating can either be fun, and an enjoyable part of the adventure overall, or stressful, and considered a necessary evil to have the trip of your dreams. Having a suggested itinerary with a pre-arranged route, pre-booked eco-friendly accommodations and activities, and comfort touches like airport transfers can remove a lot of this stress.
By booking a self-guided tour, you can minimize your time spent researching and planning whilst maximizing your time on vacation. Expert trip planners and our in-country partners are ready to take all of this stress off your hands and hand over an organized, well-planned itinerary. They'll ensure that you're making the most of every day, booking eco-friendly accommodations, and suggesting activities to participate in that support local people and businesses.
2. Self-guided tours have flexible departure dates
Another benefit of self-guided tours is that you are not tied down to specific departure dates. Unlike small-group tours with fixed departure dates, self-guided tours leave you completely free to accommodate your start date with your group's schedule.
Pro tip: When considering your departure date, be sure to check for two things:
Availability: Many self-guided tours that are nature-focused – like walking and cycling tours – are only available to book during particular seasons, such as from Spring through Fall. This is for safety and to help maximize the enjoyment of the trip overall in terms of weather and other conditions. 
Seasonality: Traveling outside of the high season, when a peak number of travelers might be crowding a trail, is more sustainable. As long as conditions are comfortable enough, traveling during the shoulder season or low season helps with tourism dispersal. Tourism dispersal is about spreading out where tourists go, and how tourist money is spent throughout the year.
Once at your destination, self-guided tours give you complete autonomy to explore at a pace that suits you. You can pick your sightseeing stops along the way, decide to linger a little longer over a delicious local lunch, or set off an hour earlier to catch that gorgeous sunrise as you hike or cycle from point A to B. You can stop wherever you like, whenever you like, and how often you like. The freedom is yours!
3. Self-guided tours can be customized and tweaked until they're just right
When you discover a self-guided walking, cycling, or driving trip, you will typically be presented with a suggested itinerary as a starting point. You can think of this as a base itinerary – a recommendation that will be fantastic as-is, but customizable if needed.
Some of the main ways people adjust self-guided itineraries:
Tweaking the length by either adding or removing a day or two on either end. Adding a day requires less distance to be covered each day, which can result in more downtime for exploring or resting.
Opting for more luxurious accommodations for a more upscale experience.
Scheduling experiences or activities along the way – such as an artisan visit or a wine tasting. These can be incorporated into days of light walking, cycling, or driving; or be planned for days of rest at certain stopping points mid-way in your trip.
For your leisure time, you'll also be provided with suggestions and important information to ensure you're not missing out on anything. But exactly what you choose to do in your downtime is completely up to you!
4. Self-guided tours are more affordable
Self-guided tours are almost always the most economical option compared to privately guided tours or small-group tours. This type of tour is usually much cheaper as you are not paying to be accompanied by a guide for the duration of your trip, as you would be on a private or small-group tour. The affordability of self-guided trips makes them ideal for travelers aiming to stick to a smaller budget. 
5. Self-guided tours offer independence and freedom
With a self-guided tour, you retain the feeling of independence along with the safety of knowing everything is organized and arranged for you. This provides a great amount of freedom – much higher than what you'd experience on a private or small-group tour. Namely, this independence means you can go at your own pace each day. With walking and cycling tours, you can spend a leisurely day on the trail or move briskly to have more downtime at your destination for the evening. With driving tours, you can more easily take detours to particular points of interest along the way – such as a specific cultural heritage sight or a particularly good vantage point to watch a sunset.
Unlike travel where you plan and book everything yourself, you will never be left entirely without support. Even though you'll be walking, cycling, or driving unattended, there will be a local support team tracking your route via GPS, ensuring a unique and safe experience. Your GPS will also include the locations of your pre-booked accommodations, as well as pre-saved suggested sites, attractions, and important places you may wish to consider visiting along the way.
Self-guided tours include 24/7 backup telephone support in English to assist you if and when required. You won't even have to worry about your luggage, as active self-guided walking and cycling tours include organized luggage transfer throughout! This allows you to savor every moment of your trip, secure in the knowledge that all the details have been handled and that help, if needed, is just a phone call away.
6. Self-guided tours are a Covid-friendly way to travel
In 2020, the Covid-19 pandemic caused travel plans to grind to a halt across the world. Although many of us are ready to throw ourselves back into new experiences, cultures, and delicacies, we understand that travelers may still have concerns about Covid-friendly travel.
Self-guided tours are ideal as they offer an exclusive experience for you and your choice of travel companions. You won't have to worry about vacationing with strangers or sharing public transport once at the destination. Inherently, self-guided walking, cycling, and driving tours outside and away from large urban areas make it easy to stay socially distanced from people outside of your group should you choose. You can simply focus on exploring areas of natural beauty, passing through small towns and villages, and breathing in fresh country air!
How Much Do Self-Guided Tours Cost?
Self-guided tours are one of the most economical options for travelers, although, like all tours, the price depends on the destination, activities, trip length, and group size. Self-guided tours cater well to walking tours and cycling holidays, so here are a couple of examples:
How do these prices compare to private tours and small-group tours?
Private tours are the most expensive option as you will be accompanied by a guide for the duration of your trip. However, this can offer unique insights and cultural experiences, the chance to really get off the beaten track, and an increased sense of comfort for travelers heading to an unfamiliar destination.
The prices of small-group tours fall somewhere in-between self-guided and private tours. You won't have much flexibility with the itinerary – though you will have pockets of free time for individual exploration – and you may be traveling with more people. Small-group tours are great for leveraging the expertise of a local guide without the higher cost that comes with private tours.
Self-guided tours are different from both private tours and small-group tours. As you are not accompanied by a local expert for the majority of your vacation, this drastically reduces the cost of the trip, although some of our self-guided tours do include a guided component to maximize your cultural experience. This tour type is ideal for those that want increased autonomy, but you will need to be responsible for getting to and from your accommodations each night and ensure you're on time for any pre-booked activities along your route. Additionally, self-guided tours are especially suited to nature-focused activities such as walking and cycling tours. These are more budget-friendly activities and, as a bonus, will keep the carbon footprint of your travel low as well.
Our Favorite Self-Guided Tours
Now that we've covered what self-guided tours are, what they include, and what the benefits are, we'll give you some examples of our favorite self-guided trips.
Are you an active traveler looking for a self-guided adventure? Explore the Portuguese Coastal Way from Porto to Santiago on this cycling tour that takes you along the rugged coastline and through the quaint villages of northern Portugal. Prefer hiking to biking? Enjoy a similar self-guided walking holiday along the coastal route of Portugal's Costa Verde, a diverse region famous for its refreshing 'green wine'.
Here are a couple more self-guided tours we recommend. Whether you're looking for an active adventure, cultural immersion, or epic road trip, we can help you find your perfect itinerary.
1. Portugal: Heart and Soul of Douro Valley
Immerse yourself in Portuguese cuisine with this one-week self-guided walking tour and wine-tasting holiday in the scenic Douro Valley. You'll follow unpaved roads and footpaths through picturesque countryside as you walk between traditional villages, pausing for picnic lunches and visits to local wine estates where you can sample award-winning wines and local cuisine. Museums and the chance to take part in activities, such as grape harvest celebrations, will give you an appreciation and understanding of the culture of this region. At the end of each day's walk, you'll receive a warm welcome at one of the carefully selected country houses and hotels, where you can relax, put your feet up, and enjoy a delicious meal. 
We had a great hike in Douro valley, all the accommodations were perfect, and the people we met were so nice. In every place we stopped we had great hotel rooms and a pool to rest after a day hiking (mostly up). Especially Quinta do Portal was really excellent and had the best chef and meals we have ever had in Portugal. Thank you!

Joanna R. 
2. Romania: Discovering Transylvania's Heritage by Bike
Leisurely cycle through the hills of Transylvania, a mysterious and spectacular land with a rich heritage. This trip will take you into the Carpathian Mountains and Transylvania's hills. Transylvania is famous thanks to Bram Stoker's legend of Dracula, and is well-known for its forests which provide shelter for many species of wild plants and animals.