Unique Photography & Yoga Retreat
From 1,450 € pp
Departure Date

05 Nov, 2023
Overview
Hone your camera skills on this unique photography retreat by practicing in natural settings under the guidance of a pro! When not behind your camera, energize your mind and body through daily yoga sessions.
Learn expert tips from a pro to take your photos to the next level. Feel rejuvenated with daily yoga classes. Sustain your creative energy by delighting in leisurely home-cooked meals made of fresh, seasonal ingredients. End each day by sipping a complimentary glass of locally-produced, regional wine. Come and enjoy the good vibes!
Relax and disconnect from your busy day-to-day life as you unleash your creativity. The beauty and tranquility of rural Portugal will surely nourish your mind, body, and soul.
Highlights
These laidback 7 days will fly by at this magical eco-retreat in southern Portugal's Alentejo region!
Daily yoga sessions in an open-air Shala in the woods
Daily photography workshops
Healthy brunches and dinners; vegetarians happily accommodated
One glass of wine with each dinner
Ample free time
Plenty of optional activities (for an additional cost)
What will the photography program be like?
The photography workshop will be very practical and hands-on. Subjects will include landscapes, animals, and people. Previous experience in photography is not necessary; the program will be adapted to the skills and flow of the group. The workshops are accessible to all levels and will include both group and individual sessions. You will also have plenty of time to explore your creativity on your own.
You must bring your own camera (a real one, not your phone).
Topics Covered:
Understanding your camera and shooting modes
Metering modes and balanced exposure
Composition and storytelling
Aperture, ISO, and shutter speed
Lens and focal length
Portrait vs landscape
Outdoor natural light
Meet the Photographer:
Cam was born and raised in LA but lived most of his life in NYC, where he worked 20 years as a professional photographer and collaborated with some of the biggest names in the photography world. He worked for many international magazines, and worldwide advertising campaigns but his passion is portraits. Indeed he photographed many worldwide celebrities.  His shoots are always fun and full of good vibes!
Yoga: Find your sense of calm with daily yoga sessions in the open-air Shala in the woods. The 75-minute yoga sessions are led by Nina, a certified instructor who will tailor the classes to each person's ability - so everybody is welcome, from beginners to pros! Classes will mix different yoga styles.
Food and wine play an important role in this unique photography and yoga retreat!
Great food: You will enjoy healthy meals onsite, freshly prepared using exclusively fresh, local, organic, and seasonal products (most meals are vegetarian, too!). Menus change with each retreat, but here's a sneak peek of what you might be served. Feel free to also drool over the French Toast brunch or the vegetarian frittata. At each meal, you'll learn about the origins of the food and its correlation with the local environment and culture. You may also visit the onsite garden if you wish.
Wine: With each dinner, you'll sip a different natural, regional wine sourced by local, small producers.
What is it Really Like?
Check out our blog post on Sustainable Retreats in Portugal for an even deeper look into what to expect. Or, watch these three (20-second video) clips to get a sense of a typical day at this beautiful eco-retreat center. Note that your photography workshops will replace some of the activities in these clips.
Group Privatization:
If you want to bring your own group, we recommend avoiding the crowded high season and coming in spring (April to June) or fall (September to November). The beaches are deserted, and the days are mostly sunny and warm (you'll need a cardigan for the evenings though).
Departure Dates
05 Nov, 2023 - 11 Nov, 2023
02 Dec, 2023 - 08 Dec, 2023
Seasonal Notes
This unique photography and yoga retreat is typically organized in the late fall and early winter part of the season (November & December). Coming in these low-season months fosters tourism dispersal (the antidote to "overtourism") and helps to bolster the local economy of the region year-round.
The weather can vary, but generally, you'll get a mixture of sunny and partly-sunny days, and temperatures will be mild to cool.
November: In November, the average daytime temperature in the Alentejo region ranges from 13°C to 18°C (55°F to 64°F). Nights can be cooler, with temperatures dropping to around 7°C to 12°C (45°F to 54°F). It's a transition period, so you may experience some rainfall.
December: December tends to be slightly cooler than November. Daytime temperatures average between 11°C and 16°C (52°F to 61°F), while nights can be colder, ranging from 5°C to 9°C (41°F to 48°F). Rainfall may increase during this month.
Itinerary
Day 1

Arrive in Lisbon [Portugal]
Transfer to the retreat center, and have a group dinner.
Days 2-6

Yoga & Photography
Each day will include a yoga session, brunch, a photography workshop, and dinner.
When not practicing yoga or peering through your lens, there are many ways to relax or stay active. There are wild beaches and nearby trails for hiking or biking, or you're welcome to work out in the small onsite gym. If you're looking to relax, you can stay onsite and rest in a hammock, visit the secluded meditation platform, or schedule a massage. Weather permitting, you can also take a dip in the pool or lounge in the sun. If you're feeling extra adventurous, you can even try a surf class or horseback riding (for an additional cost). And, if you need to open up your laptop while you're here, that's OK too.
If you are eager to practice photography in other scenarios, Cam will join you on some of your excursions to give you direct feedback and orientation.
Day 7

Yoga & Departure Day
Morning yoga, brunch, check out, and start planning your next yoga retreat with us!
Inclusions & Exclusions
6-night stay at the eco-retreat center

Daily 75-minute yoga sessions

Daily 1-2 hour photography workshops

3 home-cooked meals a day

One glass of wine with each dinner
Flights to/from the destination

Airport transfer to the retreat center (but we can coordinate this)

Surf lessons (~40 € pp, excluding rental material & transportation)

Stand-up paddleboarding (SUP) (~35 € pp, excluding rental material & transportation)

Kayaking (~25 € for 1 person / ~35 € for 2 people)

Horseback riding (~60 € for 1 person / ~100 € for 2 people; 1h30 guided ride)
Pricing
Prices exclude flights to/from the destination.
Prices are for double room occupancy unless indicated otherwise.
The Shared Room must be booked for two people together, so it costs 1,450 € pp.
Deposit per person

50% of the trip price

Private Room - sleeps 1 - price per person

1,700 €

Shared Room - sleeps 2 - price for both guests combined

2,900 €
Optional Add-ons
Many 'excluded' activities (not included in the trip price) can be optionally added to your experience. Guests can decide on most optional activities once at the retreat center, and payment can be made on-site.
Surfing, SUP, and kayaking are dependent on weather, tides, and currents.
For the massage, it is better to book in advance to ensure we get the best masseuses, so please notify us when your booking is confirmed if you would like to schedule a massage.
Sustainability
Our View on Sustainability
Sustainability is a way of life here. Our family has a deep respect and love for the region of Alentejo and we are passionately committed to protecting and preserving her to the best of our ability. Gratefully, we are able to plant our roots here and carry a strong sense of social responsibility to our community.
Our experiences are all based on the amazing nature of this place and our incredible community and we put a lot of effort to protect both. We love to share it with our guests and try to involve them as much as possible. This includes making them aware of our challenges and how can they further help. This is a truly authentic experience composed of small local and sustainable entrepreneurs only.
Sustainable Environmental Initiatives
We make a big effort to maintain and increase the amazing biodiversity among us through the diverse activities explained during the trip. Our eco-retreat center uses solar panels, LED lamps, and local, organic soaps and ecological detersives. We work a lot to reduce waste, reuse as much as we can, and recycle the rest. We have clear waste sorting systems in place for guests, serve mostly vegetarian meals, compost leftover food, and implement organic farming and regenerative forestry practices. The whole trip happens in a short circuit of 20 kilometers, and we are lucky to have nature, beaches, and historic towns all nearby to reduce this trip's footprint. We don't sell or use single-use plastic items. You will see our animals wandering free and happy along our property and the surrounding area.
Accommodation
Being the trip organizers, and the host of the accommodations ourselves, sustainability is part of our lives and business. Guests are welcome to explore every corner of the property and question any concerns they may have. As a small family business, we work very hard to improve every day and create a more positive impact on our environment and in our community.
Sustainable Economic Initiatives
We are a small start-up that works very closely with the local community that depends mostly on tourism and agriculture. The timing of our programs year-round, and especially out of high season, helps the community to guarantee their income all year round. By working directly with local farmers and small food/wine producers, we help them to maintain their projects of family-owned, completely organic productions.
Sustainable Social Initiatives
Being part of the local community ourselves, it's in our own interest to protect it and ensure it develops in a sustainable way. One of the high points of the trip is the visit to the sustainable farm where the grapes are grown before the winery and wine tasting. The tour is guided by the owner himself, a true expert that carries the work of five generations. The whole experience is very much community-oriented and we are very much actively involved in projects that protect it. Our other activities visiting local artisans, teaching guests about our cultural heritage, prioritizing small, local, and sustainable suppliers, and inclusive practices also support our efforts to be socially sustainable. We also discuss with travelers how to act responsibly in this destination and make donations to local organizations.
Responsible Animal Welfare
We are a pet-friendly site, prefer cruelty-free products, source meat and fish from trusted local suppliers, and support local pro-animal projects.
Health & Safety
With a capacity of only 12 guests, plus its remote location, this eco-retreat is a safe way to enjoy Portugal. We follow special cleaning protocols adhering to European regulations.
Be sure you have traveler's insurance.
FAQs
What does the Physical Rating of "Average" mean?
Our yoga sessions are suitable for beginners curious about the practice to pros looking to strengthen and challenge themselves. Come with an open mind! Our certified yoga instructors will gladly accommodate all levels. Modifications are always available for you to adapt your practice.
No special physical preparation is needed for the photography workshops.
What are the accommodations like?
The eco-retreat center has guest houses, an open-air Shala in the woods for yoga, a pool, a garden, a gym, and nearby walking trails. The eco-retreat center initiates myriad sustainable projects, from its solar panels, organic farming, local artisan support, support of local pro-animal projects, and more.
Is this trip recommended for solo travelers, women, LGBTQ+, and POC travelers?
Yes. We do not tolerate any kind of discriminatory behavior and we ensure a safe, friendly environment for all travelers.
Can the retreat be done on dates other than the listed?
Yes, it can be privatized for groups of 6+ guests on request!
How much wine is included in the program?
One glass of wine per dinner.
What kind of yoga is practiced?
A mix of styles with a base of Hatha. There are always pranayamas and dynamic flows, and the teacher always tries to challenge the students with poses that demand a bit more physical work.
What kind of food is served?
Homemade, healthy, and delicious, all with seasonal and local organic products. Mostly vegetarian and international. Check out this 20-second video for a sampling of what's served!
Reviews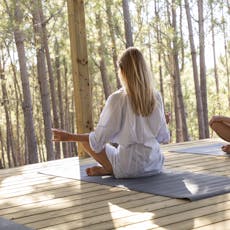 Erika R.
Retreat for my community that exceeded expectations
I organized a retreat for my community and worked with Yugen Earthside to book the 5-Day Sustainable Yoga & Wine trip in Alentejo, Portugal. This trip exceeded all my expectations and then some!
Starting with the accommodation/retreat center, it was perfect for our sustainable entrepreneur retreat. It had multiple indoor and outdoor common areas for coffee breaks, power hours, and happy hours. 
The outdoor activities were well spread out to allow us free time. There's something for everyone, from yoga sessions, nature trails, coastal hikes, and walking to town. The best experience that kept giving was the sustainable winery tour, truly going above and beyond!
I would 100% recommend this trip for any active group or retreat organizer. Hilary from Yugen Earthside is the best and made this retreat extra special for us. I already had participants asking me if we are doing this retreat again next year!
Amazing trip, embodied sustainability
The Sustainable Yoga & Wine Retreat seemed right up my alley as I'm a beginner at yoga but interested in learning more, and I was sold by the focus on sustainability that Yugen Earthside had on their site. The trip was amazing! Everything about the retreat embodied sustainability simultaneously. I feel like I learned a lot through each meal and activity that we did. I can't wait to book my next trip with them!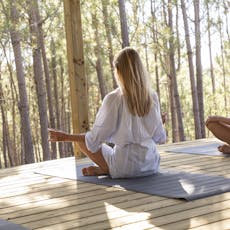 Incredible retreat in a gorgeous space
I went on the Sustainable Yoga & Wine Retreat in Portugal and booked through Yugen Earthside. The retreat was incredible, the overall space was gorgeous and relaxing. The food was some of the best I've ever had! The hosts were personable and it was such a well curated few days. I would absolutely recommend that retreat! Booking through Yugen Earthside was super easy and Hilary was very knowledgeable of sustainable travel options.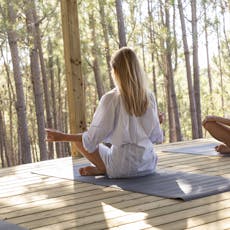 Fantastic trip with delicious food
This trip is fantastic! The food was delicious every single day, the hosts were incredibly inviting, and the local places we got to see were enchanting.