Sustainable Trekking in Nepal and India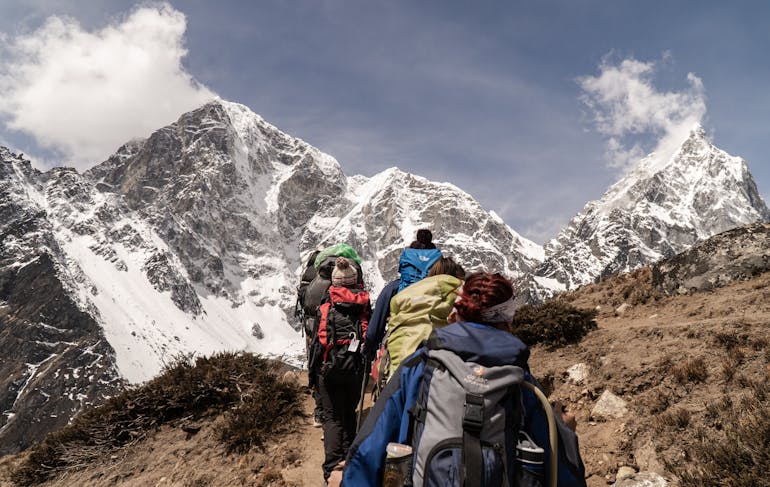 Sustainable Trekking in Nepal and India
Looking to visit South Asia but want to travel with a sustainable agenda in mind? Nepal and India have both gone to great lengths to preserve some of their important natural environments, wildlife, and native culture.
There are also some challenges that come with responsibly exploring this region – namely, the imminent threat of overtourism, and the carbon-emitting ways that bring you to your trekking trailhead.
From sweeping valleys to towering mountaintops, trekking in Nepal and India is well worth it. In this post, we'll brief you about a couple things to think about in terms of sustainability, and also highlight some treks that exemplify responsible behavior and will make smart bookings for your next visit.
The Fine Line of Sustainable Trekking
Challenge 1: Overtourism in the Himalayas
When trekking in Nepal and India, it's important to keep the threat of overtourism in mind.
Overcrowding from an excess of tourists can put a strain on the landscape and natural resources, which can result in conflict with local residents. Some companies are not concerned by this and will try to squeeze in as many bookings as possible, resulting in a trek filled with crowded trails.
In previous years, Kathmandu has dealt with water shortages due to a large tourist influx, and one North Indian town asked tourists to stop coming altogether after running out of drinking water.
Swamped attractions are common at Nepali festivals (the dates of which often change each year), and an influx of domestic tourism has some international tourists paying out big bucks for accommodations.
What can you do?
Find an ethical company that offers sustainable, small-group trekking in Nepal and India. A few things to look for:
Small-group travel, i.e. no more than 12 trekkers on a trip. Or, consider privatizing your trip with just your family and the guides to have an even more comfortable number of people while staying socially distant from other travelers.
Ensure the company obtains all proper licenses and permits, especially when it comes to accessing restricted or preserved areas.
Choose some of the less popular routes to help spread out where the foot traffic is going. There are many ways to catch stunning views of the mountains, even on lesser-known routes.
Two such responsible treks within the Annapurna Region, a well-preserved part of Nepal, is sure to check all your sustainable travel boxes. The sustainable tour operators of these treks will also go the extra mile to furnish an enjoyable stay.
The 14-day in Nepal's Annapurna Region showcases a thoughtfully protected part of the country. This is an exclusive Nar Phu Valley trek only accessible by means of a special permit and it's one of the least visited regions in West Nepal. The valleys of Nar and Phu offer a fascinating glimpse at ancient Tibetan culture and traditions that persist unchanged to this day.
The first stretch of your journey starts in the small village of Koto, then flows off the beaten trail. Spend the next few days exploring subalpine forests and deep valleys flush with Tibetan Buddhist culture and wildlife.
After adjusting to the altitude, the real trek begins on day 4, where a hike along a barren trail and a steep ascent leads to the summit of Kang La Pass. Observe breathtaking panoramas of the North Face of the Annapurna range and Marshyangdi Valley. Afterward is a steep descent to the village of Ngawal, then a night in Besisahar that leads to the following day spent in Kathmandu.
This Nar Phu Valley trek promotes tourism dispersal by showing small groups of visitors a secluded, less-visited region of West Nepal. An eco-friendly rule to leave no waste behind is strictly followed, and an expedition of this type offers employment opportunities to local guides, porters, and chefs who will join you for the trek.
Challenge 2: Arriving at the Trailheads
Most travelers aspiring to trek in the Himalayas will arrive at either the New Delhi or Mumbai airports in India, or fly into Kathmandu in Nepal. From these international airports, travelers then need to consider how to arrive at the actual trailhead.
If going by road, keep in mind that roadblocks, accidents, and breakdowns, as well as unexpected landslides, can bring traffic on the roads to a crawl. That said, a large number of people still prefer to go by bus. It's also possible to hire a private car, which some trekkers have found considerably cheap and reliable.
Often, taking a domestic flight is faster and easier than traveling by car to reach many trailheads or remote locations in Nepal and India. Though the flights are dependent on weather and sometimes delayed, it's a common choice when covering long distances.
What can you do?
Think carefully about if you can add time to your trip to allow for driving to the trailhead. If you do opt for a short domestic flight, please consider removing or offsetting the carbon impact (this goes for your international flight, too)!
Trekking in Nepal and India has become an increasingly popular activity, especially for adventure-seekers and nature lovers. Yet, the popularity of trekking in these destinations has also led to overcrowding in the Himalayas, and of course, requires carbon emissions for many travelers to go in the first place.
As a sustainable traveler, you can be a part of the solution by making conscious decisions that will reduce your negative impact on the local environment and people.
Remember to book with a responsible travel company and keep an eye out for these 3 things:
Sustainable, small-group trips with a maximum of 12 people
A travel company with all the proper licenses and permits
Off-the-beaten track & less-visited routes 
In addition to the above, though trekking is a low-carbon impact activity itself, we encourage you to be mindful of the carbon required to do a trek in the Himalayas, and take action. Visit the Climate Impact page if you need some help with this!
With these things in mind, your next adventure trekking in Nepal and India will be a sustainable and enjoyable experience.