Sustainable Travel Guide: Romania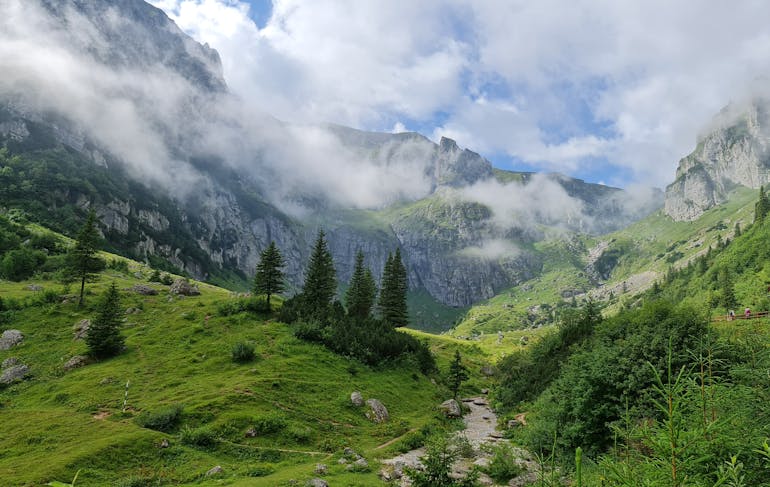 Sustainable Travel Guide: Romania
This is your ultimate sustainable travel guide to Romania. This guide will provide an overview of Romania's environment, economic standing, and historic sociocultural background. We also equip you with some important do's and don'ts for tourists planning to visit Romania. Our guide will look through a sustainable lens, highlight responsible travel activities in Romania, and describe how tourists can visit Romania mindfully and ethically. 
Sustainable Travel in Romania: Key Pillars
Environmental 
Romania's landscape is mainly defined by the striking and impressive Carpathian Mountains – but Romania is also home to forests, glaciers, volcanic landscapes, wetlands, marshes, and beaches.
In terms of European mountain ranges, the Alps usually catch most people's attention, but don't underestimate the Carpathian Mountains. This relatively young mountain range occupies over 1/3 of Romania's landmass and is famous for housing the largest undisturbed forests in Europe. These mountains are also the backdrop for other incredible geographic features including caves, underground glaciers, mud volcanoes, and glacial lakes. 
Since the 1930s, Romania has recognized the importance of protecting and preserving its environments, home to rare and unique wildlife including 60% of Europe's brown bear population.
Romania has 13 national parks, 12 nature parks, and two geo-parks, most of which exist in the Carpathian Mountains. 
Apart from the Carpathian Mountains, Romania also exists along the Danube Delta, Europe's largest wetland, and has over 150 miles of coastline along the Black Sea. The Danube Delta alone houses over 300 species of birds among the countless other types of species that are attracted to the delta's rivers and canals.
It really is quite a diverse landscape, making it perfect for all types of adventure travelers to explore and for wildlife to inhabit. No wonder so many species have found a home in Romania! 
Economic
Historically, Romania has been seen as the "breadbasket of Europe" due to its economy being so heavily based on agriculture. In fact, the agriculture sector continues to employ 21% of the population. It wasn't until the 1970s, during and after the communist era, that Romania began to invest in the industrial sector. Today, heavy industry and manufacturing are considered to be the backbone of Romania's economy, employing 30% of the population. 
More recently, however, tourism in Romania has been booming! In 2019 alone, Romania welcomed 13.3 million people - the country's all-time highest amount of visitors. Today, Romania's economy is centered around tourism, and the services industry employs almost half of the country's population. 
Like most countries, Romania suffered during the Covid-19 pandemic. Romania also continues to be impacted by the war in Ukraine. Aside from these external factors, the country is simultaneously experiencing internal challenges.
Despite the recent economic growth in 2022 and the boom in tourism, Romania continues to be one of the poorest countries in Europe, where 34% of the population is at risk of poverty. It also has an aging population, meaning that the majority of the population is no longer part of the workforce. This is due to the fact that there has been a massive migration of the younger, working population to Western Europe in search of job opportunities. This 'brain drain' continues to be a challenge for Romania as workers are what an economy needs to thrive and survive.
Tourism in Romania is more important now than ever before to help balance these economic strains. Bringing tourism back to the pre-pandemic levels will not only bring revenue into the country but also directly support local communities and businesses. Visiting Romania, and experiencing its natural beauty and cultural history, is one of the easiest ways to create a positive impact on the country. 
Sociocultural 
The official language in Romania is Romanian, a Latin language that consists of 31 characters. English, however, is widely spoken, making travel around Romania easy for many tourists. 
Apart from the ethnic Romanians, Romania also hosts several other ethnic groups. These include Hungarians in the Transylvania region, and the Romas, known to Romanians as gypsies. This cultural diversity comes from Romania's long history of foreign occupations. Major empires occupied different regions, such as the Austro-Hungarians in the west, the Ottomans in the south, and the Russian Empire in the east. Each occupation left aspects of their cultures behind including slight dialect differences and noteworthy differences in architecture. Tourists should make a point of visiting the different geographic regions of Romania in order to experience all sides of its culture. 
Transylvania is one of the most iconic regions in Romania, known for its castles, gothic architecture, and medieval towns. In particular, Transylvania is home to Bran Castle, which is the inspiration behind Dracula's castle as described by author Bram Stoker. These medieval Transylvanian villages have managed to preserve centuries-old traditions, music, and cuisines, sparking fascination and curiosity in many visitors. 
A large majority of the population, 78%, practice the Eastern Orthodox religion, a particular branch of Christianity. Compared to other European nations, Romanians are very religious and worship regularly. Another comparison with other European countries is that even though Romania joined the EU in 2007, they do not use the Euro. They use Lei (plural of Leu). This is important to keep in mind if you are planning on visiting, as euros are not often accepted in Romania. 

Everything Else 
Healthcare 
The public sector is responsible for the majority of Romania's healthcare, including providing national health insurance. However, the healthcare situation in Romania is one of the weakest in Europe, despite the increase in spending. Romania has one of the lowest life expectancies in the EU and has faced several challenges including a lack of sufficient healthcare professionals. 
It's recommended that travelers be in good health and have an average fitness level when visiting Romania, particularly if they'll be exploring rural areas. Medical facilities may be few and far between, and may also be lacking equipment and highly trained personnel. For this reason, it's also advisable to carry a basic first aid kit with you including sanitizing wipes and bandages.
Safety
Romania is considered to be one of the safest countries in Europe, which is great news for travelers. The United States Travel Advisory has it listed at Level 1 indicating it is completely safe to travel in and visit Romania.
Like most countries, Romania's urban centers have increased reports of pickpocketing so this is the main crime that tourists should be on alert for. Bucharest, Romania's capital city, is also its largest city providing a home for around 1.7 million people, while other notable cities frequented by visitors such as Cluj and Brasov have populations of around 680K and 550K residents, respectively.
Travelers should also remember that Romania is known for abundant wildlife in its forests and national parks. This is part of what makes visiting so exciting! Tourists should take the proper precautions while hiking or camping to avoid any unsafe run-ins with wildlife. 
Due to the regard for the Orthodox religion in Romania, LGBTQ travelers might at times feel uncomfortable in public in the smaller, more secluded villages where religious beliefs tend to be stronger. It is in these smaller communities that people are more conservative and are wary and hostile to the LGBTQ community. Although homosexuality is legal in Romania, same-sex marriage is still illegal, despite pushback from the LGBTQ community. While travelers may feel uncomfortable and should take precautions in smaller communities, in cities such as Bucharest and Cluj travelers can find the largest LGBTQ communities in the country.
Seasonal
Romania exists in a temperate climate, meaning that they have the privilege of experiencing 4 distinct seasons year round. This also means that you can visit Romania at any time of the year and have an exciting experience!
July and August are the warmest months, however, they still have mild temperatures of around 68°F to 82°F. In recent years, temperatures have risen, and in 2022, Bucharest saw temperatures as high as 102°F during the summer.
A general seasonal guide to visiting is below.
Summer is considered to be Romania's high season, so do keep that in mind when booking your visit. Depending on your altitude, temperatures are consistently cooler in the mountains.
Autumn in Romania has been compared to New England where the trees and foliage burst into vibrant, warm colors. Temperatures are generally very pleasant for exploring Romania's towns and scenery, and there are not normally high levels of rainfall.
Winter months bring snow and colder temperatures. As a result, Romania is a popular budget spot for skiers and snowboarders. There are plenty of other seasonal activities to enjoy as well, like snow-shoeing.
Spring typically comes in April, when the temperatures officially start to shift toward warmer weather. Romania can be absolutely lovely in the shoulder season for outdoor adventures.
Holidays 
Romania celebrates its National Day on December 1st, known as the Great Union Day, which commemorates when major provinces came together to form a united country. This is an exciting time to visit Romania! The country celebrates with fireworks, free concerts, and parades in most cities. Tourists also enjoy visiting Romania, or more specifically Transylvania, close to Halloween as people are excited to explore Dracula's castle during the spooky season.
March 1st is Martisor Day (Mărțișor) which celebrates the arrival of the spring season. Traditionally, women are given small tokens of red and white yarn to give them good luck for the following year. This is when towns in Romania 'come back to life' after the winter season and tourists might find decorations in trees and around the town. 
The other holidays celebrated in Romania are typically religiously based. They follow the Orthodox calendar, so Good Friday, Easter, Whit Monday, and the Assumption of Mary are usually celebrated on different dates each year. 
Although Christmas is officially celebrated on December 25th, Romanians have a tradition to celebrate earlier in the month. December 6th is known as Saint Nicholas's Day and children will line up their boots the evening before. If they were nice that year, their boots would be filled with sweets and small gifts, and if not, children would find wooden sticks in their boots. 
Sustainable Travel in Romania: Do's and Don'ts 
What to do in Romania:
When greeting new people, a handshake and eye contact will suffice! Do not be surprised if a man kisses a woman's hand, it is a sign of respect. 
Be open to trying new foods when offered to you. Romanians are known for their hospitality and food!
Leaving a tip (roughly 10-15%) in a restaurant is normal, and not included in the bill. 
Take proper precautions when exploring Romania's untouched wilderness to avoid close encounters with wildlife! Hiking and camping are popular sustainable travel activities in Romania but many animals call these forests and mountains their home. Do not disturb them.
Make noise while you're hiking to avoid contact with wild bears.
Never keep food in your tent if camping.
Wear high socks, and long pants while hiking in tall grass to avoid ticks. 
Be wary of stray dogs and do not interact with herding dogs. Herding dogs can be often found when hiking and visiting small communities and they can be protective of their herd. Do not spook them or try to interact with them; let them do their job. 
Dress respectfully when visiting religious sites and monasteries. Ensure your shoulders and knees are covered.
What NOT to do in Romania: 
Do not rely on using euros and instead pay in Lei, the local currency. Be sure to have cash on you as some smaller shops or restaurants might not take credit cards. 
Avoid the topic of communism when speaking with locals. Foreign judgments can be unappreciated and taken the wrong way.  
Do not expect trains to run on time. They are known to be unreliable, so booking transportation directly at the train stations, where information will be the most up-to-date, is the best practice. 
Do not ask locals if they believe in vampires. This is a common mistake, and even though Romanians from the Middle Ages believed in the 'living dead', that doesn't mean that locals today have the same beliefs. 
Do not confuse Romanians with the Roma. These are two different ethnic groups and confusing them might accidentally cause offense. 
Do not drink the water from local streams or lakes. Local cows, sheep, and other animals use it as a resource. If it is not indicated that it is safe to drink, avoid it to be safe; or use a verifiable water filtration system such as a water bottle with a built-in filter, a filtration straw, or water purifying tablets.
Do not venture into protected areas when visiting the Danube Delta. Stay in the designated spaces for tourists when enjoying these wetlands. 
5 Sustainable Travel Activities in Romania 
1. Hike in the Carpathian Mountains 
The Carpathian Mountains hold some of the most fascinating and exciting landmarks in Romania! While the Carpathians also touch the Ukraine, Slovakia, Czechia, Hungary, Poland, and Slovakia, Romania has access to the Eastern and Southern Carpathians, which represent about 50% of this mountain range and over 900km to explore. So, of course, tourists come to explore their natural beauty.
There are many opportunities for biking, hiking, caving, rock climbing, and other types of sustainable travel adventure activities in Romania's mountains. The variety of choice can suit both differing interests and levels of ability. Remember to leave no trace and to stay on the trails in the National Parks!  
2. Explore iconic medieval castles 
Part of Romania's famous history is its awe-inspiring castles across the country and, more specifically, in Transylvania. The most popular is Bran Castle as it was the inspiration for Bram Stoker's "Dracula". Some other examples of beautiful medieval castles are Corvin Castle and Peles Castle, but there are plenty more to discover! Folklore aside, these castles are an excellent way to learn about the Romanian Royal Family and the long history of Saxons in Europe. 
3. Discover ancient monasteries 
You can take a step back in time and visit the beautiful Byzantine-painted monasteries in Bucovina. The walls depict biblical scenes from the 15th and 16th centuries and represent some of the most unique artwork in Europe. As a visitor, it is important to remember that these are religious spaces so men and women should have their knees and shoulders covered. 
There are several monasteries you can visit in the region. Learn more about them, including the unique call to prayer tradition, here.
4. Support the bear sanctuary 
Romania has a long history with bears and, for the longest time, many bears have been kept captive in tiny cages as a tourist attraction. Since 2005, the Libearty Bear Sanctuary in Zărnești has been working to save these captive bears. You can visit the sanctuary today where bears now have access to 69 hectares of forest, pools, and proper food and medical care. 
You can do your part by taking a tour of the sanctuary, making a donation, or 'adopting' one of these furry friends. Also, be sure to check their website prior to visiting to find out more about what is and isn't allowed during your visit. Please note that children younger than five cannot visit the sanctuary, so if you are interested in this sustainable travel activity in Romania, be sure to keep that in mind.
5. Go bird watching in the Danube Delta
The Danube Delta, now classified as a UNESCO Heritage site, is a magnificent place to experience the country's wetlands and marshes. This area is home to hundreds of species of birds and over 45 species of freshwater fish, making bird watching and fishing very popular activities here! 
However, the delta has experienced damage over the years so it's especially important to visit responsibly and with care. Romania is working hard to preserve the delta while keeping it open for people to enjoy. With that in mind, this sustainable travel activity in Romania should only be enjoyed in the designated visitor areas. Tourists should not venture off into restricted areas.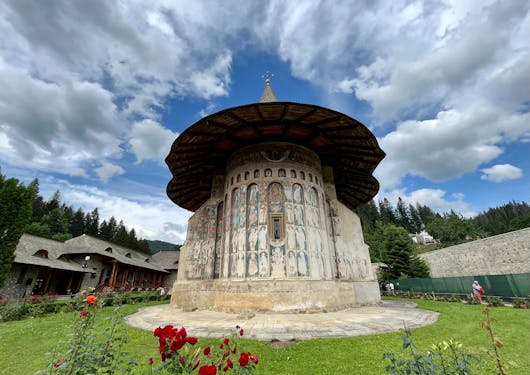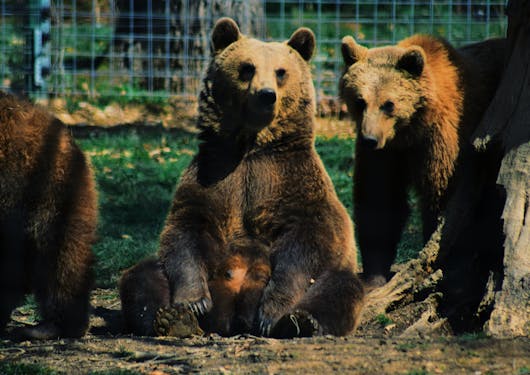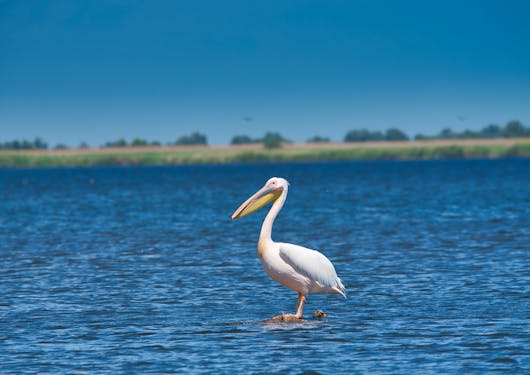 Romania as a Sustainable Destination 
The long history of preserving Romania's forests and the Danube Delta is evidence of Romania's efforts to become a more sustainable destination. Organic farming has also been on the rise in Romania and you can learn more about which farms, restaurants, and products that are locally, and cleanly produced here. There is, of course, more work to be done, including improving water management and moving toward renewable energy sources. 
There are many sustainable travel activities to choose from in Romania, wherein visitors can appreciate the natural beauty, learn about its special culture and heritage, and support rural communities. Tourists should be mindful, regardless of which experience they choose, of the footprint they are leaving behind when visiting protected spaces. Research should also be done to not support businesses holding animals captive including bears, wolves, and dolphins. 
Enjoying everything Romania has to offer, including its captivating history, stunning landscapes, and charming bucolic life can all able to be done respectfully. Whether you're looking for mountains, monasteries, medieval villages, or wildlife, there is a sustainable adventure ready to help you explore the best of Romania. Contact us today to find the optimal trip based on your interests!
---
This post may contain affiliate links. This means we may earn a small commission if you purchase a product from our link, at no additional cost to you.