5 COVID-Inspired Travel Trends That Will Continue In 2021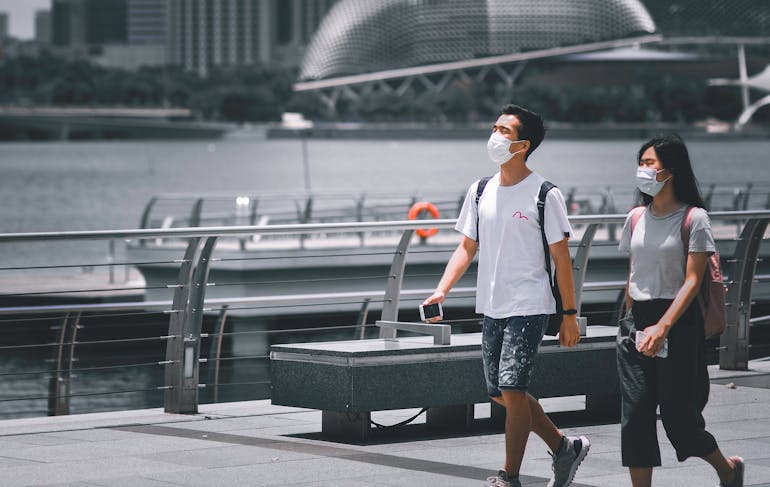 5 COVID-Inspired Travel Trends That Will Continue In 2021
Spotify's end-of-year wrap-up stories described 2020 the best, saying it felt like 67 months.
Unfortunately for all of us who love to travel, in those 67 months, our traveling was very limited. We all had to make due and figure out ways to still scratch the eternal travel itch without breaking any laws or putting our health in danger.
If you, like myself, started plotting ways to travel safely as soon as shutdowns started, you might've also started thinking about how these COVID travel trends would affect future trips.
Everything from the mode of transportation, to where we lodge, to the activities we choose is going to change.
Accommodation
Something I saw more and more travelers doing in 2020 was choosing to stay in Airbnbs over hotels. Yes, hotels have been taking all the precautions they can to ensure a safe and stress-free stay, but the idea of possibly being in a building with several others is enough to deter anyone from staying in one. 
Renting out an apartment or a home is not only a good way to keep away from the crowds, it gives you a place to cook your own meals, enjoy a unique location and get a sense of the way that locals and non-locals alike live in the area you're visiting. It doesn't hurt if your Airbnb is cute and insta-worthy, too.
Food
Going out to eat during a pandemic has been near to impossible unless you're ordering take-out. Companies like Postmates and Grubhub in the US have been thriving, but there's also been another rising trend: cooking from home. Home cooking isn't just restricted to all of us in lockdown but has become a norm for those of us who have been staying in home rentals as well.
Sure pre-packaged, frozen meals are easy, but why not try out a new recipe or attempt to create something that the locals might enjoy while staying in your Airbnb? Whichever way you choose to chow down, make sure to savor the flavors of your meal and your location. By the way, visiting grocery stores in foreign countries is a great way to get a peek into "normal" life there!
Eco-friendly Accessories 
Backpackers around the world know the importance of only packing essentials. However, when there's a little extra space in our bag(s), we tend to take a few extra accessories if we can. In recent years we've seen a rise in eco-conscious decisions, including the use of stainless steel straws, taking our own utensils and containers to stores, and carrying a water flask at all times.
With such a huge movement towards being green in our daily lives, it only makes sense that it would seep into our travels. As we move past this pandemic together, we'll all likely continue to take precautions when we go out by continuing to take our own water bottles where we go and likely using our own utensils at restaurants. Thankfully, certain countries like France make it easier for us by providing public water pumps that you can use to refill your water bottles.
Road Trips
The way we travel is forever changed. Of course, we'll eventually take planes again without fear of getting COVID, however, it wouldn't be a surprise if, in the future, more of us took slower traveling methods to either avoid crowds or simply enjoy the views that come with road trips. 
Enduring a pandemic has made us reevaluate how we'll get from point A to point B, both in our personal lives as well as when we travel. Hands up if you've driven your car in 2020 more than ever! Traveling in 2021 and beyond will be no different – I predict many of us will continue to take our cars or a train if that's an option.
Activities
If your itinerary is usually jam-packed with sightseeing, you might want to take note of a trend from 2020 and slow your trip down with fewer to-do's.
One great way to do so is by filling your days with more nature-based activities like hiking, kayaking, or riding a bike.  You can take in some really great views when you go for a hike on your trip that may make for more memorable, unique moments that you might not have otherwise experienced if you went to all the tourist traps.
However, if you do want to visit the touristy spots, look for a walking tour in your city and support your local tour guides! Yugen Earthside also offers self-guided walking and cycling tours so you can enjoy the great outdoors while also staying socially distant. 
To sum up, here are the COVID travel trends that you can expect to stay with us in 2021:
Choosing to stay in vacation rentals, such as Airbnbs, over hotels
Cooking from home – even while traveling  
The use of eco-friendly travel accessories
Less air travel; more road trips and train rides
More environmentally friendly activities focused on nature
All in all, the COVID travel trends listed above are components of the slow travel movement. Really taking the time to enjoy a trip, everything that locals have to offer, and as the name suggests, slowing down your list of things to do and see while on vacation.
Traveling during 2021 and beyond will eventually return back to what we know as "normal" over time, but many of these COVID travel trends won't stay behind in 2020. The world around us is constantly changing and evolving, and in turn, so is the way we travel.
This post contains affiliate links. This means that if you buy a product after clicking our link we may earn a small commission at no extra cost to you.