Sustainable Travel Products Roundup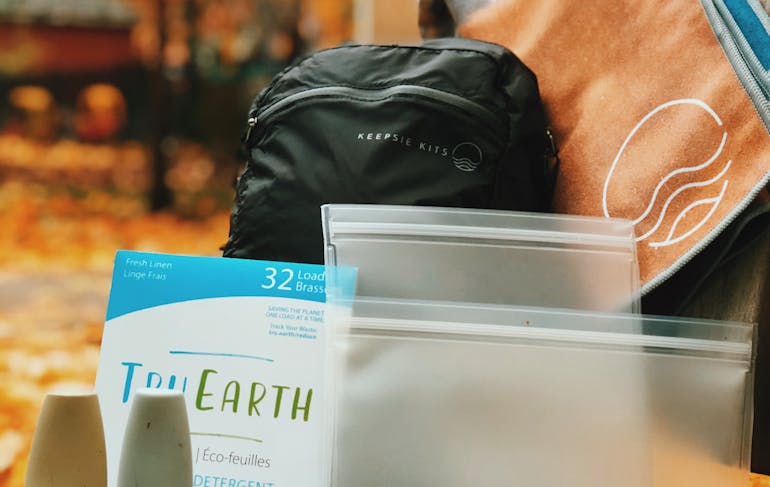 Sustainable Travel Products Roundup
There are tons of great brands out there making eco-friendly, zero-waste, sustainable travel products. We want to make it easier for you to know about and find travel products we love.
Sustainable Packing List
We'll start by saying that everything linked on this page is also included in our free sustainable packing list! You can get a downloadable copy of our packing list sent straight to your inbox by clicking this link. 
In this list, you'll find packing suggestions broken down by category: Luggage & Bags, Clothes, Toiletries, Lady Products, Electronics & Travel Tech, Food & Drink, Travel Documents, Miscellaneous, and Seasonal Items.
Not only do we tell you what we suggest you pack, but we also tell you why our recommendations are sustainable.
Affiliate Partnerships
We leverage affiliate partnerships. This means that if you purchase a product after clicking a link from our website, we may earn a small commission at no extra cost to you. As a result, our energy stays focused on adding more incredible trips to our platform, while still allowing us to point you in the right direction about where to find eco-friendly travel products we trust.  
Small Shops
Keepsie Kits
Introducing Keepsie Kits, a woman-owned boutique based in Canada!
Here are some fun facts about Keepsie Kits – you'll instantly see why we wanted to partner with them.
All their products are created to reduce your environmental impact from traveling through durable, reusable, and eco-friendly materials.
5% of profits are donated to an environmental cause: Ecotrust Canada, a non-profit organization that focuses on creating sustainable energy and economy for Indigenous communities in Canada.
All carbon emissions from shipping are offset. They don't do rush shipping and only ship to the US and Canada.
They ship package-free where possible, and when needed, they ensure packaging is eco-friendly.
Here's what you can expect to find at Keepsie Kits:
OneNine5
Meet UK-brand OneNine5. They made a name for themselves with an award-winning wash bag (toiletry bag, for North Americans) for the conscious, mindful traveler. It's made from 100% recycled plastic.
A bit about them:
They design eco-conscious, unisex travel goods meant to tackle the single-use plastics problem in the travel industry.
They're on a mission to modernize travel luggage – prioritizing style, functionality, and an eco-conscious approach to product, packaging, and recycling.
Their packaging consists of 100% recycled paper and biodegradable plastic. 
They have a great recycling scheme: when your durable bag finally does reach the end of its life, you can return it to them to be disposed of responsibly. On top of this, they'll also give you a discount on your replacement purchase.
At OneNine5, you can expect to find four main products, each coming in four colors: pink, blue, grey, and black.
We encourage North American travelers to support Keepsie Kits, and our UK/European travelers to support OneNine5. This will reduce the carbon impact of shipping these products to you.
Water-to-Go
Get to know Water-to-Go, a company that makes BPA-free water bottles with a built-in filtration system. They're based in the UK and have both a European and a US site. You can save money and the environment by using a Water-to-Go water bottle instead of single-use plastic bottles of water. The filters last for about 3 weeks, making their water bottles a perfect option for longer treks or hikes, especially in countries where accessing clean water might be more of a challenge.
What's unique about Water-to-Go:
Their filter technology was originally developed for NASA
Their filter is comprised of one traditional technology and two nanotechnologies
Combined, the 3-in-1 filter removes up to 99.9999% of microbiological contaminants found in water
They support clean water initiatives, causes, and charities around the world
The different technologies in the Water-to-Go system include mechanical filtration, electrical filtration, and activated carbon. Read more about the science behind the filters here. Between the three technologies, the filter removes deadly viruses and bacteria, life-threatening water-borne parasites, and poisonous metals and chemicals.
In short, they are "making dirty water drinkable." This would be especially helpful when traveling in countries with more difficult access to clean water. 
At Water-to-Go, you can expect to find three main products:
Each bottle comes in a variety of colors such as black, blue, pink, green, and red. They also sell replacement filters and lids.
Bonus: We have a 10% off coupon code for you – use YUGEN10 at checkout!
Bookshop.org
We've partnered with Bookshop.org, a B-Corp-certified and carbon-neutral company dedicated to profit-sharing with local and independent bookstores around the United States.
What's unique about Bookshop.org:
You can search for a specific local bookshop and support it directly, or
You can search for a specific book, and the earnings will be distributed across many independent bookstores
Over 75% of Bookshop.org's profit margin gets redistributed back to authors, bookstores, and more
As a benefit corporation, Bookshop.org is "dedicated to the public good."
The "Everything Store"
Where we don't have connections (yet) with small shops, we suggest products on Amazon. There's no denying they have an incredible selection, and we'll help you sort through that to find great products.
Here are some quick links to help you get started. Keep in mind that this is just scratching the surface though! Make sure you grab our free packing list to have a complete list of recommendations.
Luggage & Travel Bags
Toiletries/Hygiene
Lady Products
Electronics & Travel Tech
Food & Drink
Miscellaneous
Are you an eco-shop selling sustainable travel products?
If yes, please contact us to discuss a partnership