The Ultimate Guide to Traveling Sustainably on a Budget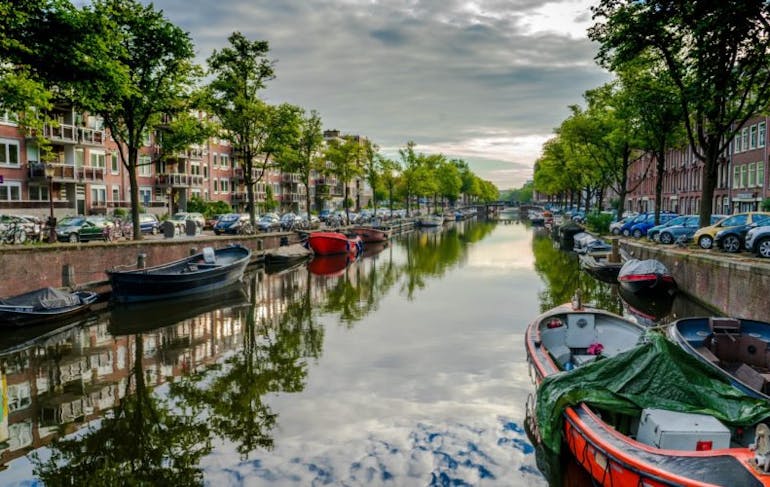 The Ultimate Guide to Traveling Sustainably on a Budget
Traveling on a tight budget can feel like a constant struggle between limited choices. This can be even more overwhelming when trying to travel sustainably on a budget. We're here to tell you that it doesn't have to be! 
Travel newbies and veterans alike should know that being sustainable and traveling on a budget are not mutually exclusive. Often, the most environmentally and wallet-friendly options are the same. 
Here's our list of the top 10 ways to travel sustainably on a budget!
Pack light
Bring a reusable water bottle
Travel by bus (or train or ferry or bike or foot!)
Book locally and on arrival
Take the road less traveled
Take advantage of all things free (but pay where appropriate!)
When in Rome…
Work hard to play hard 
Bring a friend or make one along the way!
Don't be afraid to spend a little to save a lot
1. Pack light
Learning how to be a light packer is a game-changer for sustainable travel on a budget. Packing light reduces weight, thereby requiring less fuel, regardless of which mode of transport you use. From a budget perspective, most airlines' cheapest fares include nothing but a carry-on bag. Checked bags and extra weight often come with hefty fees, so learning to travel with just a carry-on can help put that money to better use elsewhere on your trip!
Additional Tips & Benefits:
#1: How to avoid over-packing:
Try to think ahead about the types of souvenirs you might buy throughout your trip, and leave space for them when you return.
If you pack carefully, toiletries used up throughout the trip can help offset some of that space and weight. 
If you like to purchase clothing when traveling, try packing one outfit less in anticipation.
#2: How to maximize your packing space: Packing cubes, rolling clothes, and taking advantage of every nook and cranny, such as storing socks inside your shoes, are some of the most well-known methods to fit more into a small space.
#3: How to keep it light: For weight, consider packing smart in terms of material. If you're going somewhere warm, think cotton and linen, and for somewhere cold, try thermal layers and packable jackets.
2. Bring a reusable water bottle
One of the easiest things you can do, especially when traveling on a budget, is to pack a reusable water bottle. Particularly in countries with potable water, having a bottle on you ensures you can fill it up and hydrate whenever you need. 
Bringing your own water bottle will allow you to avoid shelling out a few bucks on overpriced bottles every time you get thirsty, reduce waste caused by single-use plastic, and protect you against harmful materials by going BPA-free. 
Additional Tips & Benefits:
#1: In places where water isn't potable, buy a large jug from the grocery store for refills instead. This allows you to reduce both cost and waste.
#2: Consider buying a portable filter as another way to ensure clean drinking water at all times. Some water bottles have built-in filters for this exact purpose.
#3: For an added bonus of packing light, a rollable or collapsible water bottle can be just the trick!
3. Travel by bus (or train or ferry or bike or foot!)
In many parts of the world, air travel has become incredibly affordable. Budget airlines and no-frills economy ticket offerings are sometimes the most logical option for long international trips. For shorter trips, while cheap prices and quick travel times make flying a tempting choice, you can save money and trees alike by opting for greener alternatives. 
Different locales have varying infrastructures in place. Look for buses, trains, and ferries to be amongst the many long-distance transport options. Within a city, opting to go by foot, bike, or scooter can be a great way to soak in your surroundings on a dime while remaining environmentally conscious. 
Additional Tips & Benefits: 
#1: Consider overnight transportation: For longer trains & buses, overnight options allow you to get more bang for your buck by replacing a night's accommodation, while also saving your cherished daylight hours for exploring. 
#2: Local vs. tourist methods of transportation: Local options can refer to tuk-tuks instead of taxis, or "no-frills" offerings of things like buses and ferries. They might make more stops and lack A/C, but in exchange, these options are sometimes cheaper, more energy-efficient, and a more accurate depiction of everyday life.
#3: Buses and trains, instead of planes: Travel to and from airports often means extra time, money, and fuel spent commuting far outside of cities. Buses and trains, however, typically take you to and from the heart of the city itself. 
4. Book locally and on arrival
One of the most important things to consider when traveling sustainably is economic leakage. Economic leakage happens when tourists use multinational or foreign-owned companies, instead of locally owned businesses. By supporting local businesses, you're not only making the more sustainable choice by contributing to the local economy, but you're also more likely to save. 
Additional Tips & Benefits:
#1: Local doesn't only mean bed and breakfasts and farmer's markets instead of Hiltons and McDonalds. It can also mean nixing Uber in lieu of local ride-sharing apps, like Bolt and Grab in Southeast Asia. Taxis can be good too – just double-check that the meter runs and be aware of the standard rates. 
#2: When booking accommodation, try to reserve your room with the establishment directly. You may get a better rate that way.
#3: Can you be flexible? If so, consider waiting until you arrive to book day trips with local operators directly. This can be a cheaper option if you can risk last-minute tickets.
#4: Buy souvenirs from local markets and shops, as opposed to larger ones found in airports or near major attractions. In addition to preventing economic leakage, it will also generally be kinder on your wallet.
#5: An important tip: Be wary of giving money to children. In many countries, kids are used to (and sometimes forced to) beg or sell souvenirs. Paying them might be contributing to a cycle in which children are kept out of school to work and thus deprived of an education. 
5. Take the road less traveled
Over-tourism is increasingly becoming a problem in certain travel hotspots. Some countries have even had to temporarily pause tourism entirely to allow the environment and infrastructure time to heal. 
This doesn't necessarily mean that you have to give up on your top bucket list items. You should, however, consider alternatives and make other sacrifices wherever possible. See our infographic about tourism dispersal here.
Additional Tips & Benefits:
#1: Compromise: Certain sites might not be replaceable. If you've always wanted to see the Pyramids of Giza, there's no reason you shouldn't! Just be sure to respect the area (i.e. no littering!) and consider a compromise such as visiting during the off-season. 
#2: Off-season benefits: Traveling during the off-season is more sustainable as it helps with tourism dispersal. It also could offer you a better experience in terms of reduced prices and crowds. 
#3: Alternatives: Often, there are just as incredible, if not better, alternatives to the most well-known destinations. You can almost guarantee that if there is a famous island, beach, hike, or city, there is a less famous, just as stunning one nearby. These destinations are likely more affordable, less crowded, and potentially even more appreciative of your tourist dollars. 
6. Take advantage of all things free (but pay where appropriate!) 
There are almost always opportunities to find free or included bonuses in any destination. This can be a godsend for travelers with tight wallets.
It's common to find free walking tours and free museums. It's also common for paid museums to have at least one free day a month. 
Travelers should take full advantage of the freebies, especially if it's helping them to learn about the local culture and history. Keep in mind one thing: Especially with free tours, the guides will typically ask you to tip what you think it is worth at the end. If you can afford to tip, and if you found the service/tour valuable, please do this!
Additional Tips & Benefits:
#1: Remember naturally free activities! Spend a day on foot visiting parks, churches, libraries, and street markets. Many iconic landmarks are free to walk past and gaze at, too. Without spending a single cent, you can fill days immersing yourself in a culture, and ensuring your environmental footprint is, well, just that. 
#2: Travel is not always about where, but who. There are more and more platforms to meet up with locals. This can lead to everything from a memorable day or night experiencing life through a local's eyes, to entirely free lodging! Couchsurfing is probably the most well-known community for this. As with most things free, small gifts or gestures of gratitude are always appreciated, where possible.
7. When in Rome…
The best thing you can do when traveling is to look to the locals for an indication of best practices. Adapting to the local culture can be an entirely free way to travel more sustainably. 
Learning all of the customs and nuances of another culture would be impossible. Luckily, locals are generally understanding of this and generous in forgiving slip-ups. Still, we should do our best to navigate experiences in the most appropriate manner possible.
Additional Tips & Benefits:
#1: Tipping: Understand local tipping customs. It has the added benefit of helping you better budget for your trip. While a 15% tip is considered standard in the U.S., in Japan, even suggesting someone keep the change can be seen as disrespectful. We recommend whototip.net as a great resource to learn about tipping practices across countries and services.
#2: Adapt to customs: This might be easier said than done! For example, in many parts of the world, toilet paper isn't widely used, with locals instead opting for water hoses or bidets. This demonstrates an environmentally-conscious alternative that also embraces "living like a local."
#3: Learning is free: Studying up on everything from current events to basic phrases in the local language are free and easy ways to travel responsibly. For language learning, check out tools like Duolingo or Omniglot. To ensure cultural sensitivity and awareness, read in advance (especially the news), observe, listen, and interact with locals.
8. Work hard to play hard
'Work' can refer to your day job or time spent volunteering. 
If you volunteer while traveling, this is 'voluntourism'. Though it's a debated topic (See: "Voluntourism: contributing beyond community washing"), if done responsibly, it can be a great way to travel and make an impact while on a budget. 
We suggest starting with well-known organizations, like Workaway and WWOOF, which offer room and board in exchange for volunteering, at little to no cost. With any voluntourism experience, we ask you to be extremely diligent in your research.
Additional Tips & Benefits:
#1: Short-term volunteering: While the above websites can be useful for longer experiences, there are plenty of 1-2 day opportunities as well. Just be sure it's legitimately helping the environment or community you're visiting. 
#2: Corporate volunteer days: Many companies have begun giving extra PTO for volunteering. Ask if your company does this and if they have any partnerships with certain organizations. This can be a great option for budget-conscious, sustainable travelers who can't sacrifice a full week's pay.
#3: International offices: Find the ultimate "work-travel balance" and see about combining a vacation with a work trip or vice versa. If your company has international offices, extending your trip to include both work and travel can help you save on flight costs, adopt a 'slow travel' mindset, and connect with locals through your colleagues!
9. Bring a friend or make one along the way!
Solo travel is great, but frequently this travel style is less budget-friendly. In certain cases, it may be less environmentally conscious as well. Solo travelers might have more food waste or generate more carbon emissions if they rent a car just for themselves. 
If you're trying to travel sustainably on a budget, we suggest bringing a friend, or for the adventurous solo traveler, finding friends along the way.
Additional Tips & Benefits:
#1: Travel buddies: For those looking for travel buddies, friends, and family are always a good place to start. But if no one you know is available, consider any number of travel communities to find a buddy before you set off! Did you know that Yūgen Earthside has a Facebook community where you can connect with like-minded travelers? This is a great place to start if you're looking for a travel buddy interested in traveling sustainably. 
#2: Hostels: What would a budget travel article be without the mention of hostels? In addition to being budget-friendly, the backpacker culture is young and fun. As the energy pulses through hostel walls you might find other solo travelers just as eager and willing to meet travel companions right around the corner. Read reviews thoroughly to get a sense of the atmosphere before you book. While some are notorious for being party hostels, many are quiet and relaxed, so there are options for everyone!
10. Don't be afraid to spend a little to save a lot
As budget travelers, we often look for the cheapest option, but this doesn't always translate to quality, value, or sustainability. This can be said especially for physical products, but also for tours and experiences. Research, reviews, and knowing what to watch out for are often simple ways to make sure an affordable purchase doesn't come with hidden costs.
Additional Tips & Benefits:
#1: Buy a pass: Whether taking the local metro or traveling internationally by train, paying upfront for passes can help save costs in the long term, while also encouraging greener transport. Most cities have unlimited weekly metro passes, while countries and even regions offer railway passes, such as Eurail or Japan Rail Pass. 
#2: Check what's included: Sometimes a higher price includes a meaningful added value that actually makes it a great deal. For accommodations, check for included breakfasts, towels, filtered water, discounted tours, and free activities. For tours, look for included airport transfers, snacks, equipment, tourist taxes, and entrance fees. 
#3: Quality is worth it: Especially when it comes to durable, environmentally friendly products, an initial investment may be necessary. But it's just that–a one-time investment. It should help reduce costs in the long term by avoiding purchasing several lower-quality products that break down faster. 
#4: The implications of "cheap": Consider the type of experience you are booking and the implications of paying a lower price. A higher cost might infer ethical animal treatment, proper permits, equitable employee pay, and using responsible suppliers, to name a few examples. 
Planning your next trip
While some of these tips require more effort and preparation at first glance, it demonstrates that traveling sustainably on a budget is attainable as being a sustainable traveler means making conscious choices that ensure your time and money are well spent. Ultimately, we hope these tactics will help you feel confident that every dollar carefully spent goes further in generating a positive impact. For more in-depth info on how to be a sustainable traveler, read our blog post, Sustainable Travel 101.
For our most affordable trips, check out our self-guided walking and trekking holidays around the world.
By pursuing the minimalist route with your travels, you'll free up energy to take in your surroundings and savor every moment. In the end, you'll cut out the fluff and be left with an affordable, impactful experience to remember!
This post contains affiliate links. This means that if you buy a product after clicking our link we may earn a small commission at no extra cost to you.