Sustainable Scuba Diving in the Galapagos Islands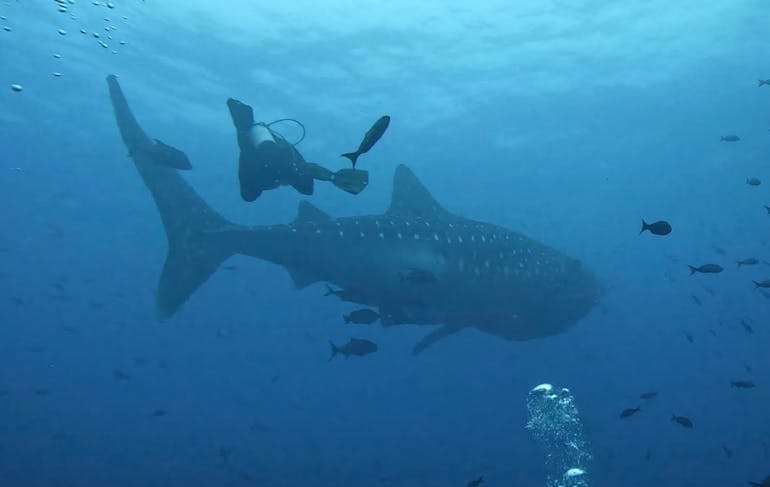 Sustainable Scuba Diving in the Galapagos Islands
The following post is contributed thanks to a client who was specifically looking for a sustainable scuba diving experience in the Galapagos, found it through our 8-day Diving with Scientists in the Galapagos trip, and had a life-changing experience. Jeremy was inspired to share in detail what this citizen science, Galapagos liveaboard dive trip was like, and how it impacted him. All pictures in this post are Jeremy's.
Dedicated to Janet Ferguson, who loved to travel.
I met Hilary through a mutual friend. Hilary was interested in talking about establishing her sustainable travel business. In the end, I don't even remember that conversation. I'm grateful for her, though. I told her I wanted to swim with a whale shark, but to do it responsibly. I did exactly that.
Two out of three people I show this photo are surprised I would swim with something so dangerous. I joke that the animal here is vegan, eating mostly plankton. Though I guess it's more of a pescatarian, eating small fish and crustaceans too.
This still blows my mind… give me a moment…
We were about 30 minutes into our third dive at Darwin Island, in the Galapagos. There was a din from my left. When I looked over, I saw Christian, the divemaster shaking his underwater noise maker and pointing off at a distant shadow. A bus-sized fish emerged from the gloom. Some of us just watched from a rocky shelf below the shark while two of our group took off, rising and swimming toward it. I was managing my air, avoiding strenuous movement, breathing deeply. I just filmed. Neither of the divers got close. The fish appeared to lazily swim by.
Jonathan Greene, shark scientist, conservationist, and partner in the Galapagos Whale Shark Project, said it was 11 to 11.5 meters, 35-37 feet long. He said getting in the way of the tail could kill you. I'm the one taking the picture. My bunkmate, Max, is the one in pursuit near the tail.
I got lucky. Of five dives at Darwin Island, we saw the shark on one dive. A few see none. That being said, some see many, and according to Greene, the sharks are sometimes curious enough to swim much more slowly, allowing divers to approach. Some of the divers on the trip discussed seeing numerous whale sharks in places like the Maldives in the Indian Ocean. However, The Galapagos is special for being able to see animals this size—the largest fish in the sea. Some reach sizes in excess of 50 feet long.
It's really weird how shows like Blue Planet expose us to the existence of such wonders, but there's an element of the profound, of overwhelming connection being there in the presence of such an animal, in quiet weightlessness, 60 feet underwater.
Other highlights:
Surfacing at Darwin Island with a pod of dolphins, who decided to put on a show
Insanely fun, intense drift diving at Wolf Island with a school of hundreds of hammerhead and Galapagos sharks—this was so fun we did it a second time!
Swimming with marine iguanas, sea lions, giant sea turtles, and a penguin on a single dive at Isabela Island
Manta rays and too many spotted eagle rays to count
Walking with giant Galapagos tortoises
A pair of mating octopi—and me without my camera!
Jonathan Greene's and Jenny Whack's commentaries on conservation and the Whale Shark's place in the ecosystem.
The people: divers care about the environment they dive in. They are curious, good listeners. They are also ready to connect, by sharing their own experiences in life and in diving. Such a fantastic group! —Except for the Brits, they're just "rubbish." [1] 
My primary complaints, there just weren't enough trip highlights and they weren't massive enough. For an overwhelmingly positive experience, far and away the most incredible dive trip of my life, I just expected more. Also, I got really tired of the amazing sunsets. [2]
Also, the beer selection onboard left a lot to be desired, being simple lagers. I primarily care for hazy IPAs, APAs, and —you don't care. It's probably for the best, anyway. Dehydration is not a diver's friend.
In all seriousness, this is the kind of experience that gets me thinking philosophically. I have always loved sharks and have heard about the impact humans are having on the oceans, but that's all been intellectual. However, seeing a school of 100 animals, hammerhead sharks, dissipate into shadow, implying hundreds if not a thousand more animals is a spiritual experience—which now directly links to the images I've seen of sharks being slaughtered on fishing vessels. I have let the problem in. I could push it down, bottle it up, but I don't want to.
I want my kids to have a chance to experience this.
Again, every time I look at that picture, I can't get over it. I am speechless for a moment. …give me a moment…
I took this trip under the premise that it was responsible. The two main parts of this were:
offsetting my flight with carbon credits at a bargain price of around $30
booking my dive boat with The Galapagos Whale Shark Project team
Yet, I still need to understand if this is just wishful thinking. I have confidence in the mission of The Galapagos Whale Shark team and would like to write about them further. They are doing one small, essential thing for conservation. I need to understand, though, if the carbon offset is verifiable and really making an impact, or is each tree planted just leading to a different, unprotected tree being cut down?
Also, there's a discussion to be had about the positive (and negative) economics of international travel. One positive, as I see it, I worked with at least 5 different service providers on the trip, each was small and local. Each was splitting some amount of the money I was spending on the trip. While there's inefficiency here, that in a former life, I would have thought about how to eliminate and capture, I felt positive about each of the individuals involved. While sometimes I felt pressure to be upsold, I always felt that responses to my questions were genuine. I trust them. In particular, Hilary from Yugen Earthside did a great job working with me to find the right experience. [She connected me to a local company who] acted as a personal concierge making sure my experience in Ecuador was what I wanted and I felt safe and comfortable. I would work with both again and so appreciate their introduction to Jenny and Jonathan. I write this because I see this as an alternative model to the huge travel organizations like Marriott, Hilton, etc. which focus on economic return over being good stewards or offering tailored experiences.
-Jeremy
[1] Actually, they are a lot of fun.
[2] I can sometimes deliver irony in a very dry, imperceptible manner, but I had some feedback that made me think I needed to add this footnote… Hint: I'm saying, "For the best trip of my life, it wasn't best enough."
Jeremy and Hilary chatted after this trip in depth. They discussed that carbon offsetting – done through Sustainable Travel International in Yugen Earthside's checkout process – is a good start but not a "fix-all". You can find more information on how to positively impact the climate here. They also discussed how sustainable travel is not just environmental or reducing your carbon footprint; it is also learning new ways to appreciate the environment and Earth's wildlife so that you are inspired to care for it and preserve it for future generations. This sustainable scuba diving trip also supported science, conservation, and local businesses. Sustainable travel is about having transformative travel experiences that make you deeply appreciate our planet and the incredible magic within it…and this really gets at the heart of what Yugen means.