Citizen Science Scuba Diving in the Galapagos
From $5,895 pp
Departure Date

16 Jul, 2024

Physical Rating

Mildly Strenuous
Overview
Spend 8 days on a small, liveaboard yacht scuba diving in the Galapagos Islands alongside marine biologists on this sustainable citizen science adventure!
The Galapagos Islands are one of the most beautiful locations on earth, and your dive trip here supports the Galapagos Whale Shark Project (which was featured in the BBC Blue Planet II series).
Marine biologists and divemasters will be on board to provide a life-changing experience, assistance, and educational guidance on endangered marine wildlife conservation as you explore these renowned scuba diving spots.
You will do 2-4 dives a day on this trip, for a total of 19-20 dives. There's also the opportunity for a night dive.
For every diver, the organization donates to the research of the Galapagos Whale Shark Project. This team is studying the unique population of adult whale sharks in the Galapagos. Each scientist will provide you with extensive knowledge about whale sharks and will teach you at the same time how you as a diver can support the conservation of marine wildlife such as whale sharks, giant manta rays, sea turtles, other shark species, rays, molas, whales and other endangered animals – in the Galapagos and worldwide. You can also expect to learn about underwater photography while onboard (please note: you need to bring your own camera) and be taught about photography using what you have.
Highlights
~20 dives overall
Night dive opportunity
Cape Marshall
City of Mantas
Darwin's Arch
Wolf Island
Punta Vicente Roca
Cape Douglas
Cousin's Rock
Highlands with giant tortoises (land excursion)
On this trip, you'll spend very little time on land. The majority of the experience is on the yacht and underwater. You'll visit islands that not all boats visit, including sites that primarily attract divers.
The yacht for your Galapagos eco dive liveaboard provides a unique and unforgettable experience, with the best service and diving that you could hope for. The boat has nine cabins with private bathrooms, air conditioning, electricity, and all that you may need to make your stay comfortable. Three meals a day are included, as well as 'pre-breakfast' and snacks between dives.
Please note: The famous Darwin's Arch rock formation collapsed on 17 May 2021 due to erosion; it now resembles two pillars instead of an arch and is being referred to as the "Pillars of Evolution."

What is it Really Like?
Check out our blog post on Sustainable Scuba Diving in the Galapagos Islands for an even deeper look into what to expect.
Seasonal Notes
Every year, only a few shark conservation dive departures are offered. These align with the best shark diving season and the best months to dive in the islands of the Galapagos (July – October). These conservation scuba dive trips frequently sell out; contact us today to secure your spot!
Departure Dates
16 Jul, 2024 - 23 Jul, 2024
23 Jul, 2024 - 30 Jul, 2024
13 Aug, 2024 - 20 Aug, 2024
Itinerary
Day 1

Baltra Island [Galapagos Islands, Ecuador] (arrival day)
To arrive in the Galapagos Islands, you must first fly into either Quito or Guayaquil Airports. From there, you will fly to Baltra Island, where our trip begins. There is no way to arrive at Baltra Island other than by plane.
Morning: Santa Cruz - Baltra Airport Afternoon: Santa Cruz - Baltra Island (1 check dive)

AM - Baltra Island Guests fly to the Galapagos Islands from mainland Ecuador, arriving in the late morning. The GSD dive masters and yacht divemaster/naturalist guide will be waiting at the airport on Baltra Island. Once the group has collected their luggage and cleared the National Park immigrations, we will board the yacht which will be anchored in the port 10 minutes travel by bus. After everyone has settled in their cabins the guides will give a briefing on ship life, national park rules, and diving safety, whilst the galley crew prepares the dining room for a delicious buffet lunch.

PM - Baltra Island (Check dive, equipment, and weights)
After a briefing on the dive platform, all equipment should be set up in readiness for the test dive. This will be at a nearby anchorage in calm shallow waters. Maximum depth of 12m. Although plentiful fish and usually sea lions and other species are to be seen, the objective is to check weight and equipment for the following day

Accommodation: Yacht
Included meals: Lunch, Dinner
Day 2

Cape Marshall / City of Mantas
Morning: Cape Marshall (2 dives)
Afternoon: City of Mantas (1 dive)

This area on the northeast side of Isabela island offers a few great dive spots. One of them is Cape Marshall, also called 'Ciudad de las Mantas' (City of Mantas), named for how common it is to see giant mantas. The plankton-rich waters of this area are an attraction for many species of rays - like the eagle ray or giant manta, white tip sharks sea lions, green sea turtles, and many more. The topography is beautiful and invites divers to enjoy their first dives in the Galapagos Islands.

Accommodation: Yacht
Included meals: Pre-breakfast, breakfast, lunch, and dinner meals plus in between-dive snacks
Morning: Darwin's Arch (2 dives)
Afternoon: Darwin's Arch (2 dives)

All four dives are at the same site, the world-renowned Darwin Arch (now called the "Pillars of Evolution" since the collapse of the arch on May 17th, 2021). We drop onto a rocky ledge and from a protected position watch the marine life swim by. Hammerhead and Galapagos sharks, Blacktips, and Silkies. Marine turtles abound and Bottlenose dolphins often pass by overhead. Huge schools of fish, tuna, jacks, and Creole fish swim in the blue whilst dozens of other species inhabit the coral-covered platform and ledges.

Accommodation: Yacht
Included meals: Pre-breakfast, breakfast, lunch, and dinner meals plus in between-dive snacks.
Day 4

Darwin's Arch & Wolf Island
Morning: Darwin's Arch (2 dives)
Afternoon: Wolf Island (2 dives)

AM - Darwin Island (2 dives)
This is also the realm of the biggest shark of them all, the whale shark. Frequenting the Islands between June – December, over 95% of all sightings occur here at the Arch. Of these, a staggering 99% are female and in an apparent state of advanced pregnancy. Is it a place where whale sharks give birth? Why they come to this rocky volcanic outcrop remains a mystery that the Galapagos Whale Shark Project team is trying to solve.

PM - Wolf Island (2 dives)
The powerful marine currents around Wolf are part of the reason we see so many sharks. Schooling hammerheads, Galapagos sharks, Blacktip, and Silky sharks are the usual protagonists. Dolphins are often present as we end our dives with a drift in the blue. Two turtle species, the Green and Hawksbill, are frequently sighted along this island's rocky walls and slopes. Eagle rays and large schools of fish, snappers, grouper, and jacks patrol the drop-off. Today, depending on the dive conditions, we will offer you a night dive.

Accommodation: Yacht
Included meals: Pre-breakfast, breakfast, lunch, and dinner meals plus in between-dive snacks
Morning: Wolf Island (2 dives)
Afternoon: Wolf Island (1 dive)

Another full day exploring the diverse dive sites of Wolf. The dives may take us to swim through arches and along the spectacular walls and cave entrances. Again, the local conditions will decide which are the best options dependent on current and swell. More time to observe the sharks and marine megafauna or study the massive diversity of life that inhabits the large coral heads and boulder slopes. Towards evening we set sail for the north of Isabela Island, once again sailing overnight.

Accommodation: Yacht
Included meals: Pre-breakfast, breakfast, lunch, and dinner meals plus in between-dive snacks
Morning: Punta Vicente Roca (1 dive)
Afternoon: Cape Douglas (1 dive)

AM - Punta Vicente Roca (1 dive)
This morning we will dive at Punta Vicente Roca. Best known for the frequent sightings of Mola alexandrini, the Southern Ocean sunfish. The Molas approach the wall to visit the cleaning stations where wrasses and angelfish await. Sea lions and Galapagos fur seals abound and often follow divers playing with bubbles and darting in and out of schools of sardine sized Brown striped Salemas.
The wall is one of the most diverse of all Galapagos for marine invertebrates and is one of the favorite sites for macro photography. Brightly colored blennies, Longnose coral hawkfish, frogfish and sea horses can be found amongst the solitary corals, anemones, tunicates and sponges. Green sea turtles are present all year and whales are often spotted in these waters.

PM - Cape Douglas (1 dive)
After sailing across the Bolivar Channel to Fernandina Island we will dive at Cape Douglas. Showcased by many documentaries including BBC's Blue Planet I & II, this is where marine iguanas are to be found feeding in the shallow bays between 5-10m. The cold ocean upwelling from the Cromwell current brings a myriad of life to an apparently stark volcanic shore. A unique experience that can only be had in the Galapagos, we also find the endemic flightless cormorant and Galapagos penguins feeding here.

Accommodation: Yacht
Included meals: Pre-breakfast, breakfast, lunch, and dinner meals plus in between-dive snacks
Morning: Cousin's Rock (2 dives)
Afternoon: Santa Cruz - Highlands with giant tortoises (land excursion)

AM - Cousin's Rock (2 dives)
In Cousin's Rock, we often find playful sea lions, Eagle rays, Golden rays and sometimes Mobula and Giant Pacific manta rays. The underwater topography provides refuge for sleeping turtles and white tip sharks whilst the steep walls are covered by marine invertebrates. Two species of black coral, sponges and colonial tunicates are a colorful backdrop for the abundant fish that frequent this emergent volcanic cone. The currents often found here attract some of the larger shark species such as hammerheads and blacktip sharks. Amongst the corals, we sometimes find Pacific golden sea horses and frogfish.

PM - Santa Cruz
After the dive, we will go to Santa Cruz Island. Here we visit the highlands of Santa Cruz to see Giant tortoises in the wild. On our visit we also will make a stop at a lava tunnel and often mistaken for volcanic craters, Los Gemelos – or "The Twins" in English – are actually sinkholes.

Accommodation: Yacht
Included meals: Pre-breakfast, breakfast, lunch, and dinner meals plus in between-dive snacks
Day 8

Baltra Airport (departure day, or continue with land extension)
Early Morning: Baltra Airport depart or continue with a land extension

AM - Santa Cruz Assisted by the naturalist guide and some crew members, the dinghy will bring you and your luggage to Baltra, where we will take the airport shuttle. Your guide will accompany you to the check-in counters in the departure hall. This is certainly one adventure that will change your lives and you will remember forever... until you return perhaps?

Contact us to plan a customized land-based adventure extension.

Included meals: Breakfast
Route Map
Inclusions & Exclusions
Liveaboard yacht accommodation for 7 nights/8 days

Pre-breakfast, breakfast, lunch, and dinner meals

Coffee, tea, purified water

Transfers to/from the airport within the Galapagos Islands

Accompaniment by the research project team

Photography instruction & practical advice

Technical equipment: tanks, weights, weight belt.

A variety of lectures about the Galapagos Islands and the Galapagos Whale Shark Project

Translation in Spanish, German, and French
Flights to/from the Galapagos Islands

Alcoholic beverages and bottled drinks

Galapagos National Park tax ($100 pp, cash only) - payable upon arrival at Galapagos Airport

Transit Control Card ($20 pp, cash only) - payable in cash at Quito or Guayaquil Airport of departure for the Galapagos

Personal equipment: Wetsuit, BCD (Buoyancy control device/jacket), regulator, booties, fins, mask, dive computer, gloves, hoods, dive light

Dive Accident/MedEvac Insurance

Onboard gratuities, (always optional)
Pricing
Prices exclude flights to/from the destination.
Prices are for double room occupancy unless indicated otherwise.
Deposit per person

30% of trip price

Shared Room - sleeps 2 - price per person

Standard Cabin: $5,895

Shared Room - sleeps 2 - price per person

Master Cabin: $6,095
Optional Add-ons
Prices of add-ons subject to change; confirm with our team before booking.
Full Rental Equipment: $250
Nitrox: $150
Dive Computer: $80
BCD: $80
Regulator Set: $80
15 L tank: $750
Wetsuit Rental (7mm): $60
Dive Light: $10/day
Sustainability
We not only care about our travelers, but we also care about the local communities and the environment. When you book a tour with us, you become an active collaborator of the local and international foundations we work with in order to do our part. Whether it is educating children on the coast of Ecuador, or helping out with conservation projects in the Galapagos, we care.

Environmental Initiatives
This trip takes travelers off the beaten path and avoids tourist "hot spots". The boats in this trip use water flow reducers.
Clients travel with scientists to collect data that furthers our understanding of whale sharks and other marine wildlife. This helps us promote conservation through education and awareness. We specifically discuss with travelers how to act responsibly in this destination, and why that's important.

Economic Initiatives
The crew of the boat is all local people who are paid fair wages.
We support other local and international projects that provide jobs and assistance to local communities.

Sociocultural Initiatives
Travelers and locals will exchange knowledge with locals, have an opportunity to learn from one another, and gain a new perspective on their own environment.
We focus on serving locally-grown foods and locally-bought meat.
FAQs
What does the Physical Rating of "Mildly Strenuous" mean?
Travelers should be certified, open-water divers, fit, and prepared for 2 dives a day.
Do I need to be dive certified already?
Yes! This trip requires that all divers be Open Water Plus Deep Diving or Advanced Open Water. This trip is not a training or certification course.
What are the accommodations like?
You will be staying on a small, liveaboard yacht on a 'Tourist Superior Cruise.' The ship has nine cabins with private bathrooms, air conditioning, electricity, and all that you may need to make your stay comfortable. The master cabin on the main deck and cabins on the upper deck have windows that will allow you to enjoy the beautiful sunrise and sunset of the Galapagos Islands. The lower cabins have portholes with an ocean view and natural light.
Is this trip recommended for solo travelers, women, LGBTQ+, and POC travelers?
Solo travelers always share with the same gender. We offer single cabins but with a single supplement surcharge. The project is led by a female scientist who of course will do everything to make women and travelers of the LGBTQ+ community feel safe and welcome.
Why dive in Galapagos?
Once you dive Galapagos your life and diving will NEVER be the same! Galapagos offers a unique variation on wildlife that you only can find here! In Galapagos, you can actually DIVE with the mightiest of all sharks… the Whale Shark! Galapagos is the only place in the world where 99.8% of the whale sharks are truly HUGE adult females swimming up to 15 meters / 45+ feet in length! Nearly all of them seem to be pregnant as they have massively extended abdomens. Galapagos might be THE place where whale sharks give birth - which is one of the reasons that scientists from all over the world come to Galapagos to study this UNIQUE population.
Why dive with us?
Because YOU support the research of 'Galapagos Whale Shark Project' directly & and help us find more ways to protect these gentle giants!
Daily presentations related to Galapagos Islands & Galapagos Whale Shark Project.
Small group - maximum of 15 passengers 4 divemasters - 1 divemaster per 4 divers.
Dive with the Whale Shark experts and underwater photographers: Jonathan R. Green, Simon J Pierce, Sofia Green, and Jenny Waack.
Get details about the research project in Galapagos and behind-the-scenes insights of the filming of 'BBC Blue Planet II' directly from the project leader, Jonathan.
Become a Shark Ambassador - Learn how to provide data to actively support Whale Shark Research. You can get engaged with shark conservation now and make a difference wherever you go diving worldwide.
We always travel responsibly! On our Eco Dive Tour, we will pay attention to how to travel economically responsibly and behave respectfully to wildlife. Photography instruction and practical advice about photography on land and underwater will be provided directly on board by the underwater photographers.
We offer translation onboard in English, German, Spanish, and French.
What's the Dive Master ratio?
1 Dive Master per group of 4-5 divers.
Reviews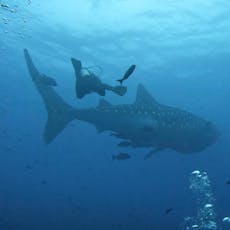 Jeremy R.
Citizen Science Scuba Dive in the Galapagos Islands
Such a fantastic trip! I got to see a 35 ft whale shark, schools of 100s of hammerheads, sea lions, etc. It was outstanding!
Hilary was such a help finding an amazing travel experience. She helped me find an amazing scuba trip to the Galapagos and explained some of the impacts as well as ways to be a thoughtful steward. I will definitely work with her again. I recommend Yugen Earthside with all my heart!