6 Reasons Egypt to Visit Egypt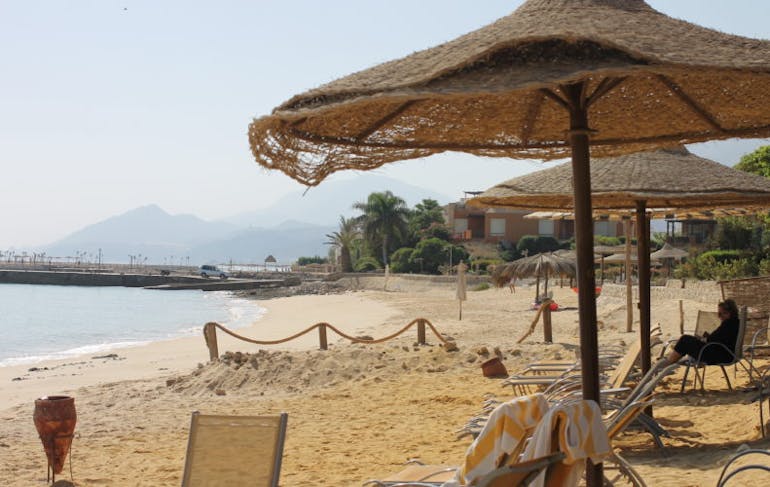 6 Reasons Egypt to Visit Egypt
It's time to bring back an old (dare I say, ancient?) classic and welcome Egypt to the top of your bucket list!
As avid travelers, we often find ourselves looking towards the latest trends in tourism when thinking of our next destination. But in doing so, we may easily forget bucket list veterans just under our noses.
In this post, we'll make the case for why Egypt should be the next trip you take post-Covid. Read on to find out what Egypt really looks like today in terms of the country's culture, nature, and economy. We'll also cover whether or not Egypt is safe to visit, and what type of tourism industry and infrastructure are in place to host visitors.
1. Discover the rich Egyptian culture dating back to one of the most advanced ancient civilizations in history.
Probably the first thing people think of when they hear "Egypt" is the Ancient Egyptians. Some images that first come to mind are the Great Pyramids of Giza and, a few paces away, the Sphinx. 
These are definitely worthwhile sites to see when you visit, but they just scratch the surface of what the ancient world has left behind for us. In fact, we continue to uncover remnants of the past as archaeologists make new discoveries every… single… year.
Aside from the ancient culture and heritage sites, there is also modern culture and everyday life to appreciate. Modern Egyptian culture, like any culture, can't be simplified in a few sentences. It includes a combination of local politics, socioeconomics, international relations, and much more. One particular area worth highlighting for Egypt is religion.  
In Egypt, 90% of the population is Muslim. Tourists may notice elements of this in big cities, especially in hearing the call to prayer from nearby mosques, or if visiting during Ramadan, observing most restaurants being closed during the daytime. There are many sites to visit that honor Islamic culture and history. In particular, Historic Cairo — a UNESCO World Heritage Site — is home to many landmarks including the Al-Azhar Mosque situated on the famous El-Moez Street and Khan El Khalili market. Such sites beckon curious travelers eager to learn more about Egypt.
The remaining 10% of the country is Christian, most of which are Coptic Orthodox–a sect of Christianity born in Egypt almost two thousand years ago. There are many areas to visit, particularly in and around Cairo, which allow visitors to explore the history of this religion. Some of the most impactful Egyptian cultural sites related to Christianity are Coptic Cairo, home to the famous Hanging Church, the Virgin's Tree, and the Cave Church in Moqattam Mountain.
Lastly, a lesser-known, mysterious, nomadic group of people to acquaint yourself with are the Bedouins.  While not a religious group, these rural communities have inhabited the desert for centuries and still do so today. If you have the chance to visit the Bedouins and spend a night or two peering into their unique way of life, it's an opportunity not to be missed. Tour operators and guides are your best bet for turning a dreamy desert night under the stars into a reality.
FUN FACT #1: The Pyramids aren't in the middle of the desert.
The Giza complex does have vast expanses of desert to one side, but to the other side, you'll see the capital city just steps away, as the Pyramids are situated right on the outskirts of Cairo.
2. Encounter vastly varied experiences, from breathtaking natural landscapes to bustling urban cities.
The majority of Egypt's land consists of expansive, seemingly endless deserts. But to think of them as totally flat and empty would be incorrect.  Aside from populations existing in these rural parts of the country, there are also mountains, sand dunes (which allow for sand-boarding for the adventurous), and sparkling lakes and oases that make you wonder if you've seen a mirage.
Of course, in between all that sand, you'll find vibrant life in cities and resorts. Like most civilizations throughout history, roots are often planted around bodies of water. This is still true for Egypt today. 
Within the country, most urban and historical sites are situated along the Nile River, which runs nearly the full length of the country and claims the title of the World's Longest River. Because of Egypt's arid desert climate, you will notice that most cities tend to be fairly beige and dusty from sand inevitably doing what it does best — spreading everywhere. But don't let this fool you — you can also expect to see modern, high-end establishments. In more urban and touristic areas, you'll find massive shopping centers, luxury hotels, and robust nightlife. 
For travelers looking for something more laid-back, some of Egypt's best touristic experiences can be found near other iconic bodies of water, namely the Red and Mediterranean Seas. Egypt's popular coastlines boast an impressive number of resort towns, each one more beautiful than the last. Cities like Ain Sokhna, Hurghada, El Gouna, Sharm El Sheikh, Marsa Alam, Marsa Matruh, and more offer Egyptian hospitality at their finest. Warm turquoise waters and colorful marine life will greet you with open arms!
FUN FACT # 2: You can go INSIDE the pyramids themselves!
That's right! Though not for the claustrophobic, the pyramids each contain a steep ramp heading underground — available for tourists to marvel at the impressive architectural feat while escaping the hot desert sun.
3. Your tourism dollars will go further by contributing to Egypt's recovering economy.
Tourism has a massive impact on the economy; in fact, it drives 7% of the global GDP. Economic reliance on tourism is even more pronounced in developing countries. In Egypt, tourism accounts for approximately 12% of its GDP and 11% of its jobs.
Using tourism to promote and support local economies is one of the main tenets of sustainable tourism. Here's some context about Egypt's tourism industry.
Tourism in Egypt has been lagging, long predating Covid.
Egypt has been a tourist hotspot for centuries. Over time, its popularity as a travel destination evolved into tourism becoming one of the nation's main sources of employment and income.
In the past decade, however, there has been a shift: a severe lack of tourists, the effects of which are being felt nationwide, especially in poorer communities. 
Then came Covid. Resulting losses in GDP could be up to $1.5 billion monthly. Covid is unfortunately only the most recent of several hits the tourism industry has taken since 2010, as shown in this graph. But this 10-year lull begs the question…
Why did tourism in Egypt decline in the first place?
Over the past decade, the decline in Egyptian tourism can be attributed to three primary factors:
The Revolution of 2011
Negative Media Attention
The Fragile Economic Situation
1. The Revolution
The single greatest factor was the 2011 revolution in Cairo. Political unrest and protests swept across the region. Eventually known as "The Arab Spring," these uprisings throughout the Middle East proved a dark and difficult time, and Egypt was no exception. 
The country is still recovering from the aftermath. Awareness of the revolution is meaningful context of the past instability, but it should not deter you from visiting.
As with any nation, especially those we visit as tourists, we should take the time to understand the local history, both its hardships and its triumphs.
2. Negative Media Attention
The Middle East is often portrayed negatively by the media, leading to damaging misrepresentations and harmful stereotypes. 
Such negative portrayals make it that much harder to bounce back from the fear and uncertainty produced by incidents like the revolution.
It is, thus, important to take a step back and consider our own perceptions and biases and ensure we take the time to address them. (Academic discussions and resources on this topic can be found here and here.)
3. Fragile Economic Situation
Egypt's economy continued to suffer following the revolution, with the Egyptian Pound slowly losing value. In 2016, it reduced by a third overnight when the central bank let the currency freely float, and then further worsened from there.
This chart demonstrates its weak recovery.
The compounding effect of the 2011 revolution, the pre-existing negative media attention, and the fragile economy battered Egypt's tourism industry long before Covid. 
Luckily, travelers are in an incredible position to help the Egyptian economy simply by doing what they love to do — travel.
FUN FACT #3: Mummies and tombs are not where you think.
You can see mummies, but not in the tombs, and you can see tombs, but not in the Pyramids. For mummies, head to the Egyptian Museum, which is set to re-open this year in Giza, which is conveniently located right next to the Pyramids. For tombs, head 400 miles/700 km away to Aswan and Luxor in Upper Egypt.
4. Enjoy the comfort of traveling within a well-developed tourist infrastructure.
Despite the hardships Egypt has endured over the past several years, one thing hasn't changed–its fantastic touristic infrastructure is still very much in place. 
Being a country rich in history and home to one of the 7 wonders of the ancient world made Egypt an OG Bucket List favorite with travelers of years gone by.  
Decades ago, Egypt looked a lot different than it did today. Cities like Cairo and Alexandria were thought of as fashion-forward, cosmopolitan hubs to diverse international communities, and the architecture and infrastructure reflected that. Looking back at classic Egyptian films from the 50s and 60s, which my parents still watch fondly today, is an opportunity to travel back to a time when Egypt was economically prospering. 
In response to the growing droves of tourists, Egypt developed the infrastructure to match. As demand grew, so too did supply. This not only refers to physical structures such as hotels and transportation, but also to the workforce. There are tour operators, guides, drivers, and more who are carefully trained, proficient in the country's history and culture, happy to assist travelers, and with impressive linguistic skills, to boot.
Despite the recent series of setbacks, thankfully, the tourism industry in Egypt has been carefully protected and well-maintained. The only difference now? Egypt is virtually empty.
FUN FACT #4: Upper Egypt is SOUTH.
The southern region of Egypt is confusingly called "Upper Egypt" as the Nile River is one of the few rivers that flows from south to north. Since most rivers typically flow from the north, earlier populations assumed this was the case for the Nile, thus "Upper Egypt" was born.
5. Egypt will welcome you with arms wide open — and borders, too. 
With many of us eagerly plotting our first big trip since Covid began, we can't recommend Egypt enough. Egypt's borders (at the time of writing) are currently open to tourists, with certain rules and precautionary health measures in place.
The tourism industry in Egypt is incredibly well-developed country-wide, and this Middle Eastern country is already warmly welcoming travelers back. 
With tourism still depressed due to Covid, travelers who make the journey in 2021 will benefit from a uniquely less-crowded experience combined with the exceptional hospitality of an established travel destination. 
FUN FACT #5: If you can't take the heat, visit in winter.
Egypt can be gruelingly hot — but this isn't the case all year round! Temperatures in December and January can be in the 60's (Fahrenheit; 15+° C) during the daytime and drop to 50° F/10° C in the evenings. Consider traveling during these months if you prefer a layer or two over the blistering sun.
6. Last but not least: Yes, it is safe to travel to Egypt.
Whenever I discuss traveling to Egypt, friends always tell me the same thing—they've always wanted to go, and can't wait to finally visit "when it's safe." Since this is a common concern, we want to address the topic head-on to hopefully reassure you that yes, it is safe to visit Egypt!
What do we mean by 'safe'? Egypt is safe in the sense that it is not likely to present a greater danger than traveling to most other countries. The US Department of State has a Level 3 travel advisory for Egypt as of this writing. That's the same level as the vast majority of other countries including Canada, France, and the Seychelles.
We always recommend checking your government's travel advisories to any country before planning a trip, especially during Covid. In addition, some best practices for safe travel to Egypt and elsewhere include avoiding political protests or rallies, closely watching valuables, and being alert and attentive to your surroundings.
Egypt is also still considered a developing nation. Travelers should keep an open mind, level set their expectations, and be mindful of the political environment. (Stay tuned for our upcoming tips for traveling to developing parts of the world).
When in unfamiliar territory (quite literally), it is understandable to feel unsure and uneasy at times. Questioning your safety can certainly be enough to negatively impact a trip. You should never travel to destinations you're not sure you'll feel safe visiting.
So what's our verdict? More adventurous travelers, who feel secure in exercising caution and stepping outside of their comfort zone, should feel that Egypt is safe to visit — or at least as safe as Nepal.
That being said, for many of us, the do-it-yourself attitude really might not suit you here, and that's perfectly okay! Solo female travelers especially might prefer to visit Egypt in a small-group setting with a local guide. Guides will ensure you have the best possible experience by letting you comfortably soak in the incredible details of your trip without any of the residual stress that can come from traveling independently.  
To recap, Egypt should be at the top of your bucket list because it's simply a great destination!
You'll learn about one of the most ancient cultures the world has ever known
You'll appreciate stunning natural landscapes
You'll find reassurance in knowing that your choice to visit will leave a meaningful impact in helping to repair a depressed economy
These three factors are conveniently aligned with sustainable tourism, which should make your journey all the more gratifying. In addition, with Egypt's well-built tourism infrastructure and open borders, it is a safe destination for adventurous and attentive travelers to explore.
For those ready to take the plunge and visit Egypt, contact us and we'll help you find a responsible, local operator to organize your trip.