Diversity in Travel: Inclusive Resources for Travelers & Tour Companies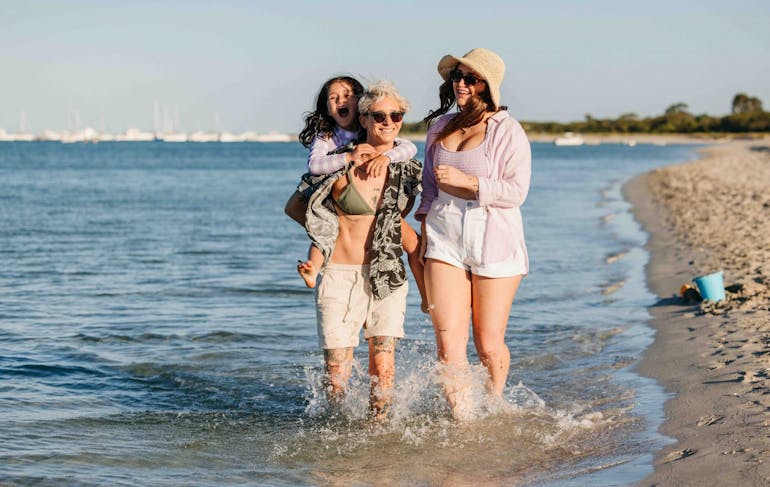 Diversity in Travel: Inclusive Resources for Travelers & Tour Companies
Let's talk about diversity in travel. Overwhelmingly, media images of travelers are white, cis couples and families. Put simply: that doesn't fairly represent the travel market. Travelers of all colors, ethnicities, genders, sexual orientations and preferences are looking to explore the world. They have the means to do so, and just like many travelers, will spend months dreaming and planning. Unlike many (white, cis) travelers though, travelers from underrepresented or marginalized groups also research topics such as physical safety and whether or not it's OK to show physical affection to their partner in public.
We attended the International Women in Travel and Tourism Forum in London in June 2022. The sold-out conference brought together women, men, and nonbinary humans who shared anecdotes of vulnerability, strength, pride, and humor. Bubbling with positivity, the panels featured inspiring speakers who gave poignant advice on building a more diverse and inclusive travel and tourism industry. Words of wisdom interwove across four themes:
Leadership
Diversity, Equity, & Inclusion
Talent Management
Male Allyship
Changing the tourism industry for the better is all of our responsibility: travelers and travel companies, CEOs and new graduates, women, male allies, and every gender and skin color in between. There is much to be done. Below, we recap some of the most meaningful resources and initiatives dedicated to making the travel industry more diverse and inclusive.
(As an aside: Have you tried Googling "inclusive travel" lately? If yes, you will have seen results flooded with references to "all-inclusive resorts," "all-inclusive package holidays," "best all-inclusive travel deals," etc. While this is likely the information travelers are looking for, it highlights how far we have to go to shift travelers and companies toward thinking of and using the word 'inclusive' to mean 'inclusive of all travelers' – not just inclusive of drinks at the swim-up bar.)
What does "Diversity and Inclusion" mean?
Hayley Bowd of Expedia Group used this handy example to explain the difference between not only diversity and inclusion but also acceptance and equity.
Diversity: Being invited to the party
Inclusion: Being invited to dance
Acceptance: Being able to dance how you want
Equity: Getting to help make decisions about the party, i.e. what type of music to play
Diversity in Travel: What can Travel Companies do to be more Diverse and Inclusive?
In the travel and tourism industry, diversity, equity, and inclusion (DEI) reflect in two areas:
How companies can create a safe and welcoming work environment for diverse employees
How companies can thoughtfully cater their marketing, tours, accommodations, and activities to diverse travelers
Below covers several actionable tips we have compiled for travel companies to improve their diversity & inclusion efforts:
Lead by example
Publish a DEI statement
Make diverse hires
Represent diverse travelers
Choose your language carefully
Engage with your local community
Encourage male allyship
Lead by example:
First and foremost, recognize that DEI should not be a competitive advantage – it should be the norm. DEI needs to be collaborative and come from the top down. We need industry leaders leading by example. Leadership initiatives could include:
Proactively find ways to listen to employees and people from under-represented backgrounds (this could include signing up for newsletters or reading books that highlight diverse groups of people – you'll find specific suggestions as you keep reading)
Creating space for change to occur
Having leadership in the room for events and workshops designed to create a more inclusive environment
Publish a DEI statement:
Publishing an easily-discoverable DEI statement on your website is low-hanging fruit for companies. A DEI policy is becoming increasingly common, and it's a tangible way to begin showing support. Young panelists at IWTTF critically pointed out that: what companies are actually doing is more important than what their policy says they're doing. This point is especially true for job-seekers looking to land a job in the travel industry, and also beginning to factor more into travelers' decisions about which companies to buy from. The concept of consumers wanting to support good, ethical companies is not new, so attention on travel companies' commitment to diversity and inclusion will likely become even more fixated.
Make diverse hires:
Travel is a people industry, and diversity within your company is necessary to better understand and include diverse travelers in your marketing and trips. When thinking of diversifying your hires, keep in mind two less traditional profiles:
There is significant latent talent amongst those formerly incarcerated. Reminder: incarcerations disproportionately affect people of color and are also disproportionately for non-violent offenses.
Only 5% of disabled people are working, but many more could and would want to work.
Ideally, companies should create a supportive space where they can attract the right talent, engage them, and then retain them. Here are several other tips for travel companies looking to hire diverse teams. 
Do blind CV reviews – don't be biased by names or pictures.
Consider where you are posting the job. Will a diverse crowd of applicants be able to find it? (Hint: Organizations like the Black Travel Alliance allow you to post opportunities to their job board for free – donations accepted.)
Make it abundantly clear to prospective employees where you are with your DEI efforts and what you still need to do. As Ella Paradis of The Black Explorer said, "Not everybody wants to be a guinea pig."
Represent diverse travelers:
Representation matters! DEI travelers want to go everywhere – yet are often overlooked or not marketed to directly. Companies are doing themselves a disservice if they ignore the multitude of travelers that don't fit within the confines of a typical white couple or family. It's also important to realize that DEI travelers are thorough with their research, especially regarding physical safety.
Two important stats:
Black leisure travelers from the U.S. spent USD $129.6 billion in 2019, according to a report done by MMGY Global
71% of U.S. & Canadian Black travelers felt safety was extremely or very influential in their destination selection, according to the Black Traveller Report by MMGY Global
To show both employees and potential customers that diversity and inclusions are important to you, consider things like:
Using diverse images on internal company pages as well as in external marketing
Using diverse emojis on social media posts
Including details about physical safety for DEI travelers on tour or activity info pages
Including details about the acceptance of same-sex couples in destinations
Highlighting tours and activities owned, run, or led by women, people of color, those in the LGBTQ community, and other under-represented groups
Here are two examples of commercials that airlines have developed to show inclusivity toward others:
In their "See the world differently" commercial, Virgin Atlantic shows that it's OK for employees and travelers to come as they are.
In this heartwarming "Calling All Mavericks" commercial from EasyJet, they challenge gender roles in the aviation industry in this comedic parody of Top Gun.
Choose your language carefully:
In addition to choosing the images used carefully, companies should also think critically about the words and phrases used internally and externally for their travel business. Stop using phrases like "colonial charm" – colonialism wasn't charming. Ask yourself if some language might be exclusionary or offensive to an under-represented group of travelers.
Engage with your local community:
Diversity and inclusion are huge topics, so don't think your company needs to make strides in isolation. It is strongly encouraged to find a way to involve the local community in your efforts. If your company has the resources, find local initiatives to promote, volunteer with, or contribute a donation. Another option is to reach out to tangential organizations to drive meaningful change.
A successful collaborative example comes from The Travel Corporation, TreadRight, and Tourism Cares. They've partnered on the Pathways Project, which "aims to increase the representation of Black, Indigenous, and other historically underrepresented individuals in travel and tourism, with a focus on integrating program participants into roles in the guided tour space. " Pooling resources can create a faster and more meaningful impact.
Encourage male allyship:
Allyship can be summarized as empathy combined with support. All under-represented groups need allyship to make progress toward equality. Allyship can be practiced both in a moment and over time, and individuals can do small things on a day-to-day basis to make a change. Male allyship is necessary, especially in the context of supporting women. Women in Travel notes, "Male Allyship is critical in a sector where globally some 60% of the workforce is female but only a minority (30% at most) achieves senior to board level positions."
Men need to lead by example and be engaged in the conversations about the challenges women face in the workplace, especially if the women are also part of a further under-represented group (such as Black or queer) Companies committed to having a diverse and inclusive workplace cannot overlook the issue of gender balance, and creating space for true male allyship is a great place to start.
As an example of a male allyship initiative, look at what Women in Travel is doing. They've created a male allyship network that men can join here, and some of these men will become part of the Male Allyship Mentorship program, where they'll be paired with women in the travel industry. It is a two-way street of learning, as men hear first-hand some of the obstacles women are facing, and women are lifted up to progress with their travel companies or in their tourism careers. Women in Travel also provides access to an allyship video and workbook here.
Diversity in Travel: Resources for a More Diverse and Inclusive Travel Industry
Here are a few resources companies can use, donate to, or take inspiration from to think of how they can actively support the mission to make travel and tourism more inclusive.
Use: Celebrity Cruises worked with diverse photographers around the world, including Annie Liebovitz, to produce an open-source photo directory of inclusive travel photographs. This all-inclusive photo project "tackles under-representation in travel" and includes beautiful pictures of travelers of all colors, sexual orientations, and abilities. Open-source means that travel companies are allowed (and encouraged!) to use these images.
Donate to: Women in Travel is a social enterprise dedicated to "providing all women – especially marginalized, vulnerable, and underrepresented – with visibility, confidence, (and) access to training" related to the travel and tourism industry. Their main programs include mentorship, employability, and entrepreneurship. In addition, they foster a multicultural community and create a space for male allies to be part of the conversation. 
Take inspiration from: Moonlight Experiences, led by Aisha Shaibu, which focuses on queer joy and empowerment: "We are connecting global queer travelers with locals and supporting communities. Profits from our experiences and events go towards venues, creatives, and uplifting queer women, non-binary, and Black/POC around the world." They have "unique activities for travelers, locals & corporate groups. Designed to celebrate, support LGBTQI+ communities, and uplift queer BIPOC, women, and marginalized voices whilst having fun along the way." Find their experiences in London, Paris, Lisbon, Amsterdam, Barcelona, New York, Atlanta, Johannesburg, Lagos, and Accra.
Diversity in Travel: Resources for and about Black Travelers
The below resources can help travel companies, Black people working or aspiring to work in the tourism industry, and travelers of all colors to better understand, cater to, and support Black travelers.
Black Travel Alliance
The Black Travel Alliance's mission is to "support Black content creators around the world and increase their representation in the travel industry." It's a non-profit created in 2020 and has already won multiple awards for improving diversity in the travel industry. Designed to "encourage, educate, equip and excel Black travel professionals" the BTA has a free job posting board for companies to leverage to attract Black talent, puts on events, and provides resources including industry reports and tools for Black content creators. 
Travel companies: Post your jobs to the BTA's job board! Also, sign up for their newsletter to keep abreast of news within the Black travel community.
The Black Explorer
The Black Explorer is a "print magazine and multimedia company amplifying the voices of Black travelers worldwide." They provide a forum for Black travelers to have their stories told and heard. Stories of Black travelers include articles on life as a Black expat, Black travel history, and personal journeys of travelers who visited places from Bissau to Brazil.
Travel companies: Buy their magazines to create a path of listening to the voices of Black travelers.
Black Travel Writers
Reading books by Black travel writers is highly recommended. The intersection of travel and race is, unfortunately, lacking in the book department. This makes it all the more important to spotlight Black travel writers to hear their stories. For Black travelers, there will be plenty to relate to and inspire your future travels. For travelers of any other color – but particularly White – reading books by Black authors is a good step toward being 'actively anti-racist'. Increasing awareness of the situations and feelings encountered by Black people when traveling will enrich your understanding of the progress made regarding travel and race, and open your eyes to the work still to be done to make travel more inclusive for all.
A few of our suggestions are below:
Raceless: In a Search of Family, Identity, and the Truth about Where I Belong by Georgina Lawton. Raised by white parents in Ireland, Lawton discovered her Nigerian roots later in life, during university. She began traveling to find more people who looked like her and (re)connect with her identity. Simultaneously, she noticed that she didn't see many other people who looked like her while she was traveling. She earned jobs as a remote writer and started documenting her experiences. A captivating storyteller, this book will take you through race, travel, and identity on her journey of self-discovery.
Traveling While Black: What it's like to travel the world independently as a Black person by Roobens Fils. Fils captures his experiences as a Black male traveling the globe and documents the stereotypes and entertaining anecdotes he encounters along the way. Reading this book will feel like you're having a free-flowing, casual chat with the good-natured author and may inspire you to reflect and challenge your preconceptions or assumptions about Black travelers.
Traveling While Black and Lesbian by Khanyisa Mnyaka. With the already-too-small intersection of travel and being Black, Mnyaka further navigates complexities as a lesbian traveler. This memoir shows readers how and where travel seeps into major life moments for Mnyaka, and how it can help all of us to live authentically.
We hope this post has been informative. Companies and travelers can be a catalyst for inclusive change and improved diversity in travel. We have even more resources linked here.
If you have resources you'd like to see included here, leave them in the comments, and we will review all suggestions!
Last but not least, check out some of our trips below that are run by women-owned partners of ours, and view all trips by women-owned partners here.
This post contains affiliate links. This means we may earn a small commission, at no extra charge to you, if you purchase something from one of our links.