5 Eco-Friendly Products for Sustainable Travelers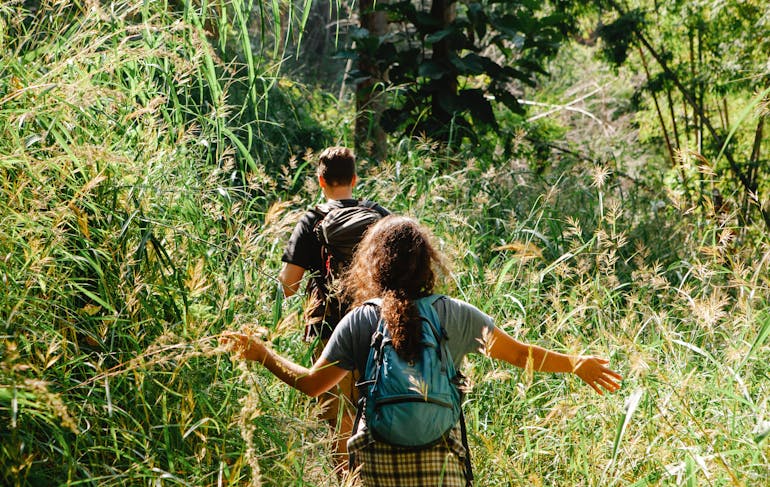 5 Eco-Friendly Products for Sustainable Travelers
After nearly a year of travel restrictions, many of us are wondering if we'll ever take a vacation again. However, with 2021 promising to be a slightly more optimistic year, we could be booking a trip abroad and packing our bags very soon. While traveling can have an impact on the environment, it's important to try and be as sustainable as possible — whether that's traveling by train, staying in an eco-house, or packing eco-friendly products. 
As you start planning your next trip, I wanted to share my top five eco-friendly travel products with you.
1. Solar-powered mobile phone charger
A solar-powered charger for your mobile phone is a great eco-friendly accessory if you're traveling to a sunny destination and want to use solar energy instead of electricity. It's also very useful if you have a long trip and don't want to risk running out of battery. 
The Blavor – solar-powered bank is durable, cable-free, and compatible with a range of mobile phones from iPhones to Samsung Galaxy models. However, it's not just a solar charger, it also has dual flashlights and a compass tool, making it quite useful on vacation.
2. Reusable coffee cup and water bottle
Billions of disposable coffee cups and plastic water bottles are used and thrown away every day. Many of which end up littering our streets and polluting our oceans. 
Most of us buy a lot of disposable coffee cups and water bottles on vacation. But it's so simple to use reusable ones instead and avoid plastic waste.  
Huski makes great 400ml and 500ml travel coffee cups. They have leak-proof flip lids and a non-slip base ideal for hot or iced beverages on the go. The cup also has twin walls to keep your drinks warmer for longer without burning your hands, and insulated to keep hot drinks at an optimum temperature for up to 90 minutes.
There are loads of good reusable water bottle brands on the market. Chilly's is a popular choice with its range of brightly colored bottles that come in different sizes.
3. Eco-friendly toiletry (wash) bag and soap bars
Most of us take far too many plastic shower products on vacation. But the good news is there are some great eco-friendly alternatives you can buy instead.
OneNine5 has developed a unisex toiletry bag (wash bag) made from recycled materials. It comes in a range of colors: blue, pink, and grey, and is biodegradable and recyclable. A standout feature is their detachable clear liquid bag with easy-release magnets which can be used to take through airports instead of single-use clear plastic bags. This is to try and reduce the 150 million single-use plastic bags that are used each year.  
Soap bars are also handy eco-friendly travel products.
4. Bamboo toothbrush, razor, and hairbrush
Bamboo products make useful eco-swaps for some of our everyday plastic products. They're durable, sustainable, and hygienic. Bamboo is also 100% biodegradable and can decompose within months or years; the exact time varies for different bamboo products. This biodegradable quality makes it a great replacement for plastics. You can also recycle bamboo products provided they haven't been chemically processed.
So don't forget to pack a bamboo toothbrush with you when you go on vacation. They have a robust head with bristles made with bamboo charcoal fiber. Many bamboo toothbrushes have replaceable heads, so you can still refresh your bristles without needing to buy an entirely new toothbrush. Bamboo toothbrushes clean your teeth just as well as plastic toothbrushes, if not better. Great bamboo toothbrush brands include Bambooi and Hydrophil. 
Why should you avoid plastic toothbrushes? Eighty percent of them end up in the ocean and are often consumed by marine life, harming and killing them. In landfills, they can take thousands of years to decompose and release nasty chemicals in the process. 
Other bamboo products you could consider for traveling include a bamboo razor with recyclable blades and a bamboo hairbrush.
5. Eco-friendly, reef-safe sunscreen
Sunscreen is one of the best ways to protect your skin, no matter the weather. We should think about protecting the environment at the same time.
Especially if you're traveling somewhere hot, be sure to pack an eco-friendly sunscreen that contains all-natural products and no toxic chemicals or microplastics that could damage your health and impact the environment. Sunscreen can also be both vegan and organic.
Shade natural sunscreen is SPF 25 and is blended with shea butter coconut oil, beeswax, and zinc oxide. It offers reef-safe sun protection and comes in a tin with no plastic packaging.
Amazinc, mineral butter sunscreen is a natural, vegan, SPF 30 sunscreen with a buttery texture that provides safe sun protection. It contains almond butter to help soothe dry skin, while the Amazinc Mineral Shield Light provides natural sun protection that is reef-safe and harmless to marine life. 
Alphanova is another great brand using clean, biodegradable ingredients; and they donate 1% of revenue to associations working to protect coral.
Try to avoid sunscreens that contain toxic chemicals and parabens which can be harmful to your health and the planet.
Oxybenzone, one of the most commonly used sunscreen chemicals, is linked to endocrine disruption, organ system toxicity, contact allergies, and photoallergies. It is also harmful to aquatic life. 
Octinoxate is a UV filter that protects from UVB rays, but not UVA sun rays. It is linked to endocrine disruption, reproductive toxicity and harms coral reefs.
Homosalate absorbs UVB rays to prevent direct skin exposure. The chemical is linked to hormone disruption and is persistent in the environment, meaning it doesn't break down readily.
Eco-friendly Products Make Your Trip More Sustainable
While going on vacation can be considered impactful to the environment, there are so many ways you can make your trip more sustainable.
Making simple eco swaps with your travel accessories is a great first step to help clean up the planet. If everyone started taking even smaller steps in a more sustainable direction, then we'd go a long way to make our vacations as sustainable as possible and help reduce the impact of climate change. For more eco-friendly product suggestions, sign up for our newsletter to receive a free sustainable packing list. 
This post contains affiliate links. This means that if you buy a product after clicking our link we may earn a small commission at no extra cost to you.