Serengeti & Ngorongoro Safari
From $2,900 pp
Bookable From

June - October December - March

Trip Style

Privately Guided
Overview
This ethical and carbon-offset safari in Tanzania will take you through the Serengeti National Park as well as the Ngorongoro Conservation Area.
Tanzania is one of Africa's top safari destinations. The wildlife viewing is out of this world and big cats are especially easy to see. All members of the Big Five (lion, leopard, rhinoceros, elephant, and buffalo) can be found in various Tanzanian parks and reserves. All five are also present in the Ngorongoro Crater and Serengeti National Park. The Serengeti and the Ngorongoro Conservation Area are UNESCO World Heritage Sites. The Ngorongoro Crater, in the conservation area, is well-known for being the most enormous undisturbed volcanic crater in the world. It is also known for attracting many popular big game animals, which makes it great for safaris.
This is a 6-day ethical safari where you'll spend 2 nights in the Serengeti, 1 day and night exploring Ngorongoro and visiting the crater, and 2 nights in Arusha.
Highlights
Mid-range safari tour (stay in lodges & tented camps)
Visit the Serengeti National Park
Visit Ngorongoro Conservation Area & crater
See the Big 5 safari animals
Guaranteed departure
Support an ethical company
Almost 40% of Tanzania is protected and set aside for conservation, which means that it's easy to go on a Tanzanian safari for extended periods of time and drive from park to park while rarely leaving the bush.
Safaris can range from 2-6 days and may cover Serengeti, Ngorongoro, Manyara, and Tarangire National Parks. If you prefer a shorter safari, a budget safari, a luxury safari, want to visit different national parks, want to join a women-only safari, and/or want to add your safari onto a Mount Kilimanjaro climb, contact us to customize your Climb & Safari package. We can also help with the following special safaris:
Wildebeest migration safaris (available December to March)
Hot air balloon safari option in the Serengeti
Family-friendly safaris
We respect the animals on our game drives by not feeding them and informing our guests about the consequences of feeding the wildlife. We never lead hunting safaris or participate in off-roading, which can kill some species.
Seasonal Notes
The best time for big game viewing on a safari is June through October, January, and February. June through October will have less rain than December to March. Temperatures are relatively consistent year-round (around 75-80°F / 24-27°C), being on the warmer end from December to March.
Please ask us about safaris to Manyara and Tarangire National Parks. Visiting these parks can help with tourism dispersal and provide a more tranquil, unique safari experience.
Itinerary
Day 1

Kilimanjaro or Arusha Airport [Tanzania] (arrival day)
Arrive at the Kilimanjaro International Airport (JRO) or Arusha Airport (ARK). You will be met by our guide at the airport who will pick you up and transfer you to the hotel in Arusha.

Accommodation: Tulia Hotel or similar accommodation in Arusha
Room plan: Double Occupancy
Day 2

Serengeti National Park
After breakfast, we head towards the central Serengeti National Park, also known as the Seronera. We descend into the heart of wild Africa – the Serengeti National Park – with its endless plains, rolling into the distance as far as the eye can see. We head to the Seronera area, one of the richest wildlife habitats in the park, featuring the Seronera River, which provides a valuable water source to this area and therefore attracts wildlife well representative of most of the Serengeti's species.

Accommodation: Embalakai Tented Lodge or similar tented Camp in Central Serengeti
Room plan: Double Occupancy
Included meals: Breakfast, Lunch, and Dinner
Day 3

Serengeti National Park
On this day you will spend your time at the Serengeti plains doing game drives. Here you can do the early morning game drives if you so wish. This will allow you to see nocturnal species retire from a night out and the diurnal majority waking up for a new day.

Accommodation: Embalakai Tented Lodge or similar tented Camp in Central Serengeti
Room plan: Double Occupancy
Included meals: Breakfast, Lunch, and Dinner
Day 4

Serengeti - Ngorongoro Conservation Area
After breakfast in the morning, we drive back slowly through the Central Serengeti with game viewing on the way until Naabi Hill Gate where we check out the Serengeti National Park.

We will go to the Ngorongoro Crater Rim. You will have a chance to visit the Olduvai Gorge or Maasai Village (at extra costs) if you wish. After arriving at Rhino Lodge drive to the starting point on the Crater rim about 5 kilometers from Rhino Lodge. The walk is along the Western rim of the Crater past the Oloirobi viewpoint. There are patches of forest, to begin with, and later it opens up into thicket and grassland, giving beautiful views down into the Crater on your right and eventually equally good views towards Olduvai Gorge, the Serengeti and the Gol mountains to your left. This is an easy-paced walk with no arduous climbs, just a few short gradients. It lasts about 2 hours and can be done at any time of day.

Accommodation: Rhino Lodge
Room plan: Double Occupancy
Included meals: Breakfast, Lunch, and Dinner
Day 5

Ngorongoro Crater - Arusha
Very early morning we drive down the Ngorongoro Crater walls to the Crater floor where we will spend the better part of the day doing game drives in this 8th wonder of the world also referred to as the Eden of Africa. Here we will get the chance to spot the animals that we might have missed at Serengeti with a little luck you can spot the Big 5 that is; Elephants, Lions, Leopards, Buffaloes, and Rhinos, in a single day's game drive and in the late afternoon we will head to Arusha and this will be the end of the safari.

Accommodation: Tulia Hotel or similar accommodation in Arusha
Room plan: Double Occupancy
Included meals: Breakfast and Lunch
Day 6

Arusha (departure day)
We will transfer you from the hotel to Kilimanjaro International Airport (JRO) where you will fly back home. If you have more time, you can extend your tour to Kilimanjaro and Zanzibar for an additional cost.

Included Meals: Breakfast
Route Map
Inclusions & Exclusions
2-way transfer to/from Kilimanjaro Airport.

2 nights in a Moshi hotel.

Transport and wildlife drives in a modified 4 x 4 Land Cruiser with a photographic roof hatch.

Professional, licensed, English-speaking safari guide.

6 breakfasts, 5 lunches, 4 dinners.

Full boarding at safari lodges or tented camps as per itinerary.

Wine & beer during the safaris.

03 x 0.5L mineral water per person per day during game drives.

All wildlife reserve entry fees.

Tanzania 18% VAT on tourism activities and park fees.

Carbon offset certificate.
International flights to/from Tanzania.

Extra nights at the hotel (ask for pricing).

Any meals not mentioned in the itinerary.

Drinks and beverages in the Moshi hotel.

Drinks and beverages at the safari lodge.

Airport taxes (amount depends on where you're flying from).

Visa fees, to be paid upon arrival (ranges from $50 to $100 USD).

Snacks, personal medicine, and water purifying tablets.
Pricing
Prices exclude flights to/from the destination.
Prices are for double room occupancy unless indicated otherwise.
TIPPING RECOMMENDATION
Safari Guides & Lodge Staff - please tip ~$30-50 USD per day per car. Cars hold 4-7 passengers.
Price can change if you request itinerary customizations or prefer budget or luxury accommodations.
Price is the same for Private trips (where you request a departure date) and Small-Group trips (where you join a pre-set departure date).
Request discounted prices for children according to their age. Children under 2 are free.
Deposit per person

30% of the trip price

Shared Room - sleeps 2 - price per person

Price for 2-12 guests traveling together: $2,900 pp

Private Room - sleeps 1 - price per person

Price for a solo traveler: $4,100 pp
Optional Add-ons
Visits to the Olduvai Gorge or Maasai Village: ~$30-50 per person.
Hot Air Balloon Safari: ~$600 USD per person; typically starts around sunrise and lasts for 3 hours. Can be done on the first safari day, in the early morning, and then travelers can meet up with the game drive.
Sustainability
Environmental sustainability is at the forefront of our company's mission. We believe that tourism should not come at the expense of the planet's natural habitats, cultural heritage sites, and communities. As such, we are committed to organizing responsible and ethical tours that promote conservation and sustainable tourism. We are proud members of Carbon Offsetting Tanzania and offset the carbon impact of every wildlife safari we offer. In addition, we provide Leave No Trace Tanzania training to our workers and donate some of our profits to planting trees in Moshi. We also do not condone animal slavery, cruelty, or luring through bait during our wildlife experiences.
Our economic practices reflect our commitment to ethical and fair tourism. We have created employment opportunities for over 400 locals, including porters for our ethical Kilimanjaro climbs, guides, and chefs, which helps with Tanzania's unemployment problem. We profit-share with the community to ensure that tourism benefits everyone. We also ensure fair and ethical wages for all our staff and do not exploit any of our crew. We also support disabled children, help fund the building of schools, and provide financial education to our staff.
Sociocultural sustainability is essential to us. We aim to combine community development with cultural tourism and conservation. We believe that tourism should make places better for people to both live in and visit. Therefore, we ensure that our prices reflect fair and ethical wages for all and that the community benefits from the tourism revenue as well. For every client, we ensure one child in Moshi gets health insurance for one year. Furthermore, we stay at lodges that use renewable energy and serve local and organic food to guests, thereby supporting the local economy and reducing our carbon footprint.
FAQs
What does the Physical Rating of "Easy" mean?
Safaris are done from the comfort of vehicles, but clients may choose to do safari walks if they want.
What is the accommodation like?
This is a mid-range tour that includes 3 to 4-star hotels. If you prefer a budget tour with 1-2 star hotels, hostels, and campsites, reach out to us for pricing and accommodation options. If you prefer luxury safari accommodations, let us know.
Is this tour fully escorted?
Yes, this trip is fully guided either by a driver who also is a guide, or by a driver and a guide. Your guide will speak English.
Is this trip good for solo travelers?
Yes, it is safe and feasible for solo travelers. Solo travelers can book this as a private tour, or join a Small-Group trip with a fixed departure date.
What kind of a car do you provide?
Game drives are in a modified 4x4 Land Cruiser vehicle, with a photographic, pop-up roof hatch.
Do I need a visa?
Yes, you will need a visa upon arrival in Tanzania.
Reviews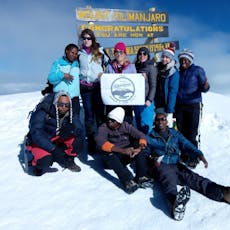 8 Days Kilimanjaro Climb (Lemosho Route) + 4 Days Safari
Hilary assisted me in finding the perfect Kilimanjaro climb and safari! The trip was everything we dreamed of.
Guides and Porters were amazing and friendly and helped us make it to the top as well as see every African animal! Food was good and energizing but repetitive. We were eating for sustenance.
Would recommend Yugen Earthside.