Golden Triangle Cultural Tour
From $700 pp
Bookable From

September - March

Trip Style

Privately Guided
Overview
A weeklong cultural tour of India's Golden Triangle (Delhi, Agra, and Jaipur) is the perfect way to become acquainted with "Incredible India."
How you experience a country as massive as India makes all the difference. Especially great for first-time visitors, this immersive tour introduces you to the main attractions and hidden secrets behind the scenes. Our storytelling and cultural immersion enhance your experience and put this tour a class apart from just sightseeing. From walking tours to craft experiences to food tasting and spirituality, this is a holistic introduction to India.
Highlights
Golden Triangle tour of the highlights: Delhi, Agra, and Jaipur
Beautiful homestays with families in Delhi and Agra
A stay in a vibrant hotel in Jaipur
Walking tours focused on food and heritage
Visit craftsmen
Participate in hands-on workshops
Special emphasis on storytelling
Participate in Indian festivals with the families (see Seasonal Notes)

This tour is perfect when you have a limited number of days (7-10) to spare. On this private tour of the Golden Triangle, you will experience not only the main monuments but also those hidden secrets about the three cities that tell the entire story behind their history and current society. For example, it is incomplete to see the Taj Mahal itself unless you do a storytelling tour of old Agra and visit the busy streets just the way locals do. You can choose from a range of activities within the ethos of sustainability and customize your tour of the Golden Triangle.
Normally, we do this tour in a private car. But you can get it customized for train journeys also. Speak to us for your customization needs. You can also opt to combine this tour with an extended tour of Rajasthan or a tour of Uttarakhand in the Himalayan foothills.
5 reasons why you should not miss this cultural trip to the Golden Triangle:
By visiting the capital city of Delhi, your senses will rejoice with tasteful street food, stunning views of UNESCO World Heritage sites as well as colorful and vibrant markets.
Storytelling makes your experience far more enriching than what typical tours and websites say about the Taj Mahal and other monuments on the tour.
Your cultural understanding of India will be highly broadened, as you will participate in local festivities, see traditional handicrafts of marble inlay and embroidery, and stay at charming homestays. As India is a culturally diverse destination that attracts people from all over the world, you will also see traditions and practices from many different countries.
The block printing workshop in Jaipur uses the traditional technique of printing patterns on fabric using carved wooden blocks. This workshop connects you with the artist within you.
Our walking tours give you a pleasant introduction to spirituality in multicultural and religiously diverse India. See daily morning rituals at beautiful temples from a local´s perspective.
Seasonal Notes
The best time to visit India is between September and March. During this period, the weather is pleasant and comfortable. It is usually sunny and dry, with cooler temperatures in the north and more moderate temperatures in the south. Besides, India's important festivals, such as Diwali, Holi, and Dussehra, also take place during these months. Diwali is in November, and Holi is in March; exact dates vary every year.
Summers (March to June) can be scorching hot, with temperatures soaring above 40°C (104 °F) in northern India. During the monsoon period (June to September), there is typically heavy rainfall, which can often lead to flooding, landslides, and transportation disruptions.
Although September through March are months in which tourist influxes abound, this trip takes you to off-the-beaten paths and offers local accommodations, making it possible to avoid crowded places and enjoy your stay in India.
This private tour happens on a date of your choice.
Itinerary
Day 1

Delhi [India] (arrival day)
Arrive in India and your private chauffeur will be at the airport to receive you. Spend the first day at leisure recovering from the jetlag. Start the trip with an introduction to India's strong family structure as you stay in a homestay with a hosted vegetarian dinner.
After check-in, you can choose to relax at the homestay or explore the neighborhood on your own. We recommend:
1. A short ride in the Delhi metro.
2. Hauz Khas village market.
3. Grab a snack at one of the South Indian restaurants.
4. Dilli Haat, the artisan's market.
After breakfast, we start the day with a tour of Old Delhi which has a rich history, culture, and delicious food. The storytelling on this tour takes your experience to the next level. Visit the jewel, textile, and spice markets and taste 5-6 different types of vegetarian food items.
 Old Delhi is a sensory overload, in a pleasant way, that puts you right in the middle of all the action. This is the place where local women buy Indian clothes, including sarees, salwar kameez, and lehengas, along with accessories such as bangles. The bustling atmosphere, people haggling with shopkeepers, and the pure vibrant energy of the place will keep you busy for the next few hours.
 Highlights for the afternoon are –
 1. India Gate (a war memorial of the Indian soldiers who lost their lives in WWII).
2. President's palace.
3. Qutub Minar.
4. Gurudwara Bangla Sahib.
 Since this is a private tour, you can ask for your places of interest and we will be happy to customize. Our team makes these monument visits exceptional as they share behind the scene stories that you may seldom find in popular media.
Day 3

Delhi to Agra (215 km): Taj Mahal + Artisans tours
After breakfast, we drive from Delhi to Agra and arrive in the afternoon. Your stay in Agra is again in a beautiful homestay. Take a brief rest before we go visit the artisans of marble inlay work where they painstakingly handcraft marble artifacts with colorful stones. This is the same art form that you will eventually see inside the Taj Mahal.
 Visit the artisans of intricate embroidery work and try your skills at making a small design on a piece of cloth.
 If artisans' tours are not your style, try these other options –
Cycling tour through the villages and countryside.
A cooking session with a family.
 Having done these tours, you have set the stage for a spectacular sunrise tour of the Taj Mahal the following day.
Day 4

Agra to Jaipur (250 km)
Lo and behold! The sunrise tour of the Taj Mahal will leave you in awe as the first rays fall on the monument. The white marble mausoleum is one of the Seven Wonders of the World due to its stunning architecture and intricate marble inlay work.
 While the Taj Mahal is known as a monument of love, we also share with you the lesser-known stories of military and economic power struggles in the emperor's courts. From debunking myths to the stories of architectural engineers to the design inspiration from Central Asia, this guided tour will take you from one surprise to the other.
 After breakfast, we check out and drive onward to Jaipur.
 En route, we stop at the Abhaneri stepwell and the Harshat Mata temple complex. Go beyond the architectural wonder and know the history of invasions and how the communities spectacularly rebuilt the place. If you are interested in early 9th-century temple carvings and the stories behind each depiction, this may just be the right tour for you.
 Arrive in Jaipur by evening with the rest of the time at leisure.
Day 5

Jaipur City Tour + Spiritual Tour
We start with an early morning spiritual tour. Visit the flower markets and temples just like the locals do before the prayer ceremony begins. En route, visit the Hawa Mahal (palace of wind) and see two different types of temple architecture. End the tour with a priest singing devotional hymns and a cup of tea.
Return to the hotel for breakfast.
Highlights for the rest of the day –
1. Amber Fort.
2. City palace.
3. Water palace.
4. Nahargarh Fort.

If you want to cut down on the monuments, try one of these options –
1. Artisans' tour with visits to marble masons, bangle makers, and brass workers.
2. Food tour with 7-8 types of vegetarian dish tasting.

All the experiences during the day are guided tours that give you an insider's view of the monuments beyond their visual beauty.
Day 6

Jaipur Block Printing Workshop
 Today is the day to play with colors. No, it is not Holi but we are going for an immersive tour of block printing with the community. This is a full-day tour that takes you through the entire process of preparing the colors and the fixer, boiling, dyeing, and printing.
Start learning as a novice but finish the day with an intermediate level of skill as you print your scarf to take back as a gift from us.
Day 7

Jaipur to Delhi (257 km) (departure day)
It is time to say adieu. Take back great memories and learnings from this holistic tour of India that, we hope, gave you a perfect first introduction to our vast land of diverse cultures.
We drive back to Delhi where we drop you to the airport for the onward journey.
Optional – Take the onward flight from Jaipur airport or a train ride back to Delhi.
--
Note – If you have more days, you can extend this with a longer tour of Rajasthan that gives you glimpses of rural life, deserts, and animal conservation.
You can also consider combining it with either Varanasi or a cultural tour of Uttarakhand in the Himalayan foothills.
Inclusions & Exclusions
Meals: 7 Breakfasts, 3 Dinners
Entry tickets at monuments

Payment gateway fee for international transfers
Pricing
Prices exclude flights to/from the destination.
Prices are for double room occupancy unless indicated otherwise.
Group pricing varies between 2 and 10 travelers; contact us with your group size for a quote.
Please contact us for solo traveler pricing.
Prices are for twin-share rooms (except for solo travelers).
These prices may not apply during Christmas, New Year, Diwali, & Holi.
Deposit per person

$500 pp

Group of 2 Travelers - price per person

$1,200 pp

Group of 10 Travelers - price per person

$700 pp
Sustainability
As an award-winning tour for our sustainable practices, we prioritize responsible tourism by limiting our visitor capacity to 500 per season and embracing the principles of slow travel. We are committed to supporting the United Nations' Sustainable Development Goals, specifically numbers 1, 5, 8, 10, 11, 12, 13, and 15. By doing so, we aim to contribute to a more sustainable future for both the environment and local communities
Environmental Initiatives
This trip is designed to prioritize environmental sustainability and animal welfare. We are committed to adhering to strict standards that ensure no animal-harming tourism. Our focus is on conserving ecosystems and preserving biodiversity during this holiday. We also prioritize low-carbon impact activities and have avoided in-destination flights to minimize our carbon footprint. In order to practice slow travel, we stay for more than one night in accommodations with a sustainable approach.
In addition, we emphasize vegetarian and vegan restaurants to reduce the environmental impact of our food choices. We have taken measures to minimize waste, including avoiding single-use plastics and water bottles.
To trim our carbon footprint, all of our cars are in line with the latest emission standards. However, we always recommend taking trains whenever possible. If our guests choose to travel by car, we ensure that it is an eco-friendly option. We provide all our guests with reusable stainless steel bottles, and hotels use glass bottles in the rooms to further reduce single-use plastics. Our focus is on sustainable eating, and we encourage vegetarian meals as they have more options in India. However, non-vegetarian meals are also available. Our artisan visits ensure that guests only buy sustainable and Indian products, supporting local communities and businesses. Additionally, all of our raw materials for meals are sourced locally to promote sustainability and reduce our carbon footprint.
Our approach to tourism involves steering travelers away from popular tourist destinations and instead introducing them to lesser-known areas. By doing so, we promote tourism dispersal, which can help alleviate over-tourism. Additionally, we educate travelers on responsible behavior in the destination, in order to raise awareness and promote sustainable tourism practices.
Sociocultural Initiatives
We offer a unique and authentic travel experience that connects travelers with the local community and culture. We prioritize meaningful engagement with locals and offer opportunities for travelers to stay overnight with them, providing an immersive experience and a deeper understanding of the local traditions and lifestyle. Besides, in the workshops we do, we engage local craftsmen and marginalized communities.
We are committed to being mindful of local health and natural resources, ensuring that our trips are conducted sustainably and with minimal impact on the environment. We train and employ local guides only, and take great care to hire staff and contractors without any religious, racial, or gender bias, ensuring an inclusive and non-discriminatory work environment.
Our experiences encourage interactions between guests and communities, while also educating both parties about each other's cultural aspects and promoting sensitivity. We offer small groups and private tours to ensure that we do not overwhelm the communities we visit and that each trip is conducted with respect and sustainability in mind.
This holiday goes beyond the typical tourist destinations and offers a deeper connection with the local community and culture.
Economic Initiatives
Your days in India will support local businesses and the local community as a whole, not just a few businesses. With this trip, we provide local employment and fair wages as well as good and safe working conditions.
Our travel company is committed to supporting local communities. One of the ways we achieve this is by training and employing local guides exclusively. This not only helps support the local economy but also ensures that guests have an authentic and insightful travel experience.
In addition, we engage local craftsmen and marginalized communities in workshops that we offer to our guests. This not only provides an opportunity for guests to learn new skills and crafts but also helps support local artisans and makes their traditional crafts visible.
We are proud to have a fair-wage policy that sets higher pay compared to the government guidelines. This ensures that our staff is well-compensated for their hard work and that they can support themselves and their families.
Our employment policy is also gender-neutral and based solely on a person's skill set. This ensures that all individuals, regardless of their gender, have an equal opportunity to be employed and contribute to the local community.
The workshops and conservation centers that we visit on our tours have an agreed payment policy with us, ensuring that everyone involved is fairly compensated for their work.
By purchasing goods directly from local artisans, you can be sure that any income generated goes directly to the grassroots community, helping support local businesses and families. We believe that supporting local communities in this way not only benefits them but also enriches the travel experience for our guests.
All the sustainable practices this trip implements have made it an award-winning one.

FAQs
What does the physical rating of "Very Easy" mean?
We customize the activities based on your age and acceptance of physical stress. But in general, all our holidays are planned and executed at a leisurely pace that is comfortable for you.
What are the accommodations like?
Homestays, BnBs, and hotels as mentioned in the detailed Itinerary. You can choose different hotels also. Do share your preference with us during the initial discussion.
These small businesses are locally owned and operated, with a focus on sustainability. They serve food that is sourced from local and organic farms, and prioritize energy efficiency by using energy-saving lighting and thermal panels. Additionally, they prioritize water conservation by recovering and reusing rainwater.
Is this trip customizable?
Absolutely! You can add more days to it and discuss your requirements with us. This private tour is fully customizable.
How do I get a local SIM card?
It is best to get it from the airport you arrive at. You will require a copy of the passport, the address of the first accommodation, and a local reference number. We will provide a local reference after your booking.
Is this tour fully escorted?
This tour is a mix of guided and unguided experiences. The walking tours are with our storytellers whereas monument visits are self-tours. However, you will have a private car at all times. This tour can also be fully escorted.
What kind of car do you provide?
We provide either a sedan or an SUV depending on the number of people. All cars are air-conditioned.
Is this trip recommended for solo travelers, women, LGBTQ+ travelers, BIPOC travelers?
Yes, our trip is suitable for all groups of people. For solo travelers, we help you set it up as per your budget and preferences. To ensure everyone's safety, this trip is fully escorted and uses trusted accommodations we have worked for at least 5 years. Private rooms are provided and trusted drivers with private cars are hired. All accommodations, drivers, and storytellers are well-trained and personally known to us. We also have women guides and drivers in some places.
What is the tipping culture in India?
Tips may be given to drivers, guides, and tour escorts. We let the guests be free to decide as per their budget.
Reviews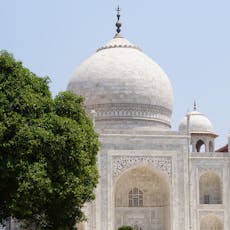 Karl N.
Custom 3-day Tour of Delhi & Agra
Attentive, thoughtful, helpful, reactive… just AWESOME!
I booked a custom 3-day, 2-night tour of Delhi & Agra for my first trip to India. I only wish I had more time to spend exploring! Hilary (Yugen team) and Gaurav (local guide) were super accommodating and helped me make the most of my short time in India.
The transportation was super convenient. From airport pickup to drop-off, a driver or guide accompanied me at all times. Since it was a short trip, I could do/see more with the guided private trip than I would have been able to do on my own.
For accommodations, I stayed with a local family who provided authentic breakfast & filtered water so that I didn't need to use plastic water bottles! They were very kind and welcoming.
Overall, it was a great experience that felt authentic. I strongly recommend booking a guided trip with Yugen Earthside to others, especially those who have not tried this type of travel before.