Rajasthan Cultural Tour
From $1,150 pp
Bookable From

September 1st - April 15th

Trip Style

Privately Guided
Overview
This 2-week cultural tour of Rajasthan blends cultural and heritage experiences, immersion in artisanal communities, and connection to nature and animals.
Rajasthan is perhaps the most frequently visited destination in India for its vibrant colors, the Thar desert, and beautiful palaces. However, what really enhances your experience is the storytelling and visits to the village communities that give you an immersive view of the cultural fabric.
Our Rajasthan Cultural Tour is designed to help you leisurely explore not only the main sights, but also the hidden treasures, such as nomadic shepherds and Bishnoi, Raika, and Bhil communities. It is also our endeavor to create employment opportunities for these communities via tourism.
Visit the local artisans in less commercialized cities, villages, and their homes.  If you wish, participate in various art forms such as miniature paintings, bangle-making, brass artwork, and marble masonry.
Highlights
Live with the community in traditional homestays
Hands-on experiences with weavers, potters, bangle makers, and block printers
Taste local cuisine & hands-on cooking
Village walks and interacting with nomadic communities
Wildlife and desert life experiences
Expect to see heritage homes, carved Hindu temples, ancient ruins, and more. You will also witness showcases of local music and traditional dances in a private ceremony.
In addition to a culturally immersive experience, we take you out into nature to explore the countryside. You will see lakes, stunning waterfalls, and a site of historic rock painting which pre-historic communities used to communicate with one another.
For the animal lovers, we will spend two days with camel herders understanding their nomadic lives. We'll also visit a sheep herding community. There's an optional extension available where you can take a full-day, ethical leopard safari.
Though we offer abundant guided activities, this tour also provides free time for you to leisurely explore on your own.
On request, we can extend this Rajasthan Culture Tour to include visits to Delhi and Agra.
Seasonal Notes
We offer this tour during the best season for it – anytime between September 1st and April 15th each year. Guests choose their desired start date.
Itinerary
Day 1

Jaipur [India]

(arrival day)
- Arrive in Jaipur. We receive, welcome, and assist you to your accommodation.
- Evening tour of the city place followed by a visit to the artisan families working as marble masons, and brass metal artists. Do a hands-on activity with the artisans if you choose to.
Accommodation: Heritage Hotel
- Morning tour of Amber fort followed by a walking tour of the old Amer town with heritage homes and old stone carved Hindu temples. Visit a Rajput family, taste homemade snacks, and visit an artist making traditional bangles.
- Visit the Hawa Mahal and Jal Mahal. *
- Tour of the artisans working as block printers with eco-friendly paints. Do this as a hands-on activity.

Accommodation: Heritage Hotel
Meals: Breakfast

* The places you visit can be customized to add something you specifically want to see.
- Drive to Bundi and check-in to your luxury heritage hotel.
- Afternoon tour of the town. Visit the Bundi palace and fort which is still preserved in its original rustic form. On this storytelling tour, visit and learn about the ancient school of Bundi art and painting style. Explore the various sections of the palace and learn about the lives of commoners, the royalty, men, and women in the erstwhile Bundi kingdom.
- Visit an artist family that works in Bundi paintings for generations and do a hands-on painting activity if you choose to.

Accommodation: Heritage Hotel
Meals: Breakfast
Day 4

Bundi: Village Tour
- Explore the Bundi countryside. Visit the many rustic villages and tribes such as the Bhil and Kalbeliya communities. Visit stunning waterfalls and possibly a few tribal family homes.
- Visit the historic rock-painting sites and fresh-water lakes with storytelling on the communities that did these paintings. Know how the pre-historic communities communicated through rock paintings and get a glimpse into their societies.

Accommodation: Heritage Hotel
Meals: Breakfast, Packed Lunch
- Drive to Udaipur and check-in to your hotel by the lake.
- Spend the first day at leisure. You may choose to explore the lakeside on your own in the evening.

Accommodation: Hotel
Meals: Breakfast
- Half-day tour of the markets and artisans, and taste some of the delicious local food. Visit tie-and-dye artisans and see how the cloth is transformed by printing beautiful patterns in indigo color.
- City tour – Visit the city palace, Jagdish temple, and museum of vintage cars. *

Accommodation: Hotel
Meals: Breakfast

* The places you visit can be customized to add something you specifically want to see
Days 7-8

Ghanerao: Camel Herder Experience (Optional 1-day Extension: Leopard Safari)
- We drive to Ghanerao, a small town to spend the next two days with the camel herders. While camels are the ship of the Thar desert, it gives you a completely new perspective if you spend time with the community understanding the life of nomadic herders. This part of the tour follows the natural flow of the day as it is for the herders. We visit a camp and possibly travel with the community and even taste tea made with camel milk.
- Visit the Ranakpur Jain temple and Kumbhalgarh fort.

Accommodation: Homestay
Meals: Breakfast, Dinner
Optional – Extend this part of the tour for a full-day leopard safari.
- We drive to Jodhpur. Arrive by afternoon and check-in to your beautiful rustic homestay.
- Evening tour of the village. Visit the community of sheep herders and farmers, and potters. You may also see wildlife such as black buck, peacocks, and blue bull. Do a hands-on experience with the carpet weavers and learn about the way it is traditionally done with local tools.


Accommodation: Homestay
Meals: Breakfast, Dinner
Day 10

Jodhpur: City Tour
- Morning tour of the Jodhpur blue city. Walk through the beautiful lanes of old Jodhpur city and visit the many obscure shops of sweets, spices, and items of daily use that only the locals visit. End the tour with a conversation over homemade snacks with a local Brahmin family in their home.
- Visit the Mehrangarh fort and Jaswant Thada. The rest of the evening will be at leisure for you to explore at your own pace before we drive back to your homestay.


Accommodation: Homestay
Meals: Breakfast, Dinner
- While Jaisalmer is known for its deserts, it is often overcrowded. We highly recommend having a desert experience in Osian near Jodhpur. On this full-day tour, we visit the Osian town and do a walking tour of the beautiful Jain temples.
- Go for a camelback ride or a camel cart safari into the desert and visit some of the beautiful villages and homes of the Jat community.
- End the day with the village community that we support as they showcase their beautiful music and dance traditions in a private ceremony.

Accommodation: Homestay
Meals: Breakfast, Dinner
- We drive to Jaisalmer, arrive by evening, and check-in at your heritage hotel.
- Spend the first evening at leisure exploring the town at your own pace. We provide you with recommendations and let you explore on your own.

Accommodation: Heritage Hotel
Meals: Breakfast
Day 13

Jaisalmer: City Tour
- Morning walking tour of the old town with beautifully carved houses. Watch the city wake up and go about its daily chores. Stop by at shops to taste local food items that locals have for breakfast and make your way to one of the most beautiful houses (Patwa Haveli) of the Jaisalmer traders.
- Visit the countryside as we travel to the Kuldhara ruins, which have a striking resemblance to the ruins of Pompeii. Visit the cenotaphs of the rulers of Jaisalmer and end the tour with a gala dinner as you watch the beautiful sunset from Jaisalmer fort.

Accommodation: Heritage Hotel
Meals: Breakfast, Dinner
Day 14

Jaisalmer (Departure day)
- We provide you airport transfer in Jaisalmer for onward journey.


Meals: Breakfast
Route Map
Inclusions & Exclusions
All accommodations in twin-share rooms at the hotels and homestays mentioned

Breakfast every day, 1 Packed Lunch, and 5 Dinners as mentioned

Private transportation in a sedan or SUV

Applicable government taxes

Fees for all storytellers & activities
If guests want high-end accommodations different from what is included in the Itinerary, we can suggest places for an additional fee.

Entry fees to any monuments wherever applicable. Not included in the trip price to give travelers flexibility. Generally, the fee for monuments is Rs. 500 (~$7 USD) per person

Any changes in the itinerary due to circumstances beyond our control or an act of God

Extensions of the itinerary to Delhi and Agra (Taj Mahal is in Agra)
Pricing
Prices exclude flights to/from the destination.
Prices are for double room occupancy unless indicated otherwise.
Group pricing varies between 2 and 10 travelers; contact us with your group size for a quote.
Please contact us for solo traveler pricing.
Prices are for twin-share rooms (except for solo travelers).
Prices are the same regardless of when you travel.
Deposit per person

$750 pp

Group of 2 Travelers - price per person

$1,475 pp

Group of 10 Travelers - price per person

$1,150 pp
Sustainability
We cap the number of travelers we host per year to 500 to combat the risk of over-tourism. We stay free of touts (persistent salespeople). Instead, we engage with locals by doing hands-on craft experiences directly with artisans. Our trips support 8 of the UN Sustainable Development Goals (#1, 5, 8, 10, 12-15). We pride ourselves on propagating and reviving local folk tales through storytelling. We support local artisans by involving them in tourism.
Our many environmental actions include strict care of nature, using energy-saving electrical appliances in our homestays, and efforts to manage waste responsibly. We minimize plastic on this tour and provide safe and healthy alternatives to plastic plates, packaged items, and bottles. We leave behind zero waste. We do not indulge in animal slavery, cruelty, or luring through bait during the wildlife experiences.
All accommodations are personally reviewed by our team. Our homestays and accommodations focus on local & organic food (vegetarian options available!), recycling waste properly, and striving for using energy-saving lights and appliances as well as solar thermal panels.
We locally source raw materials for meals.
FAQs
What is the best way to reach Jaipur?
Jaipur is well connected with flights and trains. The Sanganer international airport and Jaipur railway station will give you multiple options to choose from. If you are arriving from Delhi or Agra, you can also choose a private taxi for the whole tour as it saves a lot of time.
I am a solo traveler. Can I use public transport?
Yes, we can setup tickets for all public transport available. However, you may have to follow the departure times defined by the service provider, in which case all the activities mentioned above may not be possible in the given time.
Can I choose hotels throughout the tour?
We audit and work with a specific set of accommodations that are inclined towards sustainability. However, if you have any special requests for accommodation, we can cover that (the cost may vary). Just let us know when you send the inquiry.
What kind of a car do you provide?
We provide either a sedan or an SUV depending on the number of people. All the cars are air-conditioned as the weather and local terrain demand it.
Is this a fully escorted tour of Rajasthan?
This tour is a mix of guided and un-guided experiences. The walking tours and village experiences are with our storytellers whereas monument visits are self-tours. All monuments usually give an audio guide with the ticket which is a great way to know about the place. Your private car will be available 24/7. On special request, we can do this as a fully escorted tour (at an additional cost).
Is this tour of Rajasthan safe for female travelers?
Yes, all accommodations, drivers, and storytellers we have are well trained and personally known to us. This tour of Rajasthan is safe for solo female travelers.
Reviews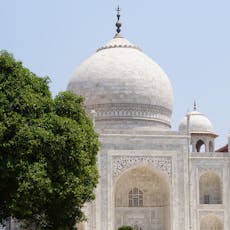 Karl N.
Custom 3-day Tour of Delhi & Agra
Attentive, thoughtful, helpful, reactive… just AWESOME!
I booked a custom 3-day, 2-night tour of Delhi & Agra for my first trip to India. I only wish I had more time to spend exploring! Hilary (Yugen team) and Gaurav (local guide) were super accommodating and helped me make the most of my short time in India.
The transportation was super convenient. From airport pickup to drop-off, a driver or guide accompanied me at all times. Since it was a short trip, I could do/see more with the guided private trip than I would have been able to do on my own.
For accommodations, I stayed with a local family who provided authentic breakfast & filtered water so that I didn't need to use plastic water bottles! They were very kind and welcoming.
Overall, it was a great experience that felt authentic. I strongly recommend booking a guided trip with Yugen Earthside to others, especially those who have not tried this type of travel before.